I had been hiking this trail for 20 days straight, running a caloric deficit that showed in the way my shorts were slipping off my hips. To pass time in camp, I'd flip open my little spiral-bound notebook and journal. I'd write about the trail that day; what I saw, where we hiked, and what we ate.
But after nearly three weeks, the focus of my notes had shifted. More and more entries talked about food. Not what I had eaten that day, but what I was going to eat when I got back to civilization. All the stuff we couldn't carry on a long backpack trip -- everything from steak and a baked potato with butter and sour cream to a tall, cold glass of milk. My list was growing quite long.
This dusty, warm afternoon on the twentieth day we waited at a trail junction for two friends-of-friends who were hiking in with our resupply package that would get us through the final five days of our trip on the John Muir Trail.
We were hungry. And they were late.
As dusk settled, they finally (thankfully!) showed up. Relieved, we divvied up the supplies and stuffed them into our backpacks. Getting ready to strap on our packs, they surprised us with candy bars -- a rare treat that wasn't part of our menu. A Snickers bar had never tasted so good.
That was my introduction to what thru-hikers call "trail magic."
Simply put, trail magic is an unexpected act of kindness.
A Trail Magic Tradition
Three years ago a small group of friends started our own trail magic tradition. We planned a backpacking trip that would take us deep into the Sierra Nevada mountains, along the John Muir Trail and the Pacific Crest Trail. We carried with us carne asada, fresh avocados, cheese, salsa, corn tortillas and cerveza.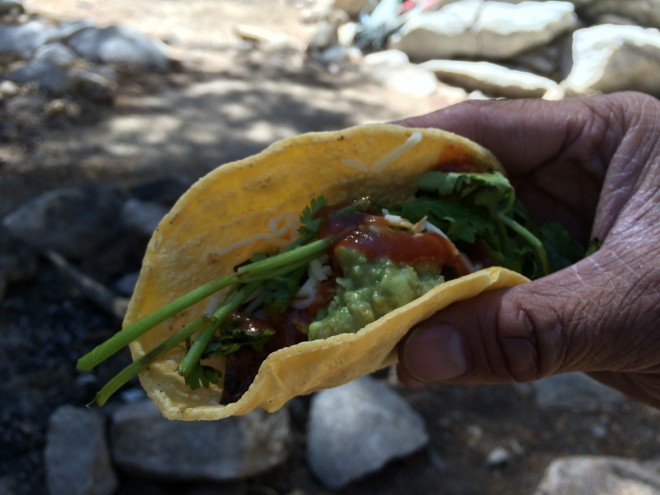 It was hard work. The extra weight made the climb from the east more difficult. But our goal was simple: hand out tacos and a cold beverage to any hungry thru-hikers who wanted one. And thus, the annual #MuirTaco Adventure was born.
The payback? The sheer joy delivered to hiker after hiker who could not believe their good fortune. Priceless.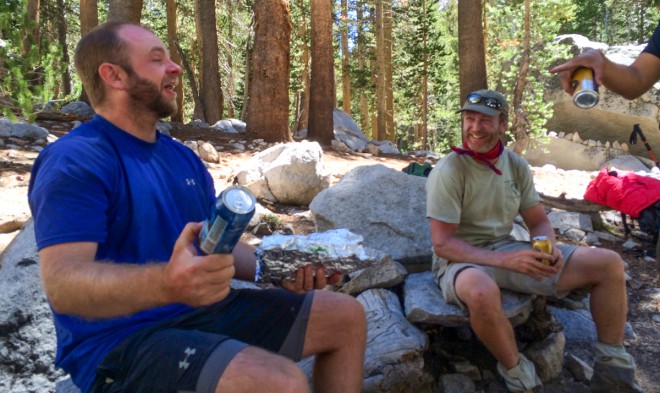 Trail Magic: Getting it Right
Trail magic can take many forms. It can include providing a meal, a bed to sleep in, or giving a hiker a ride to town. And trail magic is not without its detractors. Some have suggested that thru-hikers on the Appalachian Trail have grown to rely on trail magic and are not self-sufficient -- an unwise and dangerous risk for any hiker.
Here are four rules for keeping the magic alive:
1. Do not leave food caches
. Not only is this strictly against the rules in most wilderness areas and parks, but it can create a hazard to wildlife.
2. Leave No Trace
. Pack it in; pack it out.
3. Be gracious.
This applies to both the trail angels and the lucky recipients.
4. Keep it a surprise
. If it becomes expected, the magic is lost.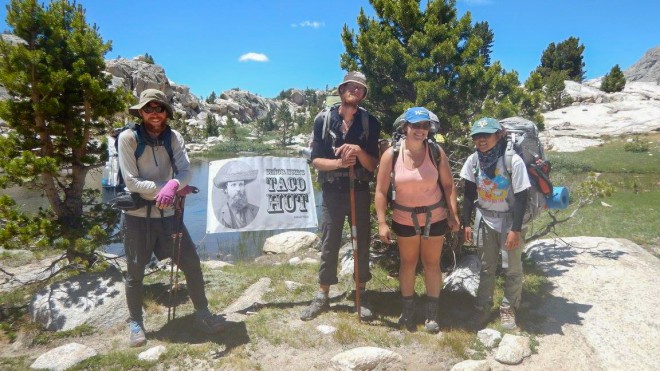 *All photos courtesy Jeff Hester

What is your trail magic tradition?