Which are the better choice? Trail shoes or hiking boots? It's a question that comes up more and more as lightweight trail running shoes and low-cut trail shoes gain popularity. Whether you're buying your first pair of hiking shoes or choosing from your hiking footwear arsenal before hitting the trail, it's a decision that can make or break your hiking experience.
The best way to figure out what will work best for you is to think about the hiking conditions that await and your personal hiking preferences, and then weigh the pros and cons of using hiking shoes or hiking boots with those in mind.
What Conditions Lie Ahead?
First, think of the conditions that you will encounter on your hike. If you live in an area that gets a good amount of wet weather, then you may prefer the additional protection of hiking boots. The best waterproof hiking boots keep your feet dry and clean when you encounter mud, snow or puddles on the trail. However, some hikers prefer non-waterproof trail shoes that can dry quickly after encountering wet conditions. Keep in mind that low-cut, waterproof trail shoes offer limited protection; moisture can still get in your shoes over the collar.
The trail conditions of your hiking destination should make an impact on your choice, too. The more rugged, rocky and debris-laden the trail, the more durability and protection you'll want from your footwear. Hiking boots deliver extended protection as well as durability, but some trail shoes feature full rubber rands, rock shields and leather or suede panels that provide additional durability. These beefed-up shoes, usually referred to as "approach shoes", can tackle nearly any trail that a boot can. However, these shoes simply can't offer the ankle support or extended protection that you get from a hiking boot.
What Are Your Hiking Preferences?
In the end, your choice will probably come down to your hiking preferences. Before you make your choice, think about what kind of hiking you do and what makes you the most comfortable on the trail. Do you tend to hike for a few hours at a time or pack as many miles into your day as you can? Do you hike with a heavy backpack? Do you tend to tackle steep, rugged terrain? Do you usually hike in warm, dry weather? Do you enjoy the support of stiff-soled boots or the flexibility of lightweight trail running shoes? Answering all of these questions before making your choice will ensure a good decision.
Some hikers find that they need the stiff, underfoot support of a hiking boot to feel comfortable on long hikes with heavy packs. Others find hiking boots to feel clunky and heavy on the trail, making them fatigue faster or feel clumsier on rocks.
Pros and Cons of Trail Shoes and Hiking Boots
Now that we've covered your hiking conditions and preferences, let's lay out the pros and cons of each.
Trail Shoes
Pros:


Lightweight


Breathable


Quick Drying


Nimble


Cons:


No ankle support


Not as protective and durable as boots


Less underfoot support than boots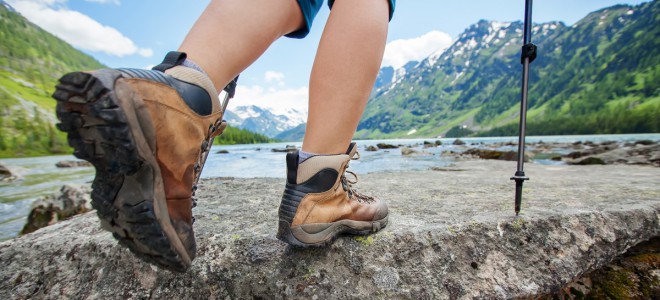 Hiking and Backpacking Boots
Pros:


Protect from snow, trail debris and mud


Durable


Provide some ankle support


Provide underfoot support


Cons:


Can be heavy


Underfoot support can feel "clunky" and unstable


Not as breathable or quick drying as most trail running shoes


Trail Shoes vs. Hiking Boots. Who wins?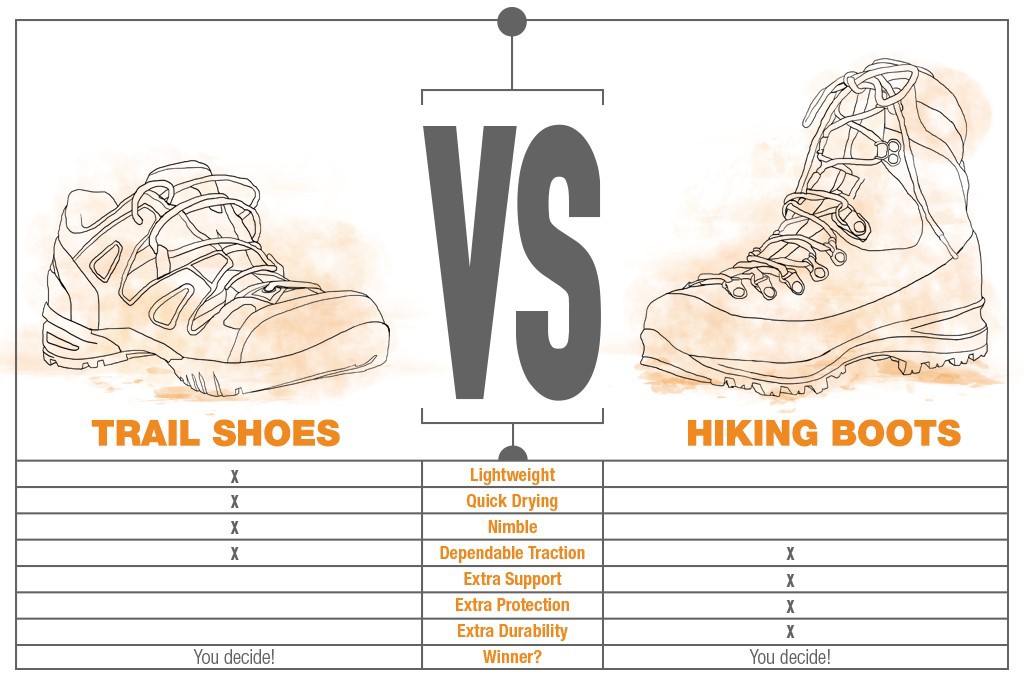 Now that you've assessed your hiking preferences, thought about the most common conditions you encounter, and seen the pros and cons of trail shoes and hiking boots, your decision should be pretty straight forward. If you need more details about your options before making your choice, check out our
hiking footwear guide

.