Winter is just not
winter
for me unless there's snow on the ground. Mostly because snow means sledding and skiing and snow forts and all the fun you can do only in colder temperatures.
I have loved cross-country skiing for most of my life, and I love seeing my kids get on their own skis now. While over the past couple of years cross-country skiing with my kids has gotten a bit easier, it hasn't always been that way. We have had serious meltdowns on the trail — usually in the middle of a loop, far away from any bail-out points. It's never pretty.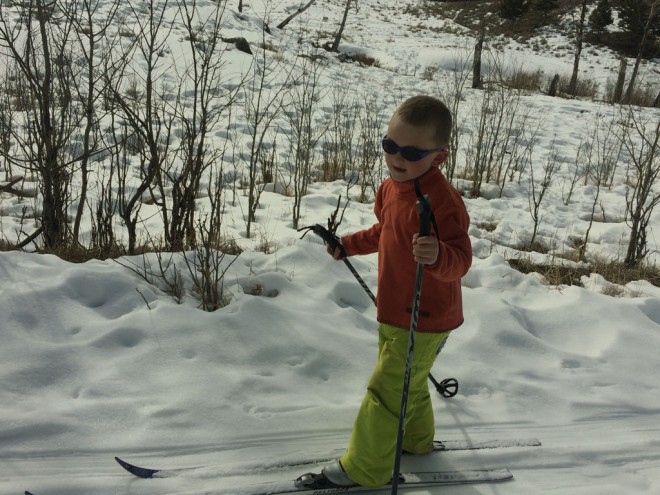 While I can't guarantee anyone else's kids being perfectly behaved (much less my own), here are some of my best tips we have learned over the years for more successful family cross-country ski days.
Set Your Expectations Low (Really Low)
Don't even hit the trail right away. Start in your backyard or a field or somewhere you can get back to the car quickly if needed. That way you are at least practicing getting skis on and shuffling, and you have easy access to a warm house if needed.
Ditch the Poles
While poles are necessary for cross-country skiing in general, they just get in the way when someone (kid OR adult) is just learning. And to lessen the temptation, leave your own poles at home, too, if you can (otherwise your little one may not understand why he can't have poles, too).
Dress for the Weather
Be smart about it. Use layers, and bring extra gear (mittens especially) in case they get wet. Warm kids are happy kids. These layering tips for kids will help you get on track.
Kick & Chase!
Tell kids to pretend they are kicking a ball to help them get the motion down. It also helps to have a parent (or adult) ahead to chase and an adult behind to act as the pick-up-crew.
Bring a Harness
While most of the time you see ski harnesses used for downhill skiing, having a handle on your kid is really helpful when you're both on skis and you have to pick them up 100,000 times.
Work the Peer Pressure Magic
Bring friends, even if everyone is falling and laughing (that's key) and not sure what they are doing. Kids like to chase kids (usually) and we've found that always helps.
Bring Snacks
Kids (and adults) burn crazy amounts of calories skiing in the cold. Even if you JUST fed them, bring something you can easily pop in their mouth. Avoid granola bars that freeze easily, but trail mix is always a hit.
Use Bribery
End the day with hot chocolate. Get really crazy and offer marshmallows, too. Use M&Ms or jelly beans or craisins on the trail. Whatever gets them from point A to point B!
Do it Often
Practice makes perfect. Get out once or twice a week — it gets a bit easier every time!
Chill Out
Kids shut down when they see you stressed. Don't even go there. Pack your own hot toddies if needed.
Cross-country skiing is a great life skill and an easy way to get out and enjoy the winter as a family. As always with kids, it's one day at a time!
Do you enjoy cross-country skiing with your kids? What advice would you add?