As a parent who loves to hike, there is really nothing more frustrating than making the little sacrifices to bring the kids out too and then having them stop dead in the trail and refuse to move one more step.
It quickly turns into a drop-dead battle of wills and a desperate attempt to keep hiking fun (for everyone). And while it's awesome when they're small enough to throw in a carrier for the remainder of the hike, it's not always that easy. When kids out number the adults and/or they're much too heavy to carry any longer, drastic steps must be taken.
Note: There's always the option to turn around and go back (assuming you can convince them of this), but sometimes kids just NEED to reach that goal to open up a world of self-confidence and a desire to hike more.
While these tips certainly aren't fool-proof (I'd be making millions if they were), they've worked for us and worked for others on most days. Some attempt is better than camping in the middle of the trail with a screaming child any day.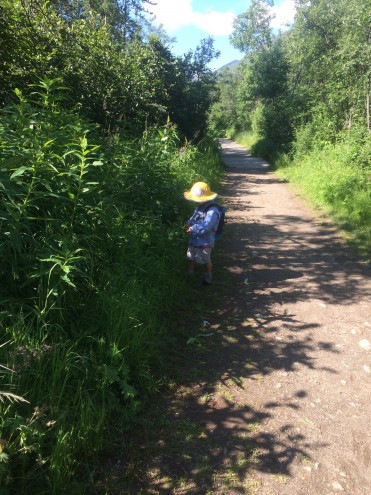 1. Bribe, bribe, bribe
. I know, I know, not exactly prime parenting, but you've got them ON the trail, now you just have to get them to the end of it. M&Ms and fruit snacks are both saved specifically for hiking (or skiing) only and go long distances (literally) in our family.
2. Use a little peer pressure.
Bring friends, cousins or siblings. I've seen 2-year-olds hike miles and miles when they're following someone they admire. Little races to small landmarks are great for the competitive ones.
3. Sing your hearts out.
Keeps them distracted, their mouths busy so they can't be whining instead AND keeps the bears away. Win, win, win! Since I seem to forget every trail song I ever sang while we are hiking, I do a little refresher before we start on the trail so I have some ideas. While I don't promote a lot of smartphone use in the great outdoors, sometimes googling "A Bear Went Over the Mountain" while hiking is a beautiful thing.
4. Take breaks.
Yep, give in a little and sit down. Let them throw rocks in the river for 10 minutes. Have a snack (nourishment and hydration are HUGE for little bodies) and keep the pressure off.
5. Give them a map.
Beforehand, print a kid-friendly map of the trail and highlight certain landmarks they can watch for. You can even take photos of those landmarks and include it in a little book so they can watch for the views specifically. This doesn't necessarily work for new trails to all of you, but is a great way to keep them looking for the next bend in the trail. Plus it promotes survival skills, independence and ownership of their day.
How do YOU keep kids moving on the trail?