Growing up in Burlington, Vt., my folks let us run wild as kids, enjoying all the epic outdoor activities the Green Mountain State has to offer. Here's a great list of ideas for you and your kiddos to explore as you make plans to enjoy this great state of Vermont. No plans to visit Vermont? Maybe this list will inspire your next vacation!
1. Leap into Lake Champlain
Leap, jump, swim, dive, and grab your kids and plunge into the cool, refreshing waters of Lake Champlain. Once called the 6
th
Great Lake, Lake Champlain extends 125 miles down northwestern Vermont. It is a mecca for every single water activity, including water-skiing, wind-surfing, and sailing. Rent a boat and anchor in one of the quaint little harbors for a swim. Take the ferry across to New York state for lunch. Head to the beach and enjoy the views of the Adirondack Mountains across the water. And the best part, Lake Champlain even has it's own lake-monster named "Champ" which has become a beloved state mascot.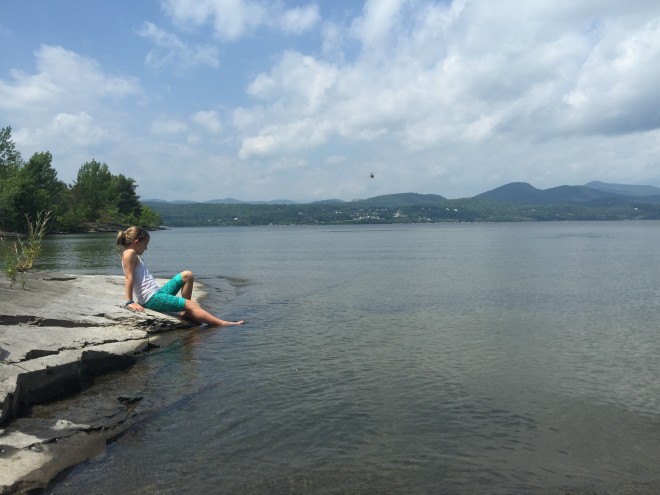 2. Visit a Cider Mill
Have you ever had a hot, steaming cider-donut fresh out of the oven? Mmmmmmm. Heavenly. Stepping inside a Vermont cider mill is like stepping back into childhood. Vintage mills that make apple cider the "old fashioned" way allow the family to watch the whole process — how cider is made, how epic cider donuts are created by the donut-robot, how honeybees pollinate the apple orchards. It is a mouth-watering education in Vermont history. And if you're lucky enough to be around for apple picking season in the fall, go for it! Final tip is to always make sure you arrive at the mill with empty bellies — it's a tasting extravaganza.
3. Hike in the Green Mountains
Vermont is known as the Green Mountain State. When you come, it's as if you've been dropped into a misty watercolor painting full of greens. Rolling green hills and mountains and farms are everywhere your eyes can see. There are a zillion hikes of every kind for the family. You can start with great beginners hikes for your little kids at, say, Mt. Philo State Park in Charlotte, Vermont, with an easy drive up and picnic tables at the top as well as extraordinary views. For the older kids, scrambling up the renown Camel's Hump is a day hike with 360 view rewards and an "I CLIMBED that!" fist-pump swagger. Camel's Hump is a Vermont icon and a bucket-list must.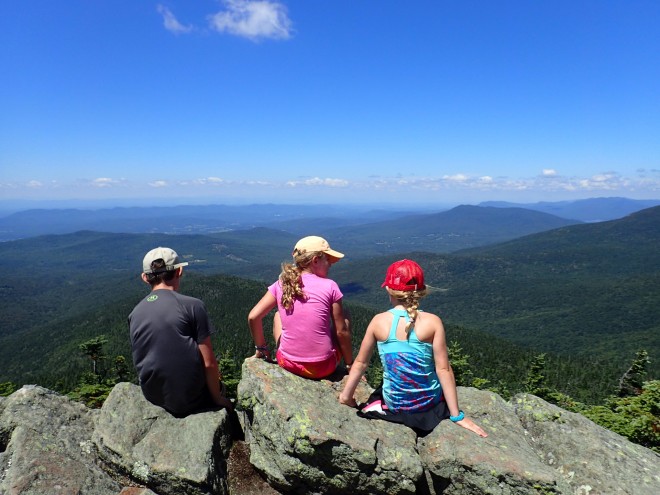 4. Fill a Bucket while Berry Picking
This is a huge favorite in our family because, for us, gathering huge buckets of raspberries, blueberries, and blackberries is usually followed by some serious pie baking. Berry farms are dotted along the rural highways in Vermont. Be sure to check on their hours and season. We've found that different summers lead to different times the berry farms are open due to growing-season shifts with weather.
5. Kayak and Canoe on Vermont's Rivers
When you drive around Vermont, you'll notice kayaks and canoes strapped on top of every other car it seems. 'Cause, when you're in Vermont, you just can't help but get on the rivers they're so inviting. Stashing a car and taking a paddle over to the next bridge a few miles down the river is an adventure I did as a kid with my dad that I'll never forget. My kids can't wait to get in the boats and then jump in and out of them over and over as we paddle along, enjoying the gentle currents and green water.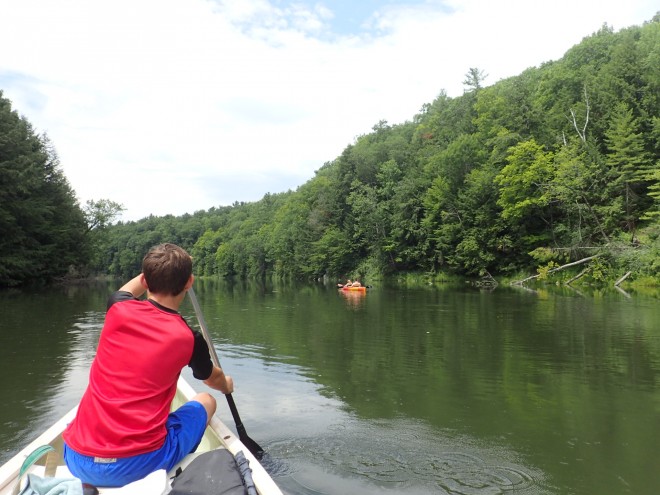 6. Zip-Line, Jump, Swing For Your Adrenaline Rush at a Ski Resort in Off Season
Hot off the presses - ski resorts in Vermont are taking mountain adventure to a whole other level with adrenaline-junkie activities for the whole family during off-season. Zip-lining, skye-jumping, motorized mountain tours, alpine-coasters, ropes-courses, gondola-rides, tree-tops courses and so much more is now on the menu. This is an exciting new trend for resorts during the non-winter months and the kids go nuts at these places, usually for ages 7 and up.
7. Eat Vermont-made Ice Cream and Thank Vermont Cows
And, finally, at the end of every Vermont day, which has been chock full of massive outdoor activity and you're all a little sunburned or sleepy, it's time to take the kids straight to the most important and vital Vermont activity there is — finding the local creemee stand to enjoy a humongous swirl of ice cream sourced by a local Vermont dairy. Along the way, thank that big old herd of gorgeous cows munching in the fields for your tasty dairy treat. No doubt Vermont cows are super happy cows and you can taste it in every single creemee you enjoy. This is an outstanding tradition that I enjoyed every weekend as a kid and I am having so much fun passing it along to my kiddos. No twisting arms there!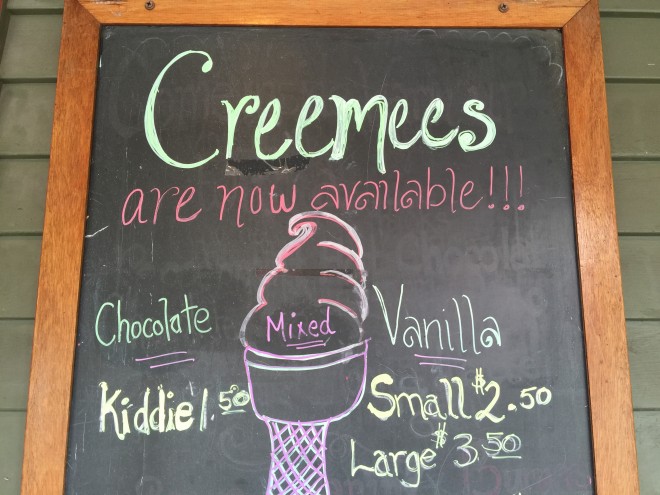 Oh, there is so much to do with your family in Vermont. I'm looking forward to growing this list for us as I find more adventures to share. So stay tuned!