I'll be the first to admit, I feel guilty raising kids in Colorado that don't know how to downhill ski or snowboard. The snow here is amazing, there is a multitude of downhill areas with beautiful lodges and fantastic scenery and the speed is fun. Someday we'll get the kids on the slopes, but for now, we are having a great time making our own
cross-country ski
tracks.
Last winter for Christmas our kids all received cross-country skis (thank you Grandma and Grandpa) and we used them both at designated Nordic ski resorts and in our local streets and parks. Every time we skied, the kids loved it and couldn't wait for the next snow storm so we could get out again.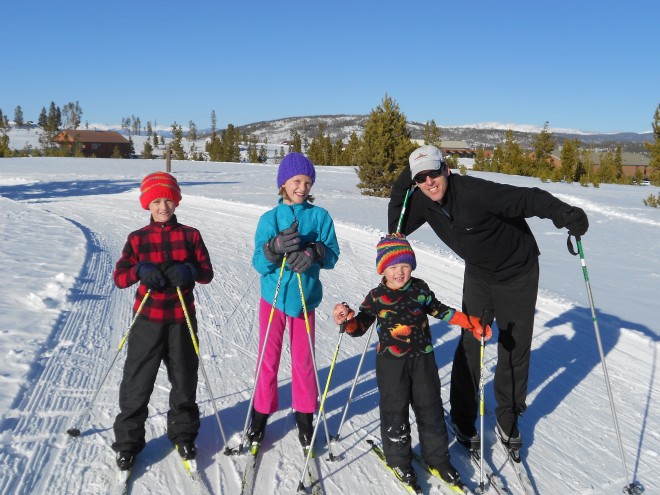 Our family loves cross-country skiing. Here are seven reasons why your family will love it, too.
It's Easy
If a child can walk, they can begin to cross-country ski. They will start by slowly shuffling along and then will gradually pick up the pace to a glide as their comfort level grows. The first time out, my four-year-old decided he was happier without using poles, and going pole-less worked just fine for him. Later, after he had his feet and skis more coordinated, he was ready to start using the poles again.
It's Convenient
We happen to live on a street that never gets plowed. While this is bad for our minivan, it is incredibly convenient for cross-country skiing. We can ski out our front door much of the winter. Our local parks are also a nice place to ski. We only need a couple of inches of snow on top of the grass and we're ready to go.
It Doesn't Require an Entire Day
When we go cross-country skiing, it is an activity that takes an hour or two and doesn't require an entire day or weekend. We don't have to fight traffic and carry heavy equipment across large parking lots, so we spend more time skiing than traveling.
It's Line-Free
There are no lines! Of course there are two geometrically perfect tracks of lines in the snow we leave behind as we ski, but we never stand in a lift line.
It's Cost-Efficient
Other than the equipment (
boots
,
skis
,
poles
and bindings) there is no other cost. Just find a place with snow and take off. Even if you go to a Nordic ski resort, the cost for day passes is MUCH less than downhill day passes.
It Keeps You Warm
Back when I was a lift operator at a downhill ski resort, we used to fight over whose turn it was to shovel snow because the shoveling kept us warm. The key to staying warm in winter is to dress in appropriate
layers
and keep moving. When we cross-country ski, we are moving our large muscle groups the entire time. Never once have my children complained of being cold. Actually the opposite has occurred more frequently, and before I know it they are usually ditching their
jackets
.
It's a Positive Experience
Yes, someday we will get our kids downhill skiing or snowboarding, but until then, we'll continue to provide short, positive experiences for our little cross-country skiers. The balance, coordination and endurance they are learning from cross-country skiing will help them in any other sport they choose to do, and they are loving it. Your kids will love it, too!
Happy snow tracks!
What's your family snow sport of choice?