Have you ever wondered how to keep kids safe on a hike but still let them experience a day on the trails? As parents we recognize the balance between safety and risk when it comes to outdoor adventure. Regardless of our comfort level with risk in the outdoors I think we can all agree that it's crucial to keep our children as safe as possible.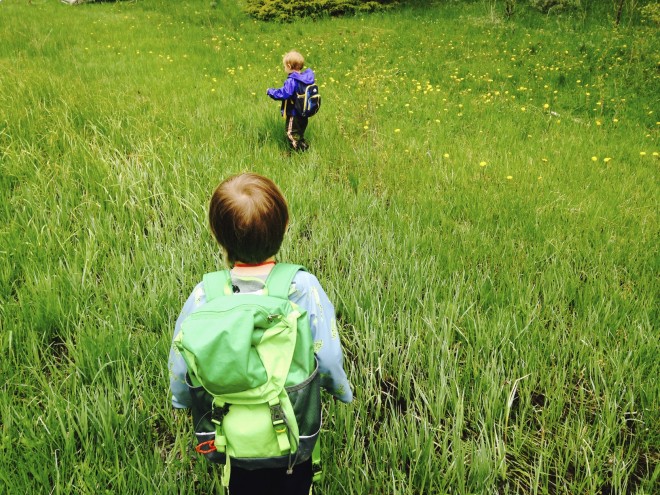 Here are 9 ways to keep kids safe on the trails.


Dress your child in brightly colored clothing. You'll want to be able to see them at all times and you'll want them visible should they become separated from the group. Resist the trap to dress your child in neutral colors, and bring out the neon colors.




Dress yourself in brightly colored clothing. This sounds silly, but I want my kids to see me just as easily as I want to see them. So go ahead and buy that neon pink jacket, you won't regret it.




Dress your kid appropriately for the weather, layer them up, avoid cotton if possible, and don't forget about quality hats, socks and footwear. Bad weather can be a real threat to anyone who isn't dressed for the weather conditions.




Always make a whistle an essential item for not just you but also your child. Teach your child how to blow a whistle to signal for help. But, if your kids are like mine, at first they will think that whistles are a toy. Be firm about teaching them that whistles should only be used for emergency purposes.




Children as young as age 2 can carry their own small daypacks. Encourage your child to do so as they transition from kid carrier to hiker. Depending on the age of the child put a few basic survival items in the pack. My kids carry water, snacks they can open themselves, an emergency blanket and a flashlight or glow stick. It's important your child know how to use the emergency items in their pack should they become separated from the group.




Teach your child the Search & Rescue "Hug A Tree" If someone gets lost, it's recommended that they stop where they are, stay put, keep warm and dry and signal for rescuers. This is especially important for children. Don't just talk about what to do if you get lost, practice it too. Your child will see it as a game, but it's really teaching them exactly what to do.




A huge part of safety is education. Teach your child about what to do if they become lost, about local wildlife and predators, about environmental hazards, about what to do with abrupt changes in weather (including lightning) and rapidly changing trail conditions. Teach your child about these things in a way that isn't scary, but in a way that shows them to respect our natural environment. We talk about these things a lot as we drive to and from trailheads or even on the trail when we see the weather changing or spot regrowth from a wildfire.




Establish boundaries for your child. I like to keep babies and toddlers between two adults or within grabbing distance of one adult if you're hiking solo. I let preschoolers wander a little bit farther, but always within visibility depending on the terrain, trail and my comfort level that particular day. There's a fine line between helping your child learn independence and staying safe on a hike.




Keep your child well-fed and hydrated before, during and after the hike. Most parents are really good about packing enough snacks and water for the hike but don't forget to feed little hikers a good breakfast and have extra snacks waiting in the car at the end of the hike.


Do you hike with children? How do you keep them safe on the trails? Share your tips in comments below!