One big fear outdoor parents-to-be have is that their new bundle of joy will create a roadblock ... or at least a trail-block of baby food jars and dirty diapers. Don't fear! While it may require a bit more planning, and a bit more gear, your multi-day backcountry adventuring can go on! I covered some of this in this post,
here
, but I delve a little deeper on this post.
Here are a few tips that minimize the inconvenience, weight and odor of backpacking with your small, hungry poop-factory... I mean child.
The food
Everything tastes better on the trail... right? Yeah, right. There's no corner store to re-supply when we find out that baby Joe won't touch the canned spinach we brought. Your best bet is to stick with foods they know, or have introduced to them before the trip. If they like them, great! If not, choose something else. Experimenting with new food on the trail can work, but isn't worth the risk. If you're adventurous, then dehydrate your baby's favorite meals and bring them along, but make sure they re-hydrate well.
We live in the age of packaged foods, and for once it might be a good thing. There are many bars, squeeze tubes and freeze-dried kid snacks perfect for feeding your hungry hiker-to-be when on an adventure. Take advantage of them and leave behind the heavy glass jars of days gone by ... bye!
Keep your spoon... and your bib
Oh, and don't forget your standard meal accoutrements ... including your baby's bib. Odors are a bigger deal when in the backcountry as they attract animals. It's much safer to pull out a bib that can be washed and hung up with your packs (or stored with a bear canister) than to get your last sleeper covered in beef-barley soup. This will keep the baby and you happier, cleaner and safer.
Not potty-trained? No problem!
Hats off to those who have their kids potty trained at an early age. It worked for our girl, but not for our boys. We tried cloth diapers, but that just didn't work for our family (again, hats off to those who stick with it, I hear they've come a long way since we tried).
Diapers are probably the biggest inconvenience. You do have to pack out what you pack in, but there are a few tricks to make it slightly easier. Put dirty diapers in a ziptop bag, or in a trash compactor bag
that you can seal
. This keeps the mess and odor in one isolated place.
There are other tricks to cut down on weight:
• Dump the messy stuff into the outhouse before you wrap up the diaper to pack it out.
• Use a washcloth instead of wipes ... at least for "number one." It will really cut down on how much weight you pack in and out.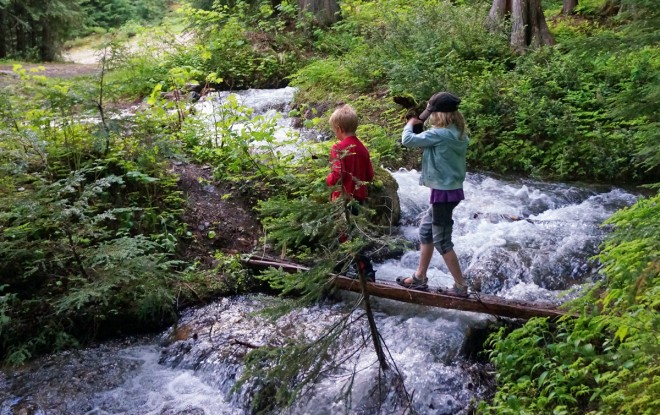 Backpacking with babies is a challenging but rewarding experience. Hopefully these tips will help make your family backpacking easier, more enjoyable and lighter.
Do you have any tips or questions on this subject? We want to hear about them below in the comments!