The worrying that parents do about if their baby or small child is warm enough outside is usually what keeps them inside more often than not. And it makes sense — we don't want our kiddos to be uncomfortable or fussy because that's no fun for anyone.
Getting small children outside isn't as difficult as it may seem. It all comes down to lots of layering, checking kids often and knowing what works for your particular child.
I'm going to share the system we use for our three kids that we've found works best. It gets tweaked a little bit depending on how certain kids' body temperatures run (I have one that runs hot and one that runs cold and one in between), but overall the basics are the same.
The Great Kid Sandwich: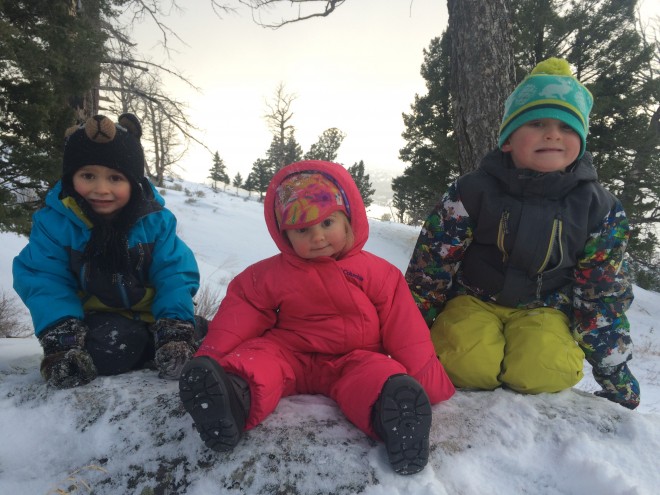 1. The Base Layer
We strongly believe that the base layer is the most important layer to get right (and spend the money on). The
base layer
should never be cotton, should fit rather snugly and should wick moisture away from your child's skin. We tend to lean toward
merino wool
since it is temperature regulating and soft against delicate skin. This initial layer should include wool socks and a wool or polypro base layer top and bottom. Always, always, always use
wool socks
. If your child's feet get wet, the wool will keep them warm. If it's really cold outside, use a thin balaclava to keep little cheeks warmer. You can add another hat on top of it, but it is the most effective way to keep the most skin covered. Mitten liners are another useful base layer to add when it is particularly chilly outside.
2. The Mid Layer
While it is important, the mid layer can be "fudged" a little. We stick to down, heavy polypro, wool or fleece materials, but it doesn't have to be the highest quality. If you're going to budget a layer, budget the mid layer. The mid layer should include
fleece pants and top
or, for colder days, down pants and jacket. For babies, we often use suits instead of two pieces. Keep in mind how active your kids will be and how their body temperatures run when considering the mid layer. Add an extra layer than what you are wearing to sedentary kids (in a backpack, on a trailer, etc.). Remember that layering can be a delicate balance; too many ineffective layers are completely worthless and actually can make kids colder.
3. The Outer Layer
The second most important layer is the outer layer, which is what protects your child from wind and moisture. The outer layer is crucial for keeping the interior layers (and your child) dry and warm.The outer layer should include warm and
waterproof boots
, a
shell
to protect from the wind and moisture, and a
warm hat
that keeps their ears covered. Add ski goggles on top of a balaclava for even more coverage. For little hands that get cold easily (and especially for kids that are sedentary in a backpack, ski pulk or Chariot), use a
liner mitten
in addition to a
waterproof outer mitten
(no thumb needed) and sandwich a hand warmer in between. Be sure no skin is peeking out and touching the hand warmer directly. When choosing outer layers, remember that bulk does not equal warmth necessarily. Just because their outer snowsuit is huge and puffy doesn't necessarily mean it's warmer than something else. The quality and technical capacity of the materials is most important.
4. Bonus Layer: You!
Wear babies so you can check their body temperature more easily. Your own body heat will help keep them warm, too. When you check your child for warmth, check their extremities (hands and feet) and back of their neck often to gauge comfort. It's best to stay on top of the warmth — once they get cold, it's very hard to get them warm again.
It may seem complicated, but getting a system down for dressing kids happens fairly quickly as you get outside more and more. It's a bit of trial and error, so give yourself a break. It's worth it for
everyone
to get out and get fresh air!
You can find more tips, including specific gear recommendations for kids over at
Tales of a Mountain Mama
.