Help kids put their green thumbs to the test by growing colorful annuals, perennials, herbs and vegetables in planter boxes. Gardening is a never-ending learning experience for adults and kids alike, and container gardening offers kids an opportunity to learn about taking care of living things, plant biology, ecological interdependence and life cycles.
Oh, and its a ton of fun, too. Most kids will jump at the chance to play with dirt!
When it comes to container gardening, there's an opportunity for every member of the family to get involved. Here's how to make a lasting impact on your home and family with a few
planters
, plants and plenty of dirt.
Help Kids Take Ownership by Giving Them Choices
A child who loves art, color and insects will surely love the idea of a planter box full of annuals that entice bees and butterflies with bright colors. A child who is more interested in food and cooking may lean towards growing vegetables or herbs in his. And of course, growing one of each is always a possibility! Ultimately, every member of the family gets to choose what they want to grow and what they want to grow it in.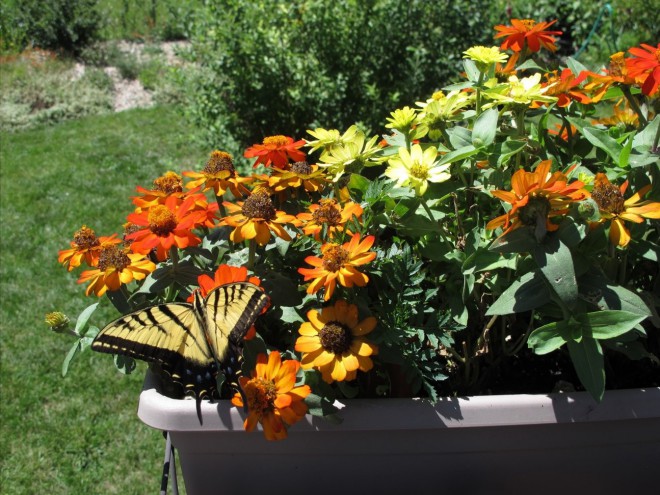 Once those decisions are made, everyone can make signs for their gardens, driving the point of ownership home. Popsicle sticks, corks and painted stones are all items that can be used as garden signs. If buying a bunch of plants sounds like a budget-busting endeavor, consider growing some gardens from seeds. Salad greens and flowers like marigolds are easily grown from seed outdoors. If starting seeds indoors is an option for you, your plant possibilities grow.
Container Gardening Ideas for Kids
Here are a few ideas to get your family started. The possibilities are endless, and you'll probably be surprised by the brilliant plans some kids can come up with. As the supervising adult, your main role is to keep an eye on the conditions the plants require. Try to help kids avoid planting shade-loving plants with plants that need full sun, for instance. Take a look at these fun container gardening themes for kids.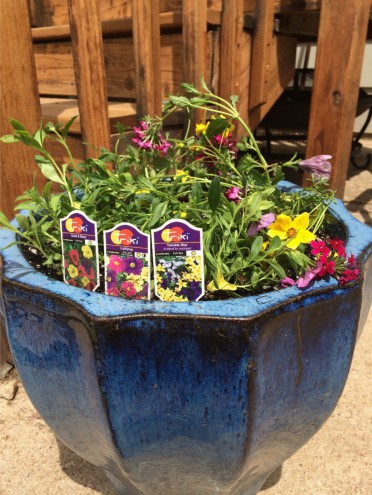 A confetti garden with mixed, colorful annuals and a bright container.


A pollinator or butterfly garden with easy-to-grow and pollinator-friendly flowers like lavender, zinnia and marigolds.


A snack garden with easy-to-eat produce, like strawberries, sweet peppers or cherry tomatoes.


A "Frozen" garden with blue-hued plants and flowers.


A themed herb garden like a pizza garden or tea garden. A pizza garden would include herbs that are delicious on pizzas (I like basil, rosemary and oregano). A tea garden would include herbs like lavender, mint and chamomile.


A fairy garden that features tiny plants, paths and structures made especially for your yard's "fairies." You don't have to buy the little houses and accessories you see in garden stores; paths and shelters can be made with pebbles, bark, twigs and other items found around your yard.


A resourced or recycled garden that utilizes everyday items or would-be trash as planters. Kiddie pools, milk jugs, watering cans and buckets can all be used as planters, as long as there is some sort of drainage on the bottom (you can drill holes when necessary).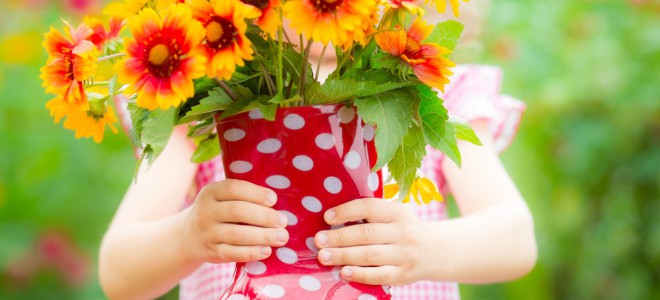 Make Plant Care a Part of Your Daily Routine, But Don't Push It
After dinner, I bring my son with me as I make my rounds checking up on the landscape perennials, vegetable garden and containers. He plays in the grass as I water, pinch, pull weeds and fuss over the plants as needed. I hope to incorporate him into my gardening routine as much as possible as he grows. However, I'm not so naive that I think he'll be as passionate about plants as I am.
While learning to care for a living thing like a plant is important, it's also important to keep gardening fun for kids. So, try not to force plant care to the point where it just feels like another chore on the list. Luckily, most kids enjoy
watering plants
, and that's all a container garden needs on a daily basis. Any fertilizing should be done by an adult.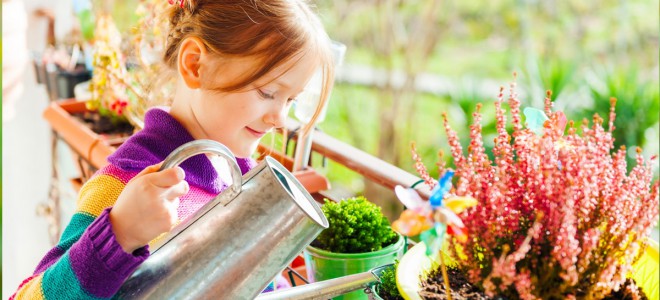 Container gardening is one of the easiest ways to get the whole family involved in adding natural beauty and bounty to your home. Remember that the learning process of tending a garden always includes problem solving and dealing with disappointment; gardening is very much like parenting -- it rarely goes as planned!
What fun gardening with kids ideas do you have? Share them with us in the comments!