Sometimes I miss the days when an impromptu weekend family camping trip simply meant stuffing my gear and clothes into the car and hitting up a grocery store deli on my way up the mountain. As the mom of two young children those days are long gone.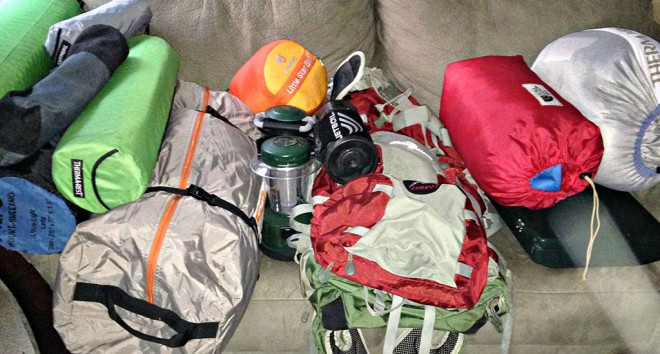 The thought of planning for and packing for a camping trip with my family is almost enough to make me want to make hotel reservations.
Parents can certainly relate to the mountain of gear piled high in the living room or garage before a camping trip. By the time you have all the gear, clothing and food organized and packed into the car you're ready for a nap not a few nights in a tent.
I've been on a quest to make packing for a family camping trip as efficient and simple as possible. While I feel like I haven't perfected our system quiet yet, here are a few tricks that I've learned along the way.


Keep all of your camping gear in one place. We keep everything from our tents to our sporks in our laundry room and everything has a designated space on a certain shelf. This may seem a little bit tedious but it minimizes the amount of time that we have to take to pack. If you're running to the garage to look for the tent, and the attic to try to find sleeping bags and the crawl space in the basement to try to find cookware ... it's just wasted time and effort. Consolidation is the key to time management.



Don't put off packing until the last minute. Even if you're meticulous about organizing your camping gear and ensuring that everything has a home it's inevitable that one headlamp will end up in a bedroom or car. Give yourself ample time to pack, it'll reduce the amount of stress you feel leading up to a trip.



We tend to stuff soft gear—like sleeping bags, tents, sleeping pads, hammocks, daypacks and clothing in our ski box on the top of our car. Then we usually pack the trunk with one laundry basket full of food that doesn't need to be refrigerated, one plastic tub of dishes and cookware and a cooler with perishable food. This system works best for us. If what we're trying to bring doesn't fit in its designated space, then it stays home and we don't over pack. We like to keep it simple because everything we bring along will eventually need to be washed and put away.



At the end of a camping trip we're all exhausted and hungry. The first thing I always want to do is take a shower, order a pizza and sit down in front of the TV. But getting home from a camping trip is when the real work begins. I've discovered it's worth spending a half an hour to clean equipment, prep it for the next camping trip and put it away. Forcing myself to immediately take care of our gear, before we even eat or shower, prevents that stinky pile of gear from sitting on the living room floor until the next trip. But, it takes discipline and sometimes my husband and I have to bribe ourselves with ice cream or set a timer and make a game of it to see how fast we can clean up.


Family camping is always worth the effort, even if packing and unpacking is a chore you'd rather not do.
Have you found a way to pack for a family adventure that is easy and simple? Does your family have certain systems and processes that work? What are they? Do you have any tips for packing and unpacking from a camping trip?