In my younger years, I craved the solitude and silence found on a camping trip. Now I crave the friendship and camaraderie formed over a weekend of sharing a camp, smoky campfire and less-than-glamorous outhouses. What changed? Children. Three of them.
Camping is much more fun now when we join with another family. Herds of laughing children splashing in a slow brook, too many skinny legs sticking out of a
portable hammock
and serious discussions on proper s'more assembly create fabulous memories and photo opportunities.
For the adults, it is the opportunity to slow down and relax together. In my regular weekday life, my conversations with other adults usually don't stray far from carpool arrangements or swim team schedules. But on a camping trip, we have all weekend to talk photography, books, politics, recipes and travel dreams. Friendships always grow around campfires. And if there is a guitar involved, even
better. Food, however, is an essential piece of the experience.
There are a couple different ways we've split meal preparation on different camping trips, and I share a few with you here.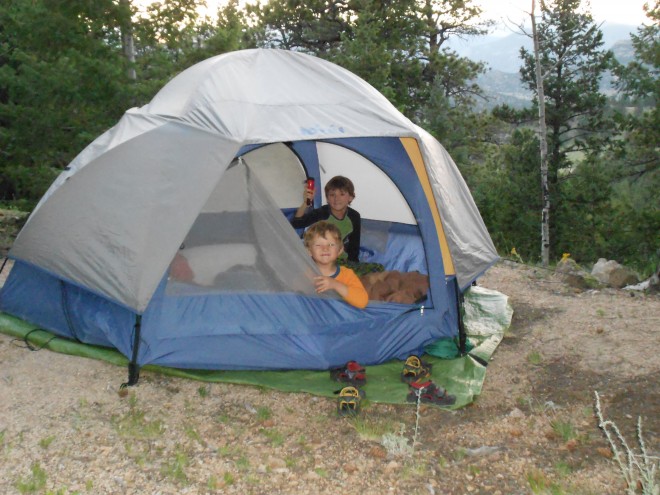 The Feed Your Own Offspring Plan:
At Turquoise Lake near Leadville, Colo., we camped with another family and everyone was responsible for their own food. We each cooked at our own campsite, loaded our plates and dined together. Then separated again to
wash dishes
and clean up. We shared snacks of course. But this mainly involved throwing a bag of SunChips at ravenous children and sending them back to the woods to build more forts. This plan worked well when the children were all different ages and needed to eat at different times.
The Massive Share Plan:
Earlier this summer we were invited on a ten family camping trip to Jackson Lake, Colo. That's right, 10 families. This meant about 50 people, although I'm not sure there was ever a solid headcount. This time the meals were divided between families for the group cooking experience. Three families covered Friday dinner, two families prepared Saturday breakfast complete with
coffee
and so forth. The benefit of this plan is that instead of preparing six weekend meals for a camping trip, I only had to plan one meal. It just happened to be for 50 people! "How much bacon do you think we'll need," was a recurring theme. In the end, all the meals were delicious and it was really fun to try favorite camp recipes from other families.
The Split the Check Plan:
At Cultus Lake in Central Oregon we camped with two other families and everyone brought their own breakfasts and lunches, but then we made potluck dinner arrangements. It took minimal planning, "How about tacos on Friday and
pasta
on Saturday?" Then everyone brought something to add to the picnic table and the feasting began. This works well when everyone has similar taste buds and enjoys the same style of food.
However you plan meals with others on your camping trip, you're sure to have a good time. And if you have a favorite camping recipe, please feel free to share it in the comments below.