It's been said that if you can walk, you can ski, and that includes toddlers.
As soon as our kids could walk, my husband and I strapped a pair of Nordic skis onto their feet. Since my parents taught me to ski as a toddler, it just seemed like the natural thing to do.
Through trial and error with my kids, we've learned a lot about teaching children — especially toddlers — how to ski. Here are a few tips.
Let Them Ski Inside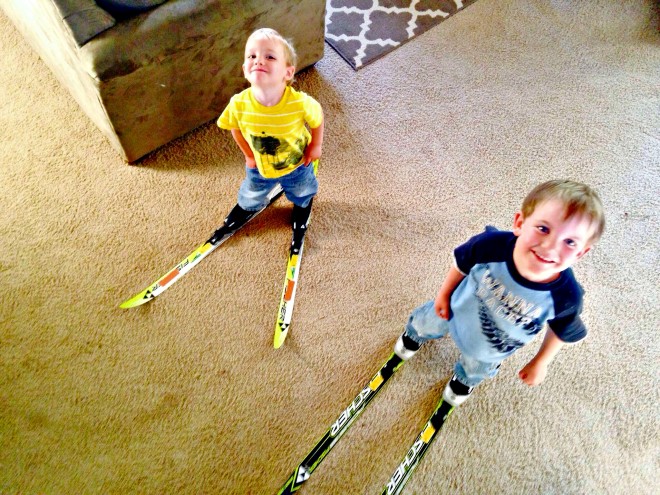 When it comes to teaching a child to ski, the best thing that parents or caregivers can do is to encourage indoor play on skis. By this I mean it's okay to let your child practice wearing their skis inside the house where they can move their skis around on carpet in a warm, comfortable environment without wearing bulky outdoor clothing. Our children keep their skis and boots right by the front door and they frequently choose to play with their skis over toys. Encouraging indoor play on skis is also very helpful once toddlers move from strap-on skis to actual boots and bindings. It's good to teach kids how to put their skis on and take them off inside of the house before they even head outdoors.
Practice Outside Year-Round
Ski in your backyard before the snow starts to fly. The hardest thing for toddlers to do is maneuver their feet while wearing skis. Why not start practicing year-round by wearing skis around the backyard? You can protect ski bases by leaving on a thick layer of glide wax (avoid the kick zone), sticking to the grass and avoiding rocks.
Skip the Poles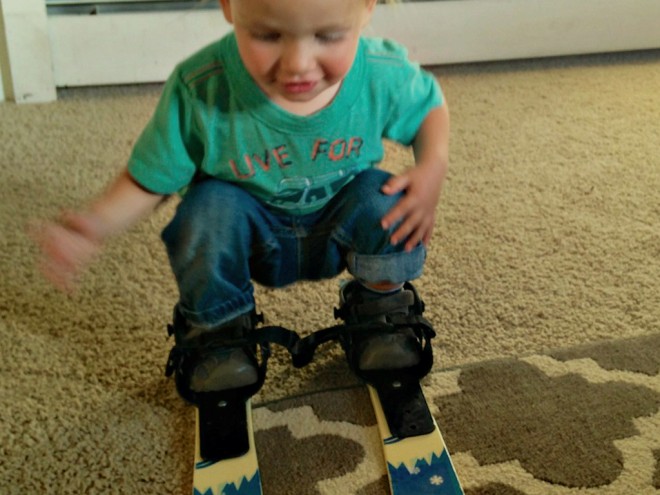 Toddlers (and any new skier regardless of age) don't need ski poles. In fact, poles just get in the way and distract the child. Even my 4-year-old rarely skis with poles because he likes to have a hand available to throw snowballs. I'm okay with this because I want him to be confident in his balance and able to kick and glide without his poles.
Encourage Independent Skiing
Encourage independent skiing in the backyard or a local park. One of my favorite things to do is choose a warm, sunny winter day when there isn't a lot of deep snow, strap skis to my kids' feet and let them wander around on their own. This works great if you have a toddler who wants to try things on their own without a lot of help and assistance. Just put your own skis on and ski alongside your toddler or watch as they learn balance and coordination on their own. Some children love this free-play on skis and might even refuse help up after they fall. Impromptu backyard and park skiing really helps build a toddler's confidence.
Give a Helping Hand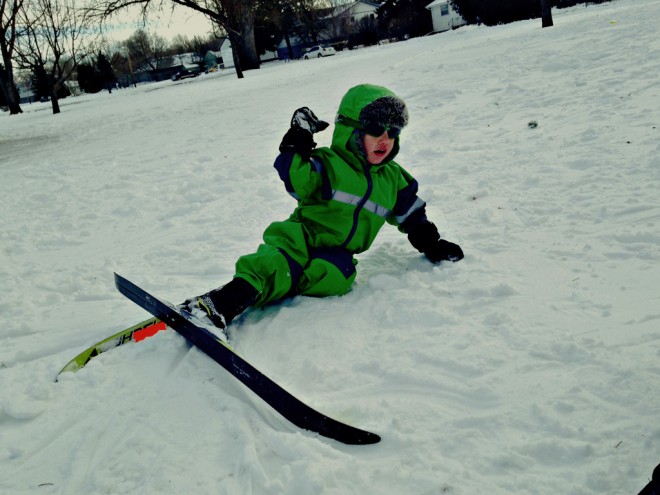 If your toddler needs a little bit more help and assistance on skis, it's fun to ski together down a trail (or even back through the city park) while holding hands. Or if you aren't a skier, you can walk or snowshoe alongside your skiing toddler.
Ski in the Neighborhood
It only takes a few inches of snow to enjoy Nordic skiing. Head out for a ski in your neighborhood after a storm. Sure, your neighbors might look at you like you're crazy, but why drive to a trailhead when you can ski from your front door?
Challenge Kids with Games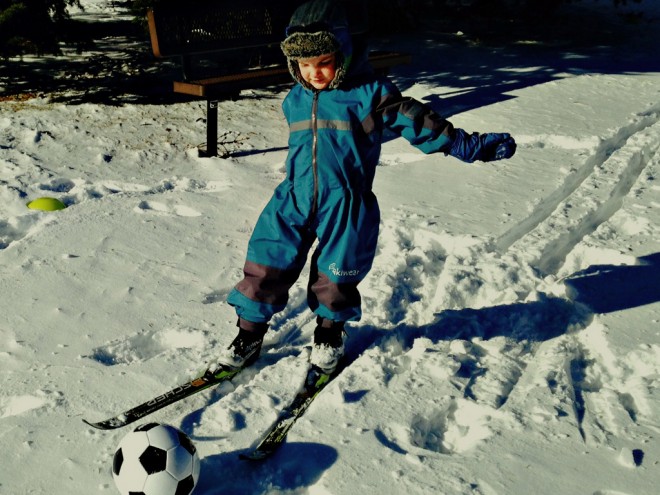 Preschool-aged children who have been skiing since they could walk might need to be challenged. We like to set up cones for our 4-year-old to weave in and out of, like a slalom course on flat and hilly terrain. We also like to play games like soccer, freeze tag, sharks and minnows and take one ski off to "scoot" along the trail. Games provide a great chance for children to work on their ski skills without even realizing that they are learning.
Get Rid of Carrying Options
Get rid of the pulk, sled, baby carriers and Chariot's. While our Chariot has allowed our family to tackle some pretty amazing outdoor adventures with children, it also provides kids an easy out if they don't want to ski for very long. If you're looking to get some speed and mileage, then bring along the pulk. But if you're setting out for a nice easy family ski, consider leaving all of the kid carrying and pulling devices in the car. Chances are that your kids will amaze you at how far they can ski.
When it comes to cross-country skiing with kids I think it's important to start them young and make sure that you have fun.
What tips do you have for teaching toddlers to Nordic ski?