After a long day of cruising down a mountain or breaking trail through the snow, a hot beverage really hits the spot. While you might be satisfied with a simple hot chocolate or hot apple cider, why not add a little kick to those drinks? Take a look at these three hot cocktail recipes to warm you up this winter.
1. Honey Lemon Ginger Whisky Tea
This is a wonder of a concoction in the form of a hot drink we love to enjoy after a day of cross-country skiing in Colorado or weekend getaway at a wintry cabin. A member of our team discovered a non-alcoholic version of this drink at a restaurant in Denver. The waiter shared the ingredients, and a quick Google search helped us find the perfect alcoholic twist.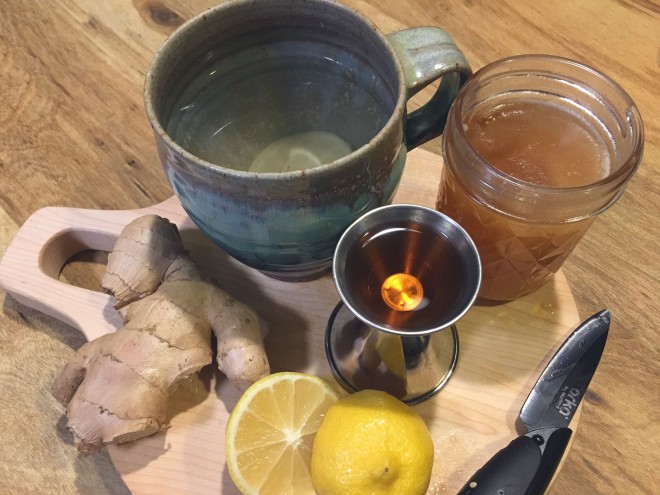 Ingredients:


1-inch chunk of fresh ginger (critical that it be fresh, find the root in the produce section)


Juice of 1/2 of a lemon


1 slice of lemon (for garnish)


Local honey to taste (any honey will do, but local honey is our go-to)


1 shot whiskey


Boiling water from a kettle


Directions:
Peel the ginger carefully with a paring knife and then cube it with a chef's knife. Dump it in a mug and juice the lemon directly into the cup. (You can use a reamer.) Pour in the honey, being careful to not overpower the ginger-y goodness if you've got a sweet tooth and/or love ginger. Pour the hot water into the mug and let it steep a few minutes. Add the whiskey -- we used Crown Royal Green Apple -- and enjoy.
2. S'more Vodka Hot Chocolate
The go-to alcohol to combine with hot chocolate is peppermint schnapps. Well that's all well and good, we thought we'd combine the best of summer and winter with this hot, alcohol-infused take on a liquid s'more. Whip one of these up after a snowy adventure for a delightful drink that will leave you planning your next summer camping trip.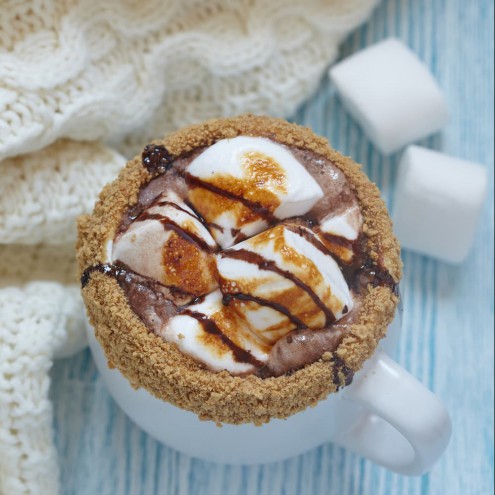 Ingredients:


1 packet hot chocolate mix


1 shot marshmallow flavored vodka


Crushed graham cracker


Marshmallows (mini or jumbo)


Whipped cream (optional)


Chocolate syrup (optional)


Boiling water


Directions:
Pour the shot of marshmallow vodka into a mug. Add boiling water, hot chocolate mix and stir. Top with whipped cream, marshmallows, graham cracker crumbs and, for the chocolate lovers out there, chocolate syrup. For a fun presentation, line the rim of your mug with chocolate syrup and graham cracker crumbs. If you're feeling really festive and have a gas stove, roast a jumbo-sized marshmallow to your preference and add it in place of the usual hot chocolate 'mallows. This could be fun to do with kids who want to enjoy this drink without vodka.
3. Sweet Rum Apple Cider
Apple cider isn't only reserved for cool fall days. Enjoy it all winter long by spicing it up with a little sugar, spice and everything nice (ahem, rum!). This is another drink that can warm your bones with or without alcohol.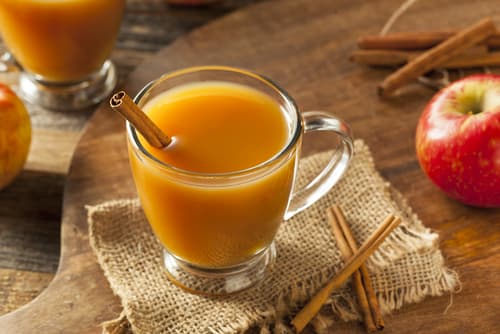 Ingredients:


1/2 apple, sliced


1 quart apple cider (1/4 gallon)


1/2 cup rum


1 teaspoon whole cloves


1/4 cup brown sugar


1 dash ground nutmeg (optional)


1 dash cinnamon (optional)


Directions:
Slice the apple and press cloves into apple slices. Add apple slices, apple cider, and brown sugar to a pot and bring to a simmer while stirring. Let mixture simmer for 10 minutes, stirring occasionally. Remove from heat and carefully remove apple slices (cloves and all). Stir in rum. Pour into mugs, adding nutmeg and/or cinnamon if desired. This recipe serves four.
Turn these Recipes into Gifts!
Looking for gift ideas? Choose which drink your giftee would most enjoy and
put together a gift basket
including the ingredients, a nice mug and any other tools that might be necessary for concocting these cocktails.