The location of the
Sierra Trading Post
store in Colorado Springs offers a great opportunity for Colorado tourists and Colorado Springs residents alike to pick up some new, high-quality outdoor gear and apparel, and then head out to explore the gorgeous surrounding area. Most people who are familiar with the Colorado Springs area are quite aware of the popular scenic destinations of Pikes Peak, Garden of the Gods, Seven Falls and Cave of the Winds. All of those are really cool places to visit, but we wanted to offer up some lesser-known areas that are well suited for all-day explorations. Here are our five picks for the best destinations to explore in and around Colorado Springs. Let us know your personal picks in the comments!
1. Palmer Park, Colorado Springs
Palmer Park is a hiker and mountain biker's playground right in the middle of town. It offers something for everyone with short, long, technical and singletrack trails. Perfect for testing out your new mountain bike gear, many trails feature jumps, rock gardens and drops that make for a really fun ride. Family- and dog-friendly amenities like picnic areas and a dog park round out this perfect in-town park package. Visiting Palmer Park is free to the public.
2. Cheyenne Mountain State Park, Colorado Springs
Cheyenne Mountain State Park has a campground that's open year-round and 18 trails that total over 21 miles. The huge 2700 acre park offers gorgeous views, a variety of hiking options, some great trails for mountain biking, and picnic tables and a playground for families with kids. Pets are not allowed in this park, so you'll have to leave Fido at home. A daily park pass costs $7.
3. Red Rock Canyon Open Space, Colorado Springs
Have little explorers and/or furry friends with you? The family- and dog-friendly Red Rock Canyon Open Space is a perfect place for them to discover all nature has to offer. Known for its breathtaking canyons and ridges, Red Rock Canyon is in the foothills on the West side of the city. With trail difficulties ranging from easy to advanced, young kids and fit adults alike can get in a great hike. Designated off-leash dog trail loops are perfect for letting active dogs get their energy out. It's also a great destination for rock climbing and mountain biking, and even features a freeride bike park. This space is free to the public and has trails that range from one to four miles.
4. The Incline, Manitou Springs
Put your trail running shoes and high-performance clothes (as well as your legs and heart) to the test on this extreme trail. The
Manitou Springs Incline
is well worth the drive if you're looking for a challenging workout in the mountains. Originally a cable car track, this one-mile trail gains almost 2,000 feet in elevation, making it a very challenging hike, run or bike for even the fittest athlete. If you're just visiting the area, be sure you're used to the high altitude (over 6,000 feet) before attempting to conquer this trail. It intersects with Barr Trail about three-quarters of the way up, so you can take some time exploring that trail, too. The Manitou Incline is free to the public, but the nearest place to park is a paid parking lot.
5. Eleven Mile State Park, Lake George
If you want to take a whole day or weekend to explore the mountains west of Colorado Springs, make the trip to Eleven Mile State Park. Just like the wide array of inventory at Sierra Trading Post, this state park covers almost every outdoor activity. The large reservoir is perfect for fishing, canoeing and kayaking, while the surrounding land has ample opportunities for hiking, biking, backcountry camping and even bird watching. Eleven Mile State Park is perfect for cross-country skiing, ice fishing and winter camping, as well. Not enough options for you? Hunting during appropriate hunting seasons is also welcome. A daily park pass costs $7.
You can visit the Colorado Springs Sierra Trading Post store at
5916 Barnes Road.
Check out the map below to plan an outdoor adventure that can start right after you leave the store.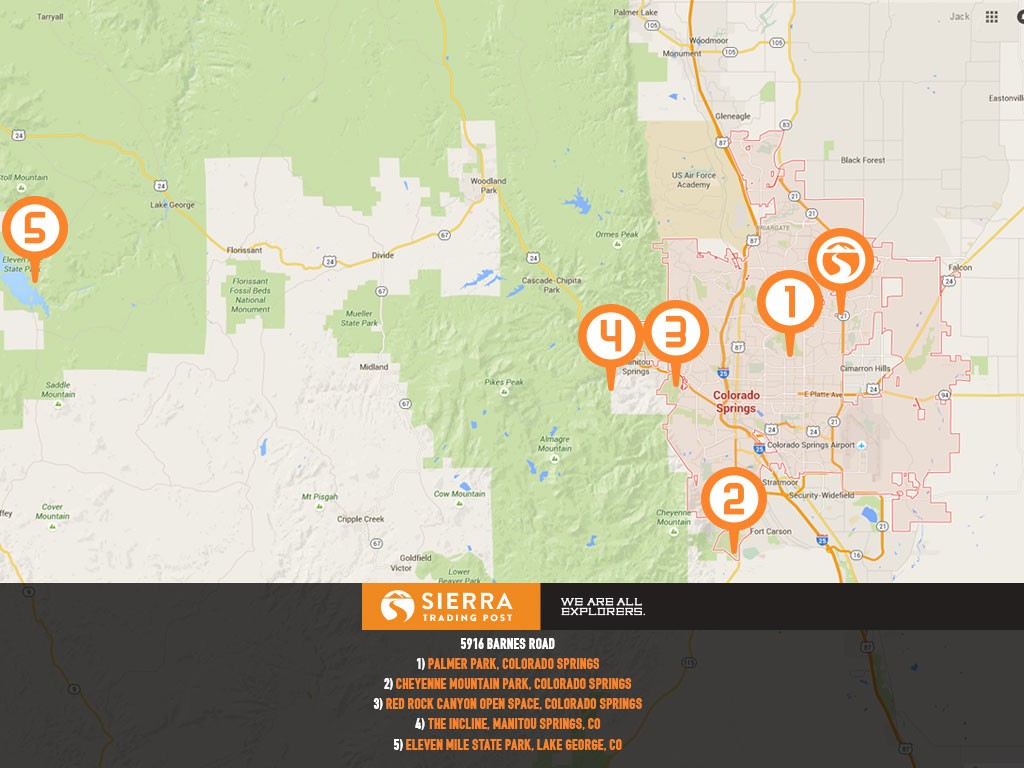 *Featured image photo by Miguel Vieira. This image was modified.