Morning routines don't always leave space for making your own lunch, but going out to eat each day can add up. Save your money and keep your meals healthy by making lunches yourself.
We gathered a few meals from our favorite recipe sites just for you! These healthy lunches are simple to make ahead of time so in the mornings you can just grab and go.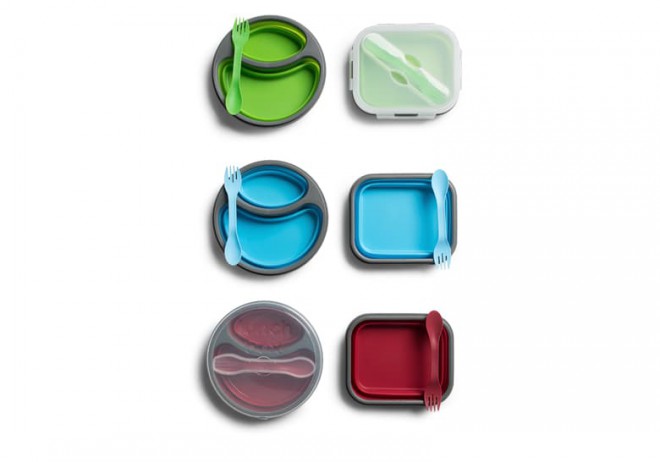 1. Sweet Potato-Peanut Bisque
This hot, homemade meal from Eating Well will hit the spot on a cold, winter day. Make a batch the night before and enjoy it for lunch throughout the week!
Ingredients:


2 large sweet potatoes


1 tablespoon canola oil


1 small yellow onion (chopped)


1 large clove garlic (minced)


3 cups tomato juice


1 can (4 oz) diced green chiles (drained)


2 teaspoons minced ginger


1 teaspoon allspice


1 can (15 oz) vegetable broth


1/2 cup natural peanut butter


Pepper


Directions:
Microwave sweet potatoes on high for 7-10 minutes (be sure to prick with fork before microwaving). Heat oil in a large
saucepan or Dutch oven
. Cook onion for 2-4 minutes, then add garlic and cook for an additional minute. Stir in tomato juice, green chiles, allspice and ginger. Cook for 10 minutes.
Meanwhile, peel microwaved sweet potatoes and chop into bite-size pieces. Add half of chopped potatoes to the saucepan and the other to a blender or food processor along with vegetable broth and peanut butter. Puree until completely smooth and then add to saucepan. Stir well to combine, thinning with water if desired. Bisque is ready when hot.
2. Greek Chopped Salad
The ultimate healthy lunch, salads are easy to make and fun to eat. This Greek chopped salad from The Garden Grazer includes a homemade red-wine vinegar sauce, but if you're crunched for time any favorite dressing will do. Add olives, feta and other toppings to suit your taste buds if desired.
Salad Ingredients:


1 cucumber


4-5 roma tomatoes


1 large red bell pepper


1 small red onion


1 can (15 oz) garbanzo beans (aka chick peas), rinsed and drained


Dressing Ingredients:


3 tablespoons red wine vinegar


2 tablespoons olive oil


2 teaspoons dried oregano


1/4 teaspoon salt


Directions:
For the dressing, whisk all ingredients together in a small bowl and set aside. Dice the vegetables and place in a large bowl. Add drained garbanzo beans and any other desired ingredients. Add dressing, and toss to combine.
3. Taco Soup
Another hot lunch that's easy to pack, this taco soup recipe from Weight Watchers is one you'll fall in love with. It's easy to keep all these ingredients on hand, too, so you'll never be stuck without a fast, healthy dinner. To speed preparation, consider buying frozen bell pepper and onion or chop and freeze your own.
Ingredients:


1 lb lean ground turkey


1 small green bell pepper (chopped)


1 small yellow diced onion (chopped)


1 can low sodium whole kernel corn (drained)


1 can low sodium diced tomatoes


1 can (8 oz) low sodium tomato sauce


1 can low sodium kidney beans (drained)


1 can low sodium pinto beans (drained)


1 tablespoon cumin


2 teaspoons garlic powder


2 teaspoons paprika


1 teaspoon garlic powder


1 teaspoon salt


1 teaspoon black pepper


3 cups water


Directions:
Brown ground turkey in a
large pot
. Drain excess grease and add in all other ingredients. Stir and simmer on medium heat for 45 minutes.
4. Curried Chicken Salad Sandwich
This simple meal from Valerie's Kitchen is made that much easier by incorporating a rotisserie chicken from your favorite supermarket. Less cooking means more time to hit the gym (or get some extra shut-eye).
Chicken Salad Ingredients:


2-2.5 cups cooked, chopped chicken (use rotisserie chicken to keep things simple)


1/3 cup golden raisins


1 stalk celery (sliced)


1/4 cup red onion (diced)


2 tablespoons fresh Italian parsley


Curry Dressing Ingredients:


1/2 cup mayonnaise


1/2 up plain Greek yogurt


4 teaspoons curry powder


2 teaspoons sugar


1/2 teaspoon salt


Black pepper, to taste


Directions:
Combine chicken, raisins, celery and onion in a medium mixing bowl. In a separate bowl, combine dressing ingredients. Pour dressing over chicken mixture and stir. Sprinkle with parsley and mix again. Serve on sandwich rolls or over salad greens.
Not a fan of raisins? Try adding halved grapes for a sweet little crunch.
5. Chicken Pesto Sandwich
This recipe had us at pesto. Damn Delicious creates a refreshing sandwich filling perfect for packing. Keep in mind that you'll need a food processor for the pesto portion of this recipe. (Alternatively, you can buy pre-made pesto. Find it next to the spaghetti sauces and/or in the refrigerated section at your local grocery store.)
Chicken Salad Ingredients:


2 cups shredded chicken breast (could use rotisserie chicken again!)


1/4 cup Greek yogurt


Salt and pepper, to taste


Basil Pesto Ingredients:


1 cup fresh basil leaves


3 cloves garlic (peeled)


3 tablespoons pine nuts


1/3 cup grated Parmesan


Salt and pepper, to taste


1/3 cup olive oil


Directions:
Make the pesto by adding basil, garlic, pine nuts, Parmesan, salt and pepper to the bowl of a food processor. Run the motor and slowly add olive oil until emulsified.
Add chicken, 1/2 cup pesto, Greek yogurt, salt and pepper to a large bowl and mix to combine. Spoon sandwich filling onto baguette slices or between your bread of choice, adding arugula, mozzarella and tomato if desired.
By incorporating these healthy lunches into your week, you'll be able to save a little money and stick to a healthy diet without sacrificing flavor.