Much to the chagrin of warm weather fans and families facing the prospect of school starting again, we've got less than an official month of summer left. It's time to squeeze as much summer fun out of the last warm days of the season before temperatures drop, leaves start to fall, and winter is on the horizon. And what better time than almost-the-end of summer to do quintessentially summer activities? Give these warm weather pastimes a go before it's too late.
Go river tubing.
There are plenty of ways to experience bodies of water while the weather's warm, and if you're close to a river, going tubing is an ideal way to spend an almost-end-of-the-summer day. It's as simple as summer fun gets. If you live near a river like the Delaware, which was the site of
my first tubing expedition
, find a local outfitter and rent everything you'll need for a relaxing day on the water. Outfitters like
Bucks County River Country
in Pennsylvania offer a variety of float lengths and equipment. But if you'd rather be on your own, invest in a tube, find a river or creek, check local rules and regulations, and jump in!

Host a giant barbecue.
Nothing says "summer" quite like the smell of delicious meat and veggies being grilled to sweet, sweet perfection. When the snow starts to fall, I always lament how much better burgers and chicken taste on the grill, and how much I'm going to miss it until the weather warms up again. Before it's too late, grab your friends and family and put your backyard grill to good use. Don't have a grill? Visit a local picnic-friendly park and grill the old fashioned way - over a permanent grill fixture with charcoal. Use the last few weeks of summer to try out a new recipe you've been meaning to try, or stick with old stand-by favorites like burgers and hot dogs.
Have a bonfire. (Ghost stories and s'mores optional, but encouraged.)
Truth be told, bonfires are a blast no matter what time of year it is. On a
backpacking trip
in the Green Mountains last winter, friends and I got one going to keep us occupied and stay warm as temperatures dropped to near zero. But there's just something special about sitting around a giant blaze, watching the coals flicker, and trying not to set marshmallows on fire while you're making s'mores. Before the summer ends, find yourself a safe location for a bonfire, and enjoy.
Play Capture the Flag.
If your childhood was anything like mine, games that involved running around in a field or in the woods were frequent summer day activities. My friends and I would gather at the same time every day and chase each other around until it was too dark to see, only taking breaks to discuss the intricacies of the rules of Capture the Flag and to eat whatever amazing snacks our parents prepared. If Capture the Flag isn't your game of choice, plain old Tag or Hide and Seek outdoors are options too. Embrace your inner child and go out and play.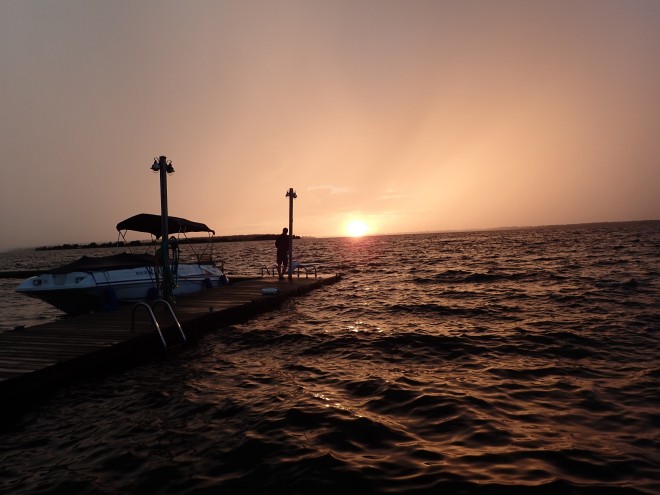 Go for a boat or jet ski ride.
Growing up spending the summers on the St. Lawrence River in upstate New York, and hearing boats buzz by is a memory I always associate with summer. My family and I would jump in our speed boat, named Beulah, and tool around the river until the sun set. Though boating during fall's cooler months is an option, being out on the water in the summer is just plain fantastic. If you're lucky enough to have a boat or jet ski available to you, take it out for a spin and explore local waterways. Renting a boat can be an option as well, depending on the destination. Just don't forget your
life jacket
.
Have a water balloon fight.
If your inner child doesn't enjoy Capture the Flag, or if you're looking for a fun way to cool off that doesn't involve a boat, try a good old fashioned water balloon fight. Toss the balloons back and forth with a partner at increasing distances until one partner pops one. Stage water balloon-style dodgeball where two teams score points for soaking opposing team members. Just make sure you gather up the remnants of popped balloons when you're done.
What are some of your go-to summer activities? How are you going to spend the last little bit of summer? Are you sad to see warm weather go, or are you counting down the days until fall begins? We'd love to hear from you!