My brother and I told everyone that when they subscribe to
The Bro'd Trip's
Weekly Digest, we'd sent them a hand written postcard. We've been doing that, but within the first month on the road I had this idea. Why not find where the postcard photo was taken, take the postcard there, and do my best to recreate the scene?
If you find yourself in Big Bend National Park, here's the low-down on how to get postcard views for yourself.
Balanced Rock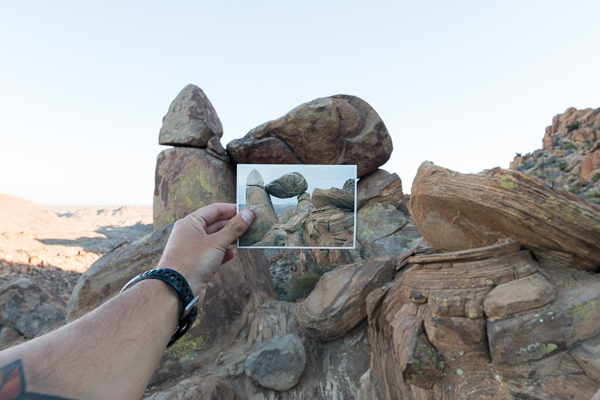 How to Get There
Go down Grapevine Hills Road. It's 3 miles from Panther Junction (the center of Big Bend National Park) and clearly marked. Make sure you're driving a vehicle with a decent amount of clearance. The first mile on the dirt road is fairly mellow, but it gets worse the farther you go. Be ready to go slow the entire 6.5 miles to the trailhead. There are some sections that require a little skillful maneuvering.
Once you're at the trailhead, it's a straight shot; a little over a mile with some low class scrambling. Make sure you pay attention to the trail markers, especially at night, because it's easy to get lost among all the boulders.
Time of Day
A couple hours before sunset and you should be good. Your goal is to be there when the Balanced Rocks is covered in the shadows. Get it on a blue bird sky day and the white balance will be great straight out of your camera.
Santa Elena Canyon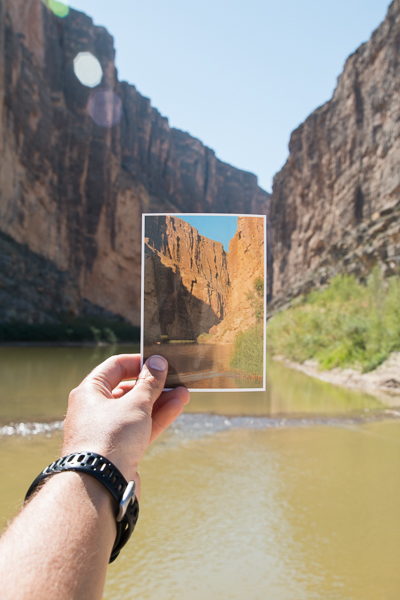 How to Get There
Follow directions for the Santa Elena Canyon Trail. It's a scenic drive and paved the entire way; very easy to navigate and any car can make it to the trailhead.
Take the well-maintained Santa Elena Canyon Trail. It'll dump you out on a desert beach along the Rio Grande River. From there it's very easy to spot where the photo was taken. Your main challenge is going to be keeping other visitors out of your shot.
Time of Day
Early morning is when it's going to be best. Camp out at the Cottonwood Campground if you want to be near Santa Elena Canyon when you wake up, or plan to wake up about an hour before sunrise if you're camping out in the Chisos Mountains and even earlier if you're camping out in the Rio Grande Village. Do your best to get there right before sunrise, fewer people will be there and you'll be able to take advantage of those Golden Hour colors.
Rio Grande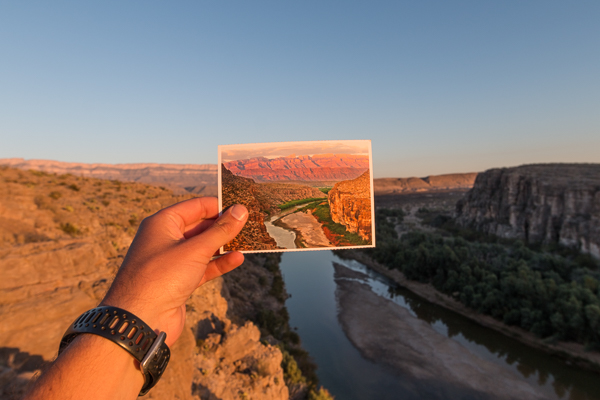 How to Get There
Drive to the Rio Grande Village and instead of turning left to the campground, turn right at the stop sign and go to the Daniels Ranch Trail.
Hike about a quarter mile up to a ridge along the Daniels Ranch Trail. Signs will say you're headed to the hot spring, and you can take the trail to the hot spring, but that's not where you're going. When you get atop the ridge, go off the trail to the left. Watch your step! Cacti are all over and just waiting to stab your ankles.
Hike for about 5 minutes and you'll come to a cliff that drops off. Down below is the Rio Grande River, and that land across the river is Mexico.
Time of Day
Start your hike about an hour and a half before sunset. You want to get that Golden Hour light and you want the sun at your back. As the sun continues to set, you'll see the Sierra Del Carmens out in the distance start to change colors. When that happens, that's when you know the scene's set for your photo. Right when the sun sets, get out of there. You need to navigate your way through cacti back to the trail and you do not want to get lost there.
Hoodoos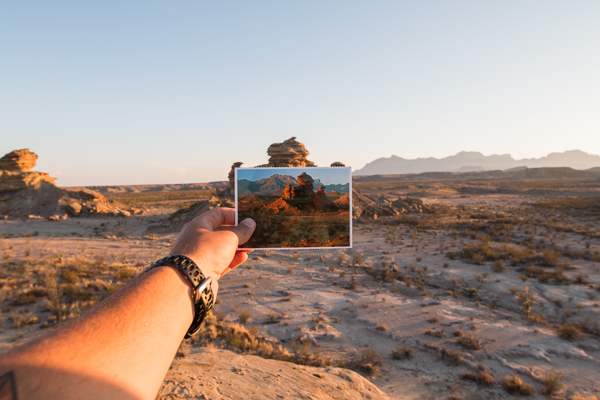 How to Get There
Take Highway 385 toward Marathon and just past mile marker #7, you're going to see a pull off on the left hand side of the road. Park there.
Before you even head out, do some scouting from the highway. The Hoodoos are out in the middle of the desert and there isn't a marked trail. It's a game of hide and seek at times since a lot of the other desert formations will block your view of the Hoodoos from the road and the view of your car parked along the side of the highway.
When you find the Hoodoos, you then have to find a specific hill to stand atop to get your shot. Start heading out into the desert with enough time and be ready to walk up and down quite a few hills before you find your shot.
A compass would be a useful tool to have to ensure you know which way to go back to find your car and the highway.
Time of Day
Scout out the Hoodoos from the highway in the afternoon; that way you're not scrambling last minute. Start your trek on foot a few hours before sunset. Again, you want to hit it during Golden Hour and you want to give yourself time to find the right hill to stand atop. Bring plenty of water and some
snacks
, there's no shade out there and it can get really hot.
Have you been to Big Bend National Park? Leave a comment below and let us know what postcard views you've seen there!