Springtime is my favorite time of the year. With spring comes change, newness, and inspiration visually from the colors flashing before my eyes. The days are longer and warmer and nature is singing a song of colorful hues.
Where I live hints of spring don't show when the snow melts. What snow? Where I live, four miles from the Pacific Ocean, I know spring is on its way when the hills turn green and wildflowers start to bloom. You see, this is a rarity where I live, the colorful hills, they only show a few months each year. In Southern California, our climate is semi-arid and desert like. Therefore, green hills and valleys, I like them. Not just like, I love them. I cherish them. I look forward to the fresh palette of colors yearly. It makes my heart sing.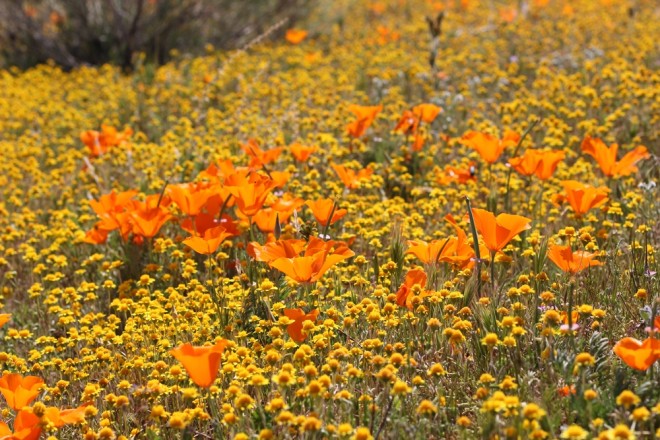 While sandy beaches, Yosemite, and Hollywood are associated with California, the bright orange poppy, too, is a symbol of the golden state and officially the state flower. It is also my favorite wildflower occasionally seen on the trails near my home and growing in the gardens nearby. It is more rare for me to see a poppy in the wild than I like, but that is life as it is these days due to it being mostly taken over by invasive species of Southern California (think mustard, pretty yellow flowers, but invasive).
California is a big state however and poppies do flourish is some places more than others. One such place is the Antelope Valley, located in the high desert area and western edge of the Mojave Desert. In this valley, a state reserve has been set aside to protect the land where the poppies bloom and where people visit in droves each year to walk the eight miles of trails, view, photograph, and paint the lovely orange goodness along with other flora and wildlife.
Spring is the time to visit the preserve, but the blooms vary year to year due to factors such as rainfall, heatwaves, wind, etc. Southern California had decent winter rainfall this year, but several recent heatwaves have mostly wiped out the poppies that grew early. Timing is everything and each spring the best way to stay informed is to call or follow the state park website for frequent updates and bloom predictions. There is always next year, though, and you still have chances to see the poppies here and there.
Additionally, many native gardens and habitats have poppies growing and if you're lucky, you'll just see some while hiking the many trails in which they can be found growing wild.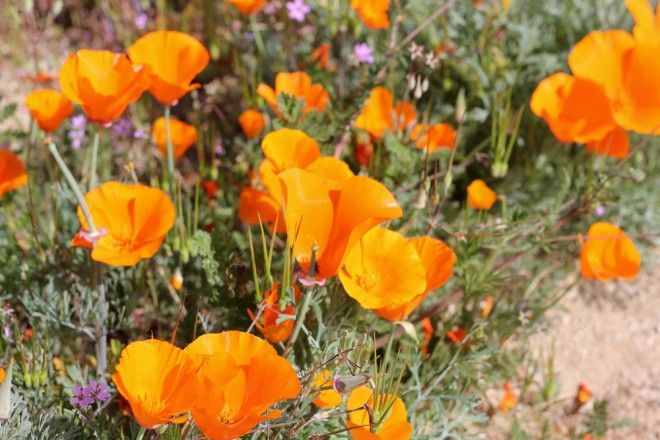 Three Facts about the California poppy:


The California poppy is a native wildflower to California, Baja Mexico and other states bordering California: Oregon, Arizona, and Nevada.


After being selected in 1890 by the California State Floral Society it was designated officially, the state flower in 1903 and was selected because the golden color seemed fitting to be the flower of the golden state.


April 6 is designated California Poppy Day


For many people springtime is the start of hiking season, new beginnings, and wildflowers.
What is the wildflower you are most excited to see in your region out on the trails?