Please join me as I explore all of the ways we can turn a home into a sumptuous retreat from the chill of winter. It might sound rather posh, but all it takes to make the cozy transformation are plush rugs, warm blankets and luxuriant slippers.
Sheepskin Rugs and Pillows
If you want to transform your home into a cozy place for a little rest and relaxation, start from the ground up; lay the groundwork for your luxury retreat with a soft sheepskin rug.
The sigh-inducing feeling of sinking your feet into a
sheepskin rug
rivals that of digging your toes into a warm, sandy beach. Since most of us are unable to enjoy the warm sand of a Caribbean beach after a hard day of work or play, a luxurious sheepskin rug is a realistic alternative. Not only do they offer a stylish way to add texture to your décor, but they also add an undeniable softness to the room that kickstarts relaxation in an instant.
And you don't have to stop at the floor; sheepskin rugs and sheepskin pillows can be added to lounge chairs to add a layer of warmth and plush luxury to reclining relaxation.
Auskin
sheepskin rugs are renowned for their luxurious and uniformly plush single-pelt construction, and are the premier choice for luxury sheepskin décor.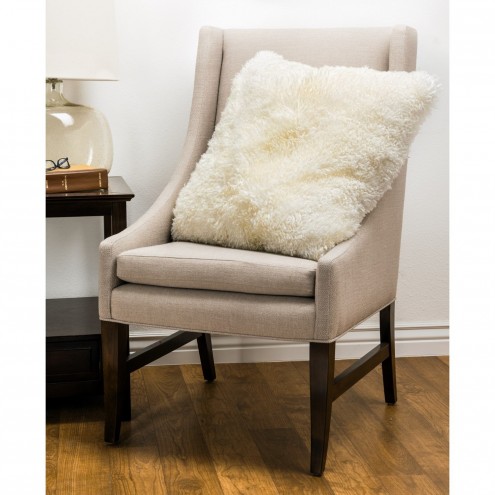 Once you've imbued your home with the softness of sheepskin, you can
learn how to take care of your Auskin sheepskin rugs and pillows here
.
Throw Blankets
As lovely as it might be, you can't wrap a sheepskin rug around you as you snuggle up with a loved one and a glass of wine. For that, you need a
comfy blanket
.
To continue the theme of natural luxury, choose a
new wool
or
lambswool blanket
. New wool is prized for its supreme softness, and lambswool is beloved for its lightweight, breathable warmth. Or splurge on the unbeatable comfort of a superfine blanket like
Johnstons of Elgin's Limited Edition throw blanket
, which is made of an incredibly soft merino wool-cashmere blend.
When you choose a first-rate blanket to cozy up in, you not only get something supersoft and warm to snuggle, but a design accent, as well.
Wool blankets
look great on the back of a sofa or chair, or draped over a duvet on a bed.
Slippers and Wool Socks
Spending a cold evening at home without a good pair of
slippers
and socks is like going to the tropics without a swimsuit — it renders you woefully unprepared for what could be a great experience. Natural materials like wool and sheepskin offer the best in cozy comfort when it comes to rugs and blankets, and it's no different for slippers and socks.
Unless you're wearing slippers with full
sheepskin
or
shearling lining
(those are best enjoyed barefoot), you have to start your cozy session with some comfy socks — and
wool socks
are definitely the best choice. Warm feet are pretty much guaranteed when you wear naturally insulating, temperature-regulating and moisture-wicking wool socks. Just be sure to get socks that are designated
midweight
or
heavyweight
, as lightweight socks are better suited for warm weather.
Sheepskin slippers
are just as stylish and plush as sheepskin rugs, but they win the cozy competition because they keep your feet in constant contact with the unbeatable luxury of shearling.
Wool slippers
are another comfy choice when you're looking for the best in natural comfort. You really can't go wrong with either, but I prefer sheepskin slippers because wearing them without socks is the epitome of foot heaven in my book.
Now that I've covered all of my cozy bases, I think I'll head home, slip into my sheepskin slippers, curl up in a blanket and get my fill of cozy relaxation before spring arrives! Cheers!