There's a chill in the air, and it's time to start pulling your fall favorites out from the back of the closet. If there's one item that never lets us down each autumn, it's that old standby: The cozy flannel.
Where other styles are loud and boisterous, the classic flannel is soft and unassuming. And after a sizzling summer of swimsuits and shorts, the flannel is our favorite TV-binging, cider-sipping, I'll-forgive-you-for-that-extra-piece-of-pie snuggle buddy.
And yet, being comfy certainly doesn't mean looking frumpy! The classic flannel has some trendy and stylish tricks up its sleeves. Try these looks when your flannel game could use a style boost, and then shop some of the great options you can find right here at Sierra Trading Post.
Flannel shirts come in all sorts of patterns and prints, but plaid is by far the most common. The trick to styling old-school plaid is to keep the rest of your outfit casual and contemporary, while letting the plaid be the star of your ensemble. Keep your jeans slim to fully avoid the grungy, working-in-the-yard look. Generally, your accessories and shoes should be modern yet subtle. Skinny jeans and boots tend to finish this fall look.
For a Casual Look
Slip a solid, complementing cami or T-shirt underneath your flannel for super-versatile and casual styling. Worn buttoned up or open, with rolled sleeves or not, you really can't go wrong with this casual look. For a preppier feel, throw a v-neck sweater over your flannel. Layer with a vest or jean jacket for a more rugged vibe. However you do it, you'll also have a light layer of extra warmth for the crisp autumn air.
For the Overall Aficionado
Ladies! Overalls are totally back, and better than ever! Choose a pair with a slim-fitting cut and a low back. (The big-and-baggy variety isn't what we're going for here.) Wear your flannel under the straps or over them with a T-shirt underneath; you could even tie your flannel around your waist for an extra kick of color and casual, apple-picking style.
For a Bit of Country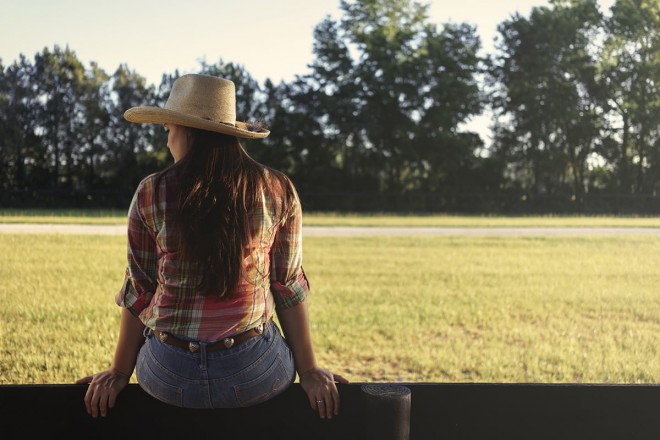 If you're craving that country look, both men and women can choose a plaid flannel accented with glossy or pearlized buttons or snaps, bias-cut accents and pointed yokes. Tuck your flannel it into a pair of distressed jeans and add a belt for an afternoon at the pumpkin patch. Make the belt a rhinestone sparkler and, ladies, you're ready to slip on your boots-with-the-bling for a night on the town... country style!
For that Hipster Vibe
Gentlemen, believe it or not, there's a fine line between "lumberjack" and "hipster." Whichever look you're going for, a red tartan plaid and distressed jeans are key to making it work. Make those jeans skinny, add a beanie and an unkempt beard, and you're ready to go full-on hipster!
However you wear your flannel, fall is the perfect time to get it out of the closet and add it into your casual-chic wardrobe. What is your favorite fall look? How do you style your favorite flannel? Let us know in the comments!