You're forced to choose between a merino wool sweater and a cashmere sweater. It's quite a luxurious predicament, but what are you to do? I'll give you the facts, but it's up to you to decide.
Where Does Wool Come From? The Merino Sheep and Cashmere Goat
First of all, it helps to know the difference between a cashmere fiber and a merino wool fiber. This knowledge helps us understand why cashmere is more expensive and why it's so soft.
Merino wool is made from the
wool of a Merino sheep
. And while cashmere is often called "wool", it's actually the hair of a Cashmere goat. The ultrafine hair that's used in cashmere sweaters is actually the supersoft, insulating undercoat around the neck of a Cashmere goat. Each goat usually only produces a few ounces of usable cashmere fiber each year. This small yield is why a pure cashmere sweater will cost you quite a bit more than a merino wool sweater.
Because of the natural fiber's job of keeping the animal comfortable in extreme conditions, both merino wool and cashmere have the natural ability to regulate temperature, wick moisture and resist odor. But what differentiates one from the other?
Merino vs Cashmere: The Natural Performance Showdown
When you're comparing a merino wool sweater and a cashmere sweater, you'll notice two major differences. First of all, the plush softness of the cashmere sweater is quite obvious. Secondly, you may notice the superior elasticity of the merino wool sweater.
Merino wool is naturally more elastic and durable than cashmere, so it's often used to make activewear and base layers. Because the fibers are so strong, they can be used to make layers and socks that vary widely in weight. Take
SmartWool
or
Icebreaker
merino wool layers for example, they range from ultralight to heavyweight because of the superior durability and versatility of the merino wool fiber. This characteristic makes
merino wool
a great choice for functional use in your active endeavors.
But what cashmere lacks in durability, it makes up in soft luxury and ultralight warmth.
Cashmere sweaters
and
cashmere scarves
are coveted for their plush, lofty and airy-light feel, which is something you simply cannot get from merino wool. High-quality cashmere, like the Scottish cashmere of
Johnstons of Elgin
, is unsurpassed in its ultrafine, ultraplush and luxurious feel. Plus, cashmere fiber has more loft than merino wool, so it's more insulating. This makes cashmere the best choice for those looking for luxurious style that offers breathable warmth.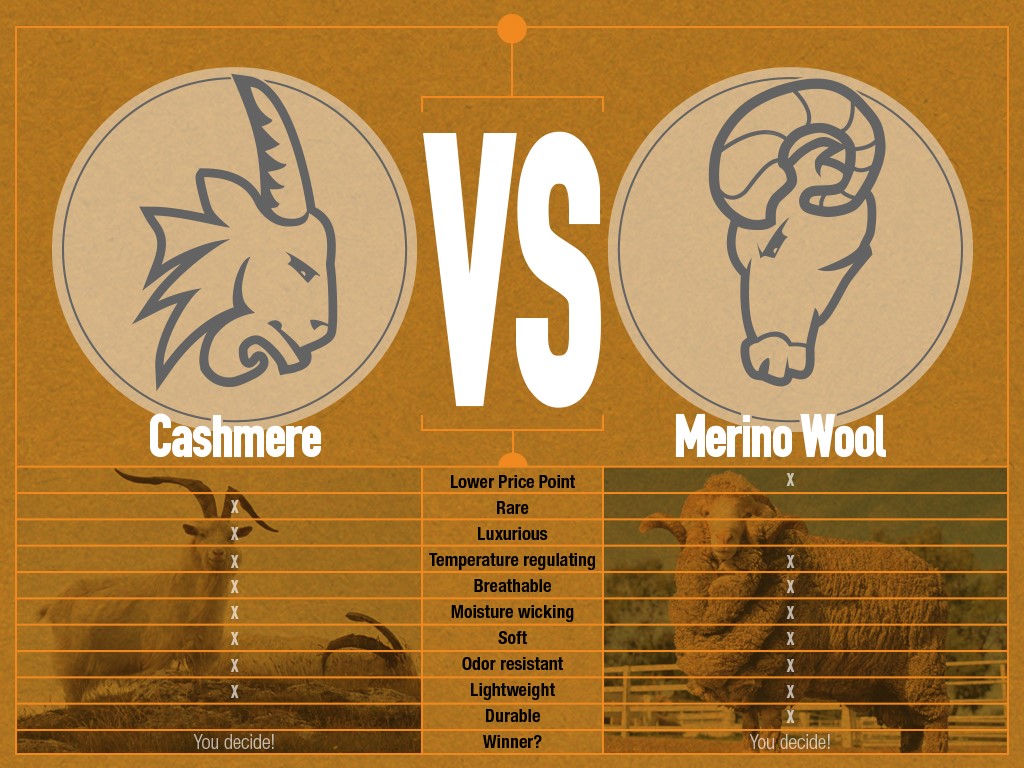 Active Function or Stylish Luxury?
So, your choice between a merino wool sweater and cashmere sweater is going to come down to your intentions for using it. Since both will offer a high degree of comfort in nearly any kind of weather, you'll have to consider your desire for style, function and luxury. If your sweater is coming with you on an active adventure, you are better off choosing merino wool. If you are planning on wearing your sweater to work, a nice dinner out or a special event, you can't beat the quality and luxury of a cashmere sweater.
Now that you have all the facts, which would you choose? A merino wool sweater or a cashmere sweater?
Need even more info before making your decision? Check out our
wool guide
.