After a summer of hiking at the pace of a 2-year-old, a group of my mom friends and I knew we had to finish summer with an epic outdoor girls weekend. So we planned one!
The goal was to summit four
14-ers
, Mt. Democrat, Cameron, Lincoln and Bross in one day. We met that goal, and enjoyed an adventure away from our spouses and children.
I'll admit that when most women start planning a girls weekend they have visions of a spa and a bottle of wine. But if you're an outdoor woman, you know there's nothing like getting a group of your friends together to meet a challenge, bag a peak or head to a unique outdoor destination.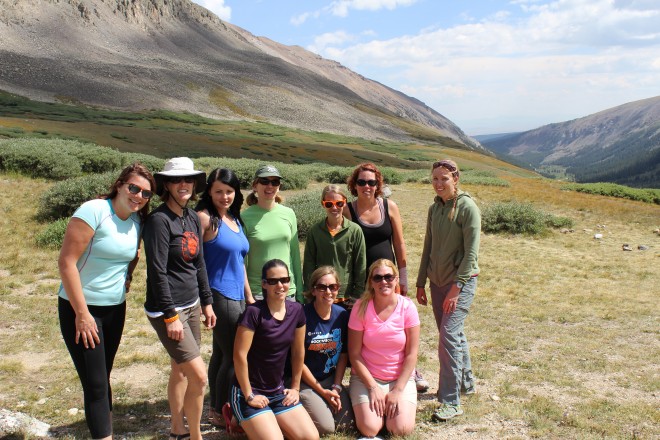 Here's what I learned while planning our ultimate girls weekend:


Start planning early. This will give everyone time to do things like schedule time off from work, arrange childcare (if you have kids), and acquire gear that they might not have but that they'll need for the adventure.




Choose your friends. In some cases you might just want to invite a few close friends who you know will be up for an outdoor adventure. Or you might want to invite everyone you know and try to convince them to spend the weekend in the wilderness with you.


Select a group communication tool. Communication is important throughout the planning process. A good tool will keep everyone informed and allow everyone to give their input about the trip. We used the private Facebook group and had a meeting at the mid-point to talk about who was driving, who was bringing gear for the group and who was sharing tents. You can also try a mass email list if social media won't work for your group. It also helps if someone takes on the role the unofficial leader or coordinator of the group.




Pick a date and stick to it. Ask your friends for suggestions but know that you'll never be able to pick a weekend that'll work for everyone, there will always be conflicts. Selecting a date early will give those who want to come plenty of time to plan and prepare. I found that those who really want to come will find a way to fit it in and if they can't they'll still support the group by lending gear and clothing to those who need it.




Get your partners onboard. If you have children you'll need your partner's support and help to take care of the kids. In our case, my husband took part in the planning process, helping me sort through maps and gear. All of our husbands thought our weekend away was a great idea and some even planned a dad/kid hike while we were gone.




Do a gear inventory. Figure out who has tents, sleeping bags backpacks and stoves. Try to share what you can within the group, but if you can't, look for sales and deals on outdoor gear to help those who need gear. Also think about a first-aid inventory and figure out who is going to carry medical supplies. It's also good to ask if anyone in the group has special medical training, like Wilderness First Responder, CPR and basic first-aid. It's also wise to ask if anyone has medical issues that could come up on the trip, even though they're unlikely to present a problem.




Chose an amazing destination, something you might not get to otherwise. Or some place you think will be magical to share with a bunch of girlfriends. In our case, it was bagging a few peaks without our children. But maybe it's backpacking into a pristine lake, or even renting a cabin in the woods somewhere just to relax and talk.




Don't forget the food and drinks. Is everyone responsible for their own food and water? Will you pitch in and cook meals as a group? Is potable water available? If not, who's going to bring water (and how much) or how will you purify water for the group? These are good questions to ask as you make your plan.


With a little planning and a big outdoor adventure you can transform a (boring?) girls weekend into something amazing and memorable to inspire you for a long time to come. The memories made on the trip will last a lifetime.
Have you ever planned an epic weekend adventure for a group of friends? What tips and advice do you have?