With news about the Zika virus growing worse and West Nile virus season upon us, it's time to get serious about protecting ourselves from mosquitoes and insect-borne diseases. While
mosquito prevention
takes some time and applying bug spray can be kind of disgusting, wearing insect-repellent clothing is incredibly simple and easy.
But, much like
sun-protective clothing
, many don't know what it is about insect-repellent clothing that makes it so effective. Which makes the subject perfect for this investigative installment of Sierra Trading Post Explores. Keep reading to learn all about the now not-so-secret super powers of bug-repellent clothing.
What is Insect-Repellent Clothing?
Insect-repellent clothing repels mosquitoes, chiggers, flies and ticks with a Permethrin-based treatment that lasts for the expected life of the garment (around 70 washes). The insect-repelling Permethrin treatment is odorless, durable, non-toxic and machine washable. Insect Shield® is currently the only EPA-registered insect-repelling clothing treatment that lasts the lifetime of the garment. Insect Shield® was developed for the military in 1996, and has been successfully protecting military personnel from insect-borne diseases ever since.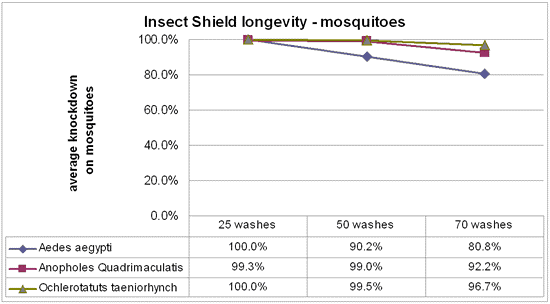 ExOfficio
offers many insect-repellent clothing options, which all feature their BugsAway® with Insect Shield® technology. Other brands like
Outdoor Research
,
Craghoppers
and
White Sierra
use Insect Shield® to offer insect-repellent performance, as well.
What is Permethrin?
Currently the only odorless, easy-care bug-repellent clothing treatments use Permethrin, which has been registered with the U.S. Environmental Protection Agency (EPA) since 1977 and has been proven safe time and time again. Permethrin is a pyrethroid insecticide that's used in lice shampoo and flea dips as well as clothing treatments. Pyrethroid insecticides are synthesized to mimic the natural extracts of the chrysanthemum flower.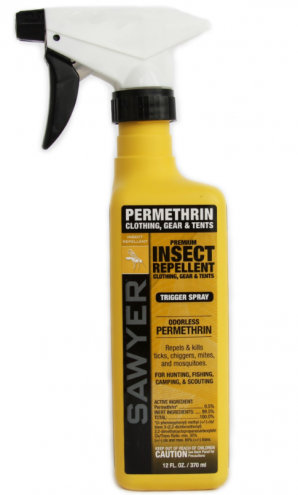 A spray-on Permethrin treatment can be used at home to treat clothing and camping gear in order to provide insect protection in the outdoors. However, the clothing you treat at home will not last through a washing. Insect-repellent clothing, on the other hand, utilizes an Insect Shield® treatment, which bonds Permethrin to the fabric fibers and makes the tick- and mosquito-repelling power effective for up to 70 launderings. Insect Shield®-treated clothing offers long-lasting insect protection that is bonded so tightly with the fabric, it does not transfer to skin, furniture or into the air.
The U.S. Centers for Disease Control and Prevention (CDC), The World Health Organization (WHO) and The American Academy of Family Physicians recommend Permethrin-treated apparel to protect against mosquito-borne illnesses.
How Does Insect-Repellent Clothing Work?
The Permethrin that's bonded to fabric fibers in insect-repellent clothing works in the same way that it does when you use it to treat clothing and gear at home. Permethrin is an insecticide that affects the nervous system of insects when they touch it; it's toxic to insects but relatively harmless to dogs and people because our bodies break it down too quickly for it to negatively affect us.
Permethrin is bonded so tightly to the fabric of insect-repelling clothing that it doesn't rub off on skin and is completely harmless. If Permethrin gets on your skin while you're wearing an item of clothing you treated at home, don't worry. Less than 1% of Permethrin that contacts skin is absorbed into the body, and that small amount is processed so quickly that it doesn't cause problems. The only concern with Permethrin is that it should not be eaten or left in the reach of children.
Protect Yourself from Bugs, Bites and Insect-Borne Diseases
The bonding of the insecticide Permethrin to the fabric fibers of a piece of clothing is what makes insect-repellent clothing so effective and safe. If you spend a lot of time outside, especially in buggy environments, you can protect yourself from the Zika virus, West Nile virus and general discomfort of a bug bite by wearing
Insect Shield®-treated insect-repellent clothing
. You can also keep bugs away from your tent, sleeping bag or backpack by treating them with Permethrin at home. When you protect yourself from insects, you're not only preventing annoying bites, but also the spread of insect-borne diseases.
That wraps up this installment of Sierra Trading Post Explores. I hope you learned a thing or two. Join me next month for another look into the lesser known aspects of your outdoor adventures and gear!