Trying to decide on a winter coat that'll see you through the season in style? It's probably become obvious that two of your best options are a peacoat and a parka. So which do you choose? I pit the two against each other to help you determine which coat is worthy of the job.
What is a Peacoat and why should you wear one?
A peacoat is a double-breasted coat that is usually made of wool.
Traditional peacoats
are hip or thigh-length, have two rows of buttons, front pockets and a wide, notched collar that can be worn buttoned up or laying down. The naval origin of peacoats is often symbolized with anchors on the buttons.
Peacoats offer a timeless appeal with classic style that can be dressed up or down. If you're looking for a fashionable jacket that you can wear to work and special occasions, a peacoat might be perfect for you. They can also be dressed down and look just as nice worn over a casual shirt and jeans. And, thanks to the natural breathability of wool, peacoats can be worn in fall, winter and spring.
The only downside of a peacoat is that it doesn't provide as much weather protection as a parka. However, a high-quality wool peacoat can be just as warm as a parka if you wear it with a good hat and scarf. And if it you're facing a really frigid day, some extra mid-layers never hurt. If you're looking for classic, versatile style and the naturally breathable warmth of wool, a peacoat is definitely your best choice.
What is a Parka and why should you wear one?
A parka is a
contemporary take
on the heavy coats that Caribou Inuits wore for weather protection in Arctic conditions. Parkas are thigh-length or longer, well-insulated, hooded and waterproof (or highly water-resistant). Many parkas also feature fur or faux-fur-lined hoods as a nod to their Inuit origins.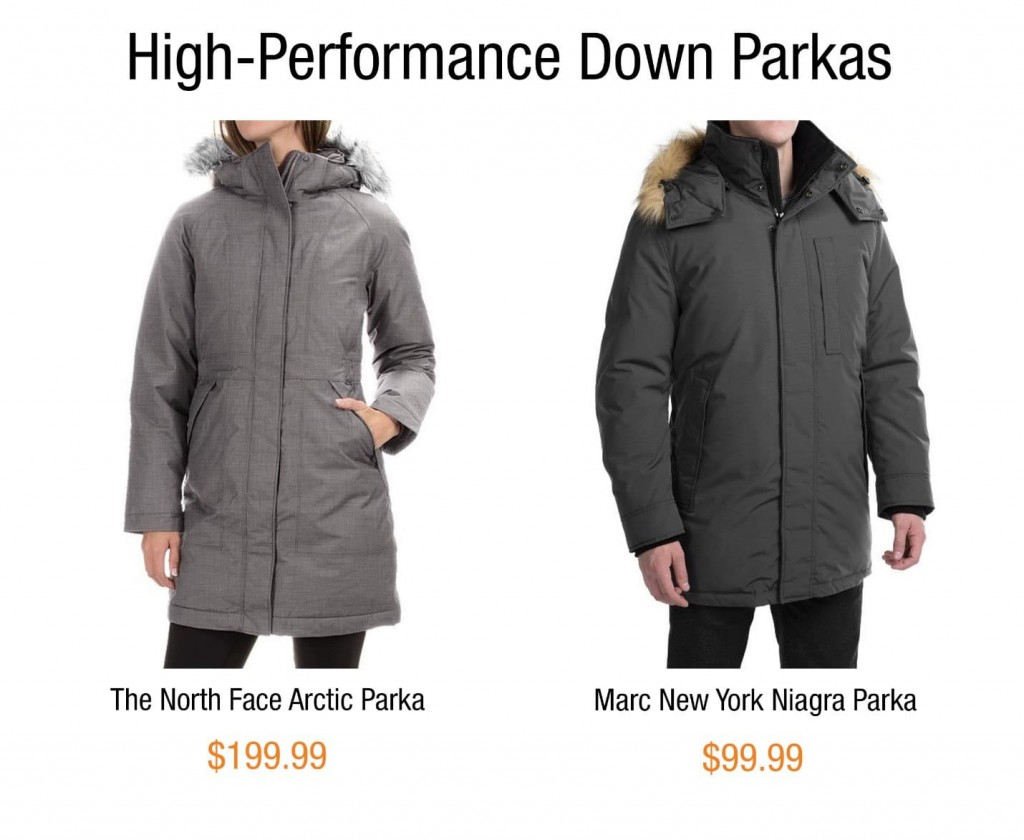 Parkas aren't quite as versatile as peacoats when it comes to style and weather. It's true that parkas can be stylish and fashionable, but their end goal is weather protection. And you'll probably get overheated on a cool fall day if you're wearing a parka. But, you can't get better than a parka when it comes to comfort and protection in extreme winter weather.
If comfort in harsh winter weather is what you're looking for, a parka is your best bet. The extended length, attached hood, warm insulation and waterproof shell shield from wind, snow and frigid temperatures.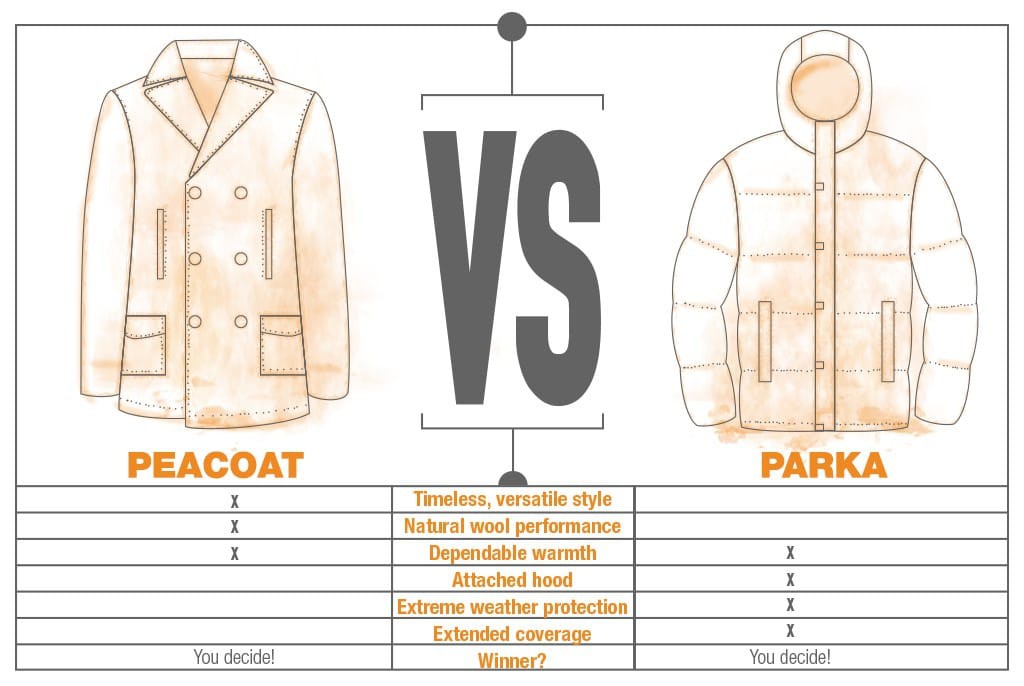 So, will it be a peacoat or a parka?
As always, making the best choice will come down to your particular situation and lifestyle. Do you live in a climate where snow flurries, blizzards and sub-freezing conditions are common? Are you looking for something that offers the best in winter protection? Choose a parka.
Do you live somewhere that mostly experiences light snow flurries and rarely sees a blizzard? Choose a peacoat. You should also choose a peacoat if you're looking for versatility. Peacoats have a classic style that looks good with anything; and they're made of wool, so they offer comfort in a variety of weather.
What's your choice?