This installment of Sierra Trading Post Explores is an exploration of the science behind the best rain jackets and waterproof gear. There are a variety of ways that your waterproof jacket might keep you dry; including waterproof fabric, a waterproof breathable coating and waterproof breathable laminate; but the majority of high-quality waterproof gear utilizes the latter. Because waterproof, breathable laminate technology is used in most technical gear, that's what I'll be focusing on for this installment.
How Does Your Rain Jacket Keep You Dry?
To create a waterproof breathable laminate that's ideal for active wear in wet weather, a waterproof, breathable membrane is bonded to a durable, water-resistant fabric. The fabric is treated with a DWR (durable water repellent) finish to repel precipitation and provide further weather protection. Popular, dependable waterproof breathable laminates include
Gore-Tex®
,
eVent®
, and laminates used by brands like Marmot's MemBrain® and Columbia Sportswear's Omni-Tech®.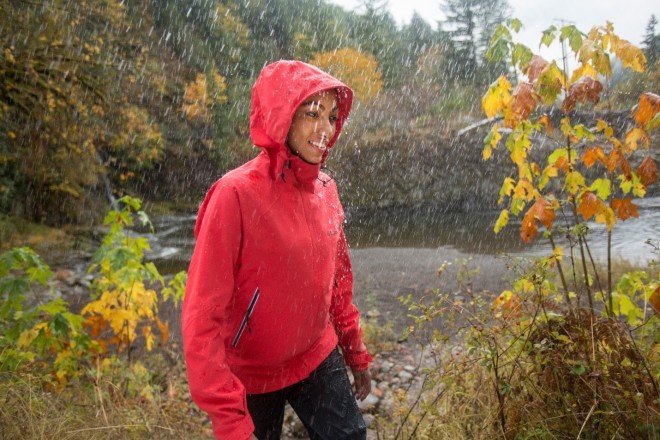 Since its revolutionary introduction in the late '70s, Gore-Tex® has remained a reliable choice for waterproof gear of all kinds, but waterproof, breathable technology continues to improve, and technical jackets from brands like
The North Face
,
Marmot
,
Columbia Sportswear
and
Mammut
offer dependable high-performance options with laminates that provide exceptional waterproof, breathable protection.
How Do Waterproof Laminates Work?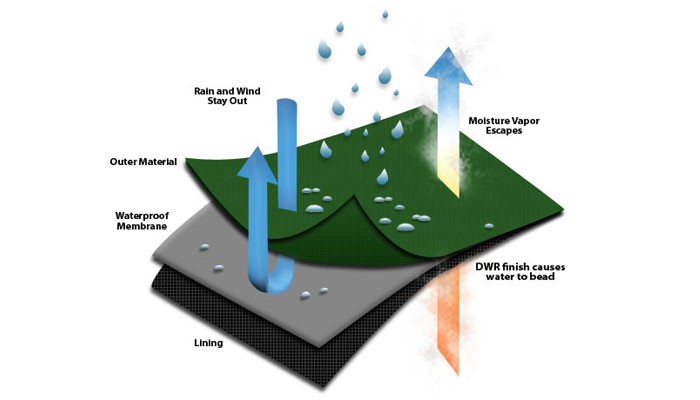 The waterproof, breathable membranes used in waterproof laminates are engineered to allow air to permeate the fabric and body vapor to escape while sealing out all external moisture. Membranes are made from ePTFE (expanded polytetrafluoroethylene), PU (polyurethane) film or polyester film. ePTFE and PU membranes are the most common and work in similar ways.
Surface Tension Keeps You Dry
If you were to look at a membrane on the microscopic level, you'd see something that looked like a web. This web has millions of holes in it that allow air to travel through, but not liquid. How is that possible? The simple answer is that all of those tiny holes are large enough to let air through and too small to allow water through. But, the more complicated answer lies in the science behind surface tension.
According the the USGS (United States Geological Survey), surface tension is "the property of the surface of a liquid that allows it to resist an external force, due to the cohesive nature of its molecules."
So, the higher the surface tension of a substance, the more the substance's molecules are attracted to each other. The high surface tension of water is what makes water molecules attracted to each other and stick together — it's what makes water form into puddles and drops of rain. It is also what keeps you dry when you wear a waterproof jacket.
The waterproof breathable membrane used in a laminate has a low surface tension, and water has a high surface tension. When the high surface tension of water molecules comes into contact with the much lower surface tension of a waterproof breathable membrane, the water molecules are strongly attracted to one another and quickly pull together to form bead-like spheres that cannot permeate the membrane. Thus, precipitation remains outside of your jacket and you stay dry. The DWR finish also encourages this beading action and allows the water to roll right off the surface of the jacket.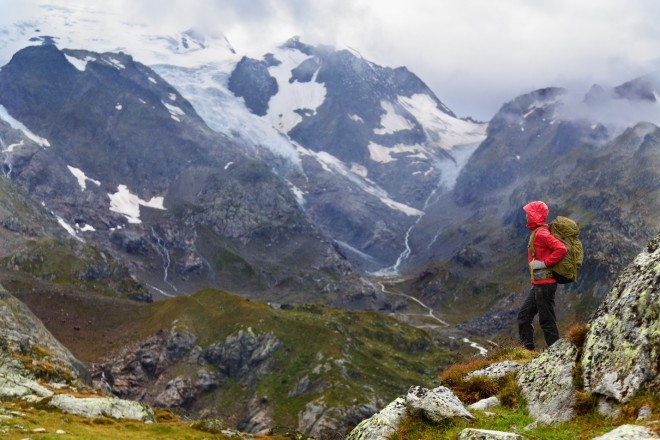 By utilizing the science behind surface tension, brands like The North Face and Marmot can make waterproof outerwear that's lightweight, durable, breathable and dependable in the most extreme conditions.
For more details about waterproofing and waterproof gear, check out our
Waterproof buying guide.
That wraps up this installment of "Sierra Trading Post Explores". I hope you learned a thing or two. Join me next month for another look into the lesser known aspects of your outdoor adventures and gear!