You may have Hanukkah dinner or Christmas dinner menu ideas aplenty, but are you at a loss when it comes to your holiday table setting décor? Whether you're setting the table for two or twenty, you can make a beautiful table setting with a little help from these tips and ideas.
Place Setting Guidelines for Holiday Entertaining
Before diving into making decisions when it comes to design and table décor, decide how formal you'd like your table setting to be. For more formal affairs, follow the formal place setting template pictured below: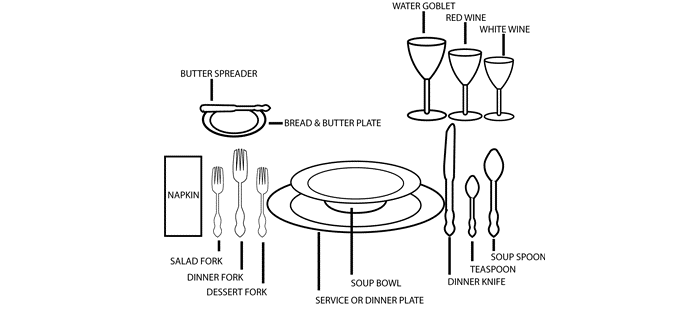 Formal place settings are your best choice for formal dinner parties and multi-course meals. For a more casual dining experience, you can pare it all the way down to the basics; one fork, spoon, knife, plate, wine glass and water glass will do for the most casual affairs. Most holiday entertainers will land somewhere in the middle, and as the host, it's up to you to decide what kind of atmosphere you'd like at the holiday table.
Once you've decided on the menu, place setting and intended atmosphere, it's time to dress up your table with a little color, texture or glamour to make the meal special.
Need more information about all of your
dinnerware, serveware
,
flatware
and
table décor
options? Check out our
Dining Guide
.
Set the Scene with Colors and Textures
Setting the scene for your holiday dinner can involve the finest china or a mix of all of the different dinnerware you have in the cabinets. The laid-back, casual holiday table can be just as stunning as the most formal one when you use colors and textures artfully.
Take the table setting pictured below for example, where a simple meal for four can be turned into a glimmering feast for the eyes with the right dinnerware and accessories.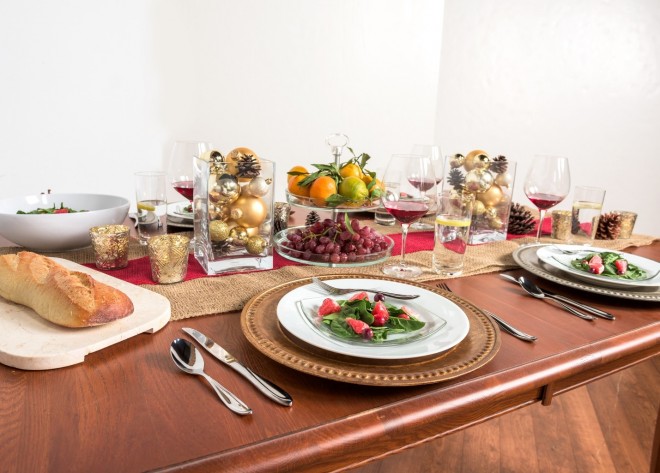 The Table Runner
Before you choose your specific dinnerware and serveware, lay the foundation for your gorgeous table by choosing a table cloth or table runner. Many experienced entertainers choose a simple design like the one pictured because they like to make the biggest visual impact with a centerpiece and dinnerware.
The Dinnerware and Serveware
Then, add some charisma to the table with your dinnerware and serveware. This table is an example of a simple place setting that's made exceptional by thoughtfully selected serveware and table décor. Flickering candles in metallic
votive candle holders
make a big impact without taking up much space on the table. Small
candles
are always a great addition to the table when you want to make a meal special. And the elegant curve of the stainless steel
Yamazaki Flatware Set
is a welcome complement to the festive glimmer of
metallic charger plates
.
When setting the table for a special occasion, keep the balance of colors and textures in mind. In this case, it's a good choice to keep it simple with the
Spiegelau Classic Bar Tumbler Glasses
,
Emile Henry salad/serving bowl
,
Creative Home Oval Marble cutting board
and
Bormioli Rocco Eclissi square dessert plates
in order to allow the eye-catching metallic of the candles and charger plates to shine.
The Centerpiece
Finally, if you have room for a table centerpiece or accessories that are larger than a few small candles, keep scale and placement in mind. Think of your menu and your plan for where the food will be located during the meal. Will the salad, main and side dishes be sitting on the table or staying in the kitchen?
One option to consider is to make the food your centerpiece by choosing beautiful serving bowls and platters. Use fresh-cut herbs on the top of dishes to add a thoughtful touch that looks and tastes great, and add that special festive style by using small accesssories like candles, ornaments or small floral arrangments around the dishes.
Or, if you're keen on leaving the center of the table available for table décor, keep the serving dishes in the kitchen to make room for a centerpiece of large candles, flowers, fruit and festive dé