It is warming up in the Northern hemisphere and I'm sure you have noticed, daylight lingered a minute or two longer today than yesterday. Landscape colors are changing. Birds are returning. It is nature's queue for us to shed those many layers we've lived in these last three to four months.
So roll up your sleeves, or better yet, get rid of them altogether. Vest weather is here.
How to Choose the Perfect Spring Vest
Insulation
During early mornings and at dusk, spring temperatures can still dip to chilly levels. Worn with the right layers, an insulated vest — be it wool, down, or synthetic — could be sufficient to keep you warm outdoors, especially if you are being active.
Versatility
When selecting a vest, think about the type of conditions you will be wearing it in. Choosing a versatile vest means that you get the most mileage and return on your investment if you can wear it for multiple activities. A vest is perfect for spring outdoor jaunts like hiking, snowshoeing, short trail runs or bike rides around town. But also think about it as something you could wear on your way to yoga class, doing work in the garden, or going out to sip coffee al fresco on a brisk morning.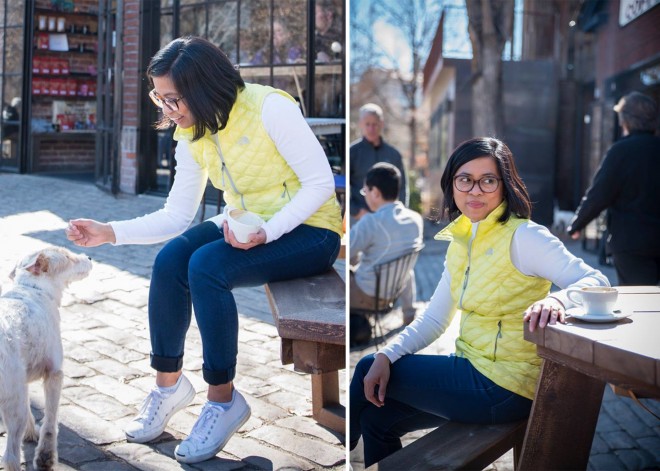 Weight
While it could tempting to get a heavy or bulky vest, you want to be able to move freely when wearing one, so it essential to pick a vest with the right weight. Also consider that when you are outdoors hiking or doing other activities, your body will be creating heat. A heavy vest on a spring hike might prove unnecessary. If you are planning on wearing a vest for sports where you want to have as little weight on you as possible (think running or mountain biking), the added weight of a vest might be unwelcome.
Fit
As with layers that are intended to keep you warm, a vest should fit close to your body. It should fit snugly but comfortably.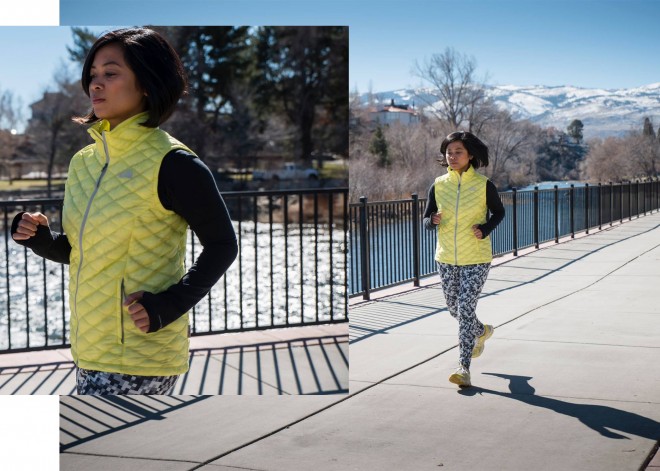 Pockets
Because I'm pretty sure you also find it a hassle bringing a purse to yoga class or running quick errands, having pockets on your vest means you can stow your keys, phone, and some small bills (and maybe a snack-size chocolate or two). When there's a light chill in the air, it is also nice to have somewhere to keep your hands until they warm up.
Packability
Spring spells more time outdoors and traveling. Select a vest that will be easy to store or retrieve from your pack as you adjust to weather conditions. It's also smart to look for a vest that will take up little to no room in your bag.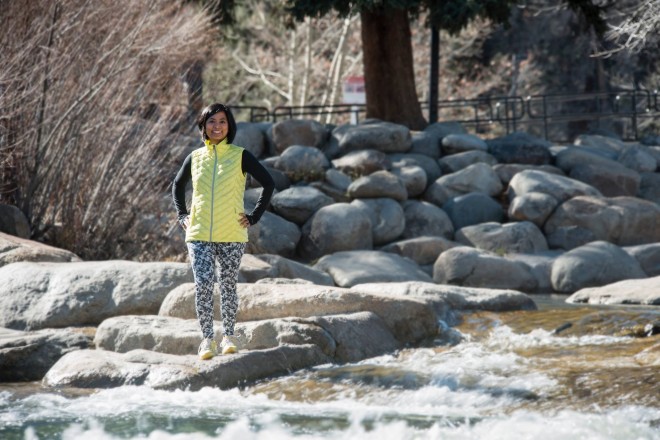 Color
Because it is spring, after all, have a little fun with color. You don't have to pick out neon if that is not your style, but don't be afraid to choose one that suits your personality and disposition. Vests nowadays no longer come in just black or brown, and for some, that is a much welcome change, especially if the idea is to welcome the long-awaited return of spring.
The vest featured in these pictures is
The North Face Thermoball Vest
from Sierra Trading Post.
Shop more vests.
*All photos courtesy Jenny Sinocruz