At the end of each summer I begin looking forward to winter. Both seasons have so much to offer. Summer is the season for biking, swimming, hiking, backpacking camping, and much more. Winter has skiing, snowboarding, snowshoeing and other activities that make you feel like you're in a real-life wonderland. BUT, there's one big problem and it's the season that comes in between. It goes by the name of, "Fall" or "Autumn" if you're into words that sound like they were taken straight from a poem. I've always tried to enjoy the season. I really have. However, it just seems to be a roadblock that prevents me from going seamlessly from one group of activities I enjoy to the other.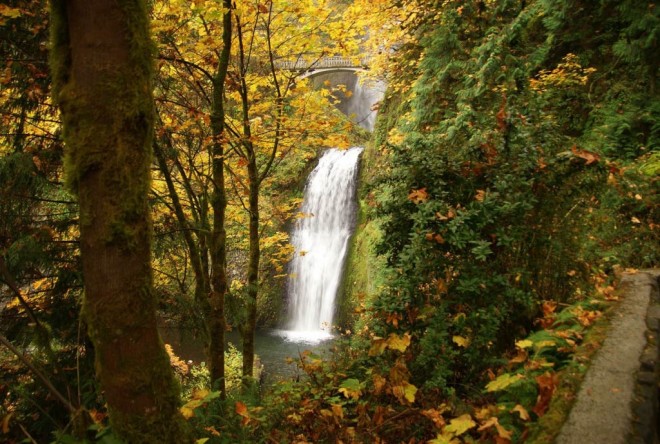 Now, I know there are a lot of fall fanatics out there, and so I'll admit that there must be a lot about the season that I have yet to learn. I always hear about the fall colors,
the cozy cable-knit sweaters
, football games that fill Monday nights with excitement, the delicious pumpkin-flavored treats, and the
tall boots
that walk in each time the air gets crisp. While I do love the colorful leaves, I still haven't managed to love the other popular elements of fall. As the musician Chad Sugg said, "Love the trees until their leaves fall off, then encourage them to try again next year."
Each year I try my best to understand how to make the most of fall. I order more than my fair share of pumpkin beverages, just to give them another shot. I probably
even wear a sweater once each fall
. However, it's hard to get too excited about the little things when fall seems to stand in the way of my favorite outdoor activities. Is it ski season or bike season? Who knows? It's that time of the year where I'm not sure if it will be hot, cold, dry, or wet. It's a period of uncertainty, and I don't like it. I know that fall comes every year — no matter what I think of it ;) — so it's worth appreciating. Luckily after many years of doubting fall, my list of things that I appreciate about the season is finally filling out.
I've realized, that for me, the best parts about fall are not the themes that most people first think about. The aspects that I enjoy most are the things never make it into the minutiae of everyday conversation. Here are some of the uncommonly discussed things to love about fall:
#1) Tourism typically dies down in popular destinations
I've been to Rocky Mountain National Park many times, but until recently I had never visited the park in the fall.
I went on a overnight backpacking trip
in mid October and it was one of the best trips I've been on. On the way in to our campsite we passed a ranger and she told us that we were the only people camping on that side of the park. That scenario would have never happened in July. If you want to experience solitude like you've never experienced before, the fall is a great time to get out backpacking. You can usually get the campsites you want with little planning, even in well-known destinations. I think we saw about five hikers total during our two-day fall hike on the trail. Both Rocky Mountain National Park and Yosemite National Park have about half the number of visitors in October as they do in July (which is when both parks' visitor count peaks). Not only do you beat the crowds, but you can still enjoy some nice weather in October. As always, make sure to
check the forecast before heading out
. Weather can make a big difference in your fall hiking experience.
#2) Fall creates the desire to visit new places
Kenosha Pass in Colorado has never made my list for places I wanted to visit...or at least, not until I saw pictures of it during the fall.
There are so many breathtaking areas in Colorado to explore, and that's true in any state. There's no shortage of beauty nearby. While it's nice to have plenty of places that you know you'll enjoy visiting, it's always nice to explore new areas, too. Fall has an ability of transforming a standard mountain scene into something you'll never forget. It makes you want to get out and explore those areas with a plethora of deciduous trees. It's not all about the color of the leaves, though. There's something that feels different about an area in the fall. The temperature keeps you cool when you'd otherwise be working up a sweat. Things sound different. You see wildlife preparing for the impending winter ahead. There's a feeling of scarcity that surrounds fall, and I'm always reminded that I need to enjoy it while it lasts. While I'd love to say that I approach every season in the outdoors the same way, it's easier to forget that the other seasons are there for a limited time only just like fall. Fall has a way of reminding me to enjoy the moment, no matter how brief the moment may be.
#3) Constraints breed creativity
The weather doesn't always allow you to enjoy your favorite activity during fall, so you have to find other things to do during those times. With the extra time during the fall, my imagination runs wild. Whether I'm thinking about how well I'm going to ski
this winter
while I watch a new ski movie (hey, I said my imagination runs wild), or a big adventure for next summer, it's always nice to have a moment to dream about what's next.
Some of my best trip ideas have come in the fall. I enjoy sitting with a map in front of me as get busy
planning a backpacking trip
for next year. The unpredictable weather helps me feel like staying inside to plan what could be the best trip yet. It's hard to beat time where you can dream and make the neccessary plans to turn your dreams into a reality.
Let's face it, we're all aware of the changing colors,
pumpkin-flavored treats
and cozy sweaters by now. However, there are plenty of other aspects about fall that I'm sure I missed. What do you love about the season with two names? Help me add to my list and drop a comment below with your favorite aspects of fall.