There's probably nothing in your wardrobe that puts a smile on your face quite like well-loved flannel. Whether it's an old shirt, pajamas or a bath robe, the color and patterns all play second fiddle to that soft, hard-to-mistake knap of true flannel fabric. The more loved-on, the better.
If images of plaid come to mind when you hear or see the word flannel, you're not alone. The two words have been used synonymously by ad agencies, clothing manufactures and plaid-loving flannel-wearers for decades. Even plaid's original definition once had it as 'a woolen cloth' with a checkered or tartan pattern.
It's a prime example of how our clothes can be universal, but fashion nomenclature isn't (nor should it be).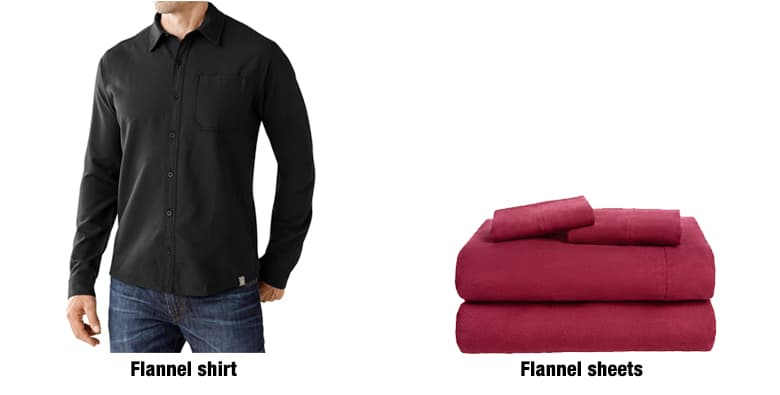 So what is flannel? Simply put, flannel is a soft fabric spun from cotton, wool or a blend of fibers, both natural and man-made. A classically warm fabric, flannel features either a plain or twill weave and has a thick, soft nap (or fuzzy finish) on at least one side. In terms of fashion, flannel is most often used is button-up shirts, skirts, scarves and jackets. Because of its soft hand, it is also used for blankets, sheets, sleepwear and even winter-friendly undergarments.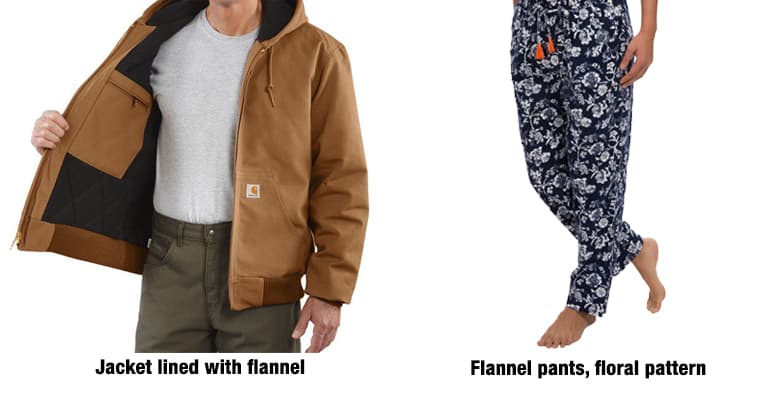 Plaid, on the other hand, is simply a pattern that is by no means exclusive to flannel fabric. With the origins of plaid believed to be in Scotland, the first plaid was used to identify regions and clan. Similar criss-cross, horizontal, and vertical-striped patterns -- often varying in thicknesses and range of colors -- are still used today for shirts, ties, dresses, slacks and even car seats.
While the terms tartan and plaid are often used interchangeably, a tartan pattern more specifically refers to lines of differing color and opacity intersecting to form darker-hued squares.
Where plaid and flannel find the most common ground is in timeless fashion. Both the print and the fabric are ideal for the cool-weather season. Plaid flannel not only adds warmth, but it also adds visual pop under a denim or wool shell.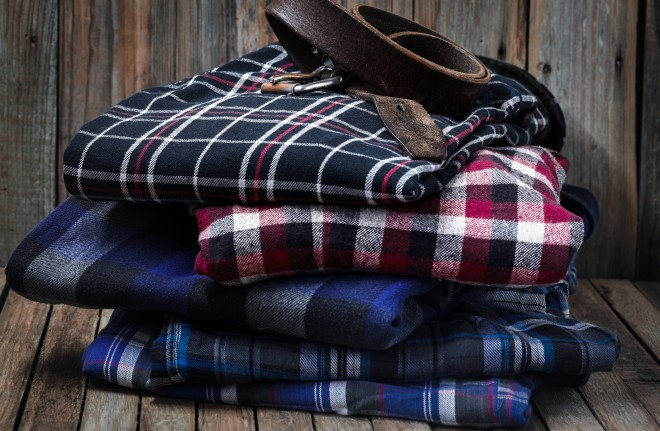 While plaid flannel has rarely (if ever) gone out of fashion, it's a style of fabric that everyone seems to glom onto, from lumberjacks to office workers, from truck drivers to rock stars. A grunge-inspired flannel plaid skirt pairs nicely with knee-high boots, leggings, and a turtleneck. And of course, the classic plaid-printed flannel shirt is an enduring, gender-free option for jeans, loafers and ankle boots.
I once won a barbecue grill at an Ugliest Flannel Shirt Contest in which two of the contestants were not wearing flannel at all, but cotton print plaid shirts. Oh, they were ugly shirts -- uglier than my own, in my mind. While I can only hope that the ugliness of my flannel shirt was what truly swayed the audience of judges, I always have had it in the back of my mind that maybe I actually won on a technicality. Regardless, whenever I now throw steaks on that gorgeous grill, I think about those prize-winning differences between the two terms, and I give thanks for that dreadfully ugly shirt.
Featured Flickr image courtesy Louis Beche.