Friendsgiving is a rising trend in the United States, with many young adults foregoing additional
holiday travel
and opting to instead cook a turkey with nearby friends. Planning and hosting Friendsgiving can be as simple or as complicated as you'd like it to be; that's the beauty of spending Thanksgiving with your friends. Even if you have the fortune of spending Thanksgiving day with your family, I'd highly recommend planning a day to eat, drink and be merry with friends.
Your ability to choose who you break bread with for Friendsgiving gives you the power to plan a day that is full of things you and your closest friends love to do. If you like a good adventure and a good Thanksgiving meal, take a look at this guide to the ultimate Friendsgiving.
The Adventure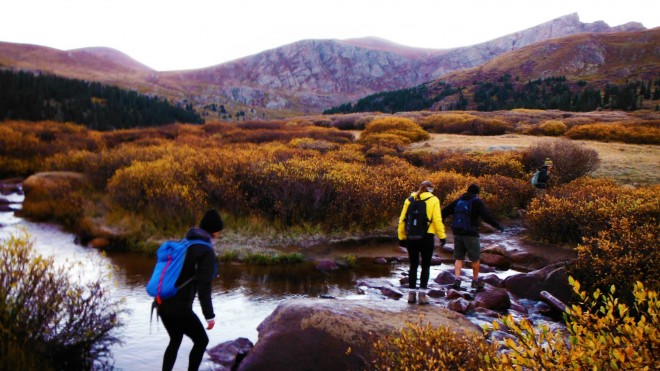 Any good Friendsgiving should involve getting outside for some fun before the food. Plan to meet your friends for hiking, snowshoeing or your choice of outdoor fun early in the day. If you'd rather not venture too far from home, your adventure could be as simple as a game of touch football or a snow battle in a nearby park. It's hard to rally the troops after eating a full meal, so if you want to get out and explore, be sure to do it before sitting down to turkey.
The Food
At its core, Thanksgiving is about sitting down together and eating good food. You can't have a true Friendsgiving by ordering pizza; you need a home-cooked meal! This is the part that involves the most crucial planning. Once you know who's attending Friendsgiving, divide and conquer. Turkey, stuffing, potatoes, vegetables, dessert and alcohol should all be in the mix here. If you're really into planning, you can assign your friends specific foods to bring. I prefer to assign general food groups and leave the specifics up to my guests; this is how you discover who has the best recipes and the craziest family traditions.
The Setup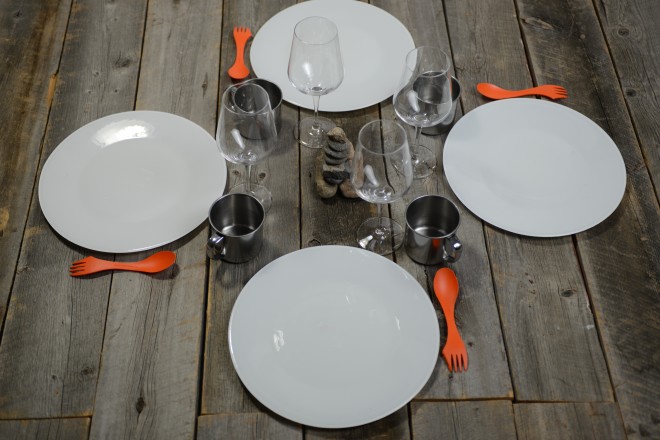 You don't need to bust out the good china (or rush to the store to buy some), but setting a table with actual, non-paper dishes makes the holiday seem more festive. If you have a lot of guests or don't have a large dinner table, feel free to get creative.
Camping cookware
can take place of traditional
dishes
,
silverware
or
glasses
. And
camping chairs and tables
can make great indoor furniture. You could use
blankets
in place of chairs for a more intimate setup. It's Friendsgiving, after all. You can do whatever you want!
Our Setup:
Dishes:
Bormioli Rocco Inca Glass Charger Plate
Silverware:
Light My Fire Spork
Wine Glasses:
Bormioli Rocco Electra XLT
Glasses:
Jacob Bromwell Classic Stainless Steel Mug
Centerpiece:
Rocks we found outside and stacked into a cairn. Candles or a
lantern
would also work well.
The Entertainment
Friendsgiving is a great time to catch up with friends, but when the conversation dies down, the games should come out! Remind your friends to bring any good party games they have. If nothing else, make sure you have at least one deck of cards on hand. You could also write words and phrases on scrap paper to be used for classic games such as Charades and Pictionary. Make up a new game or start a dance party if you're feeling really crazy. Whatever you do, make sure you enjoy the company of your friends and take some time to appreciate how lucky you are to have them.
Do you celebrate Friendsgiving?