When you hike with your dog, there are some considerations to take into account before, during, and after your hike. We'll break them down for you here.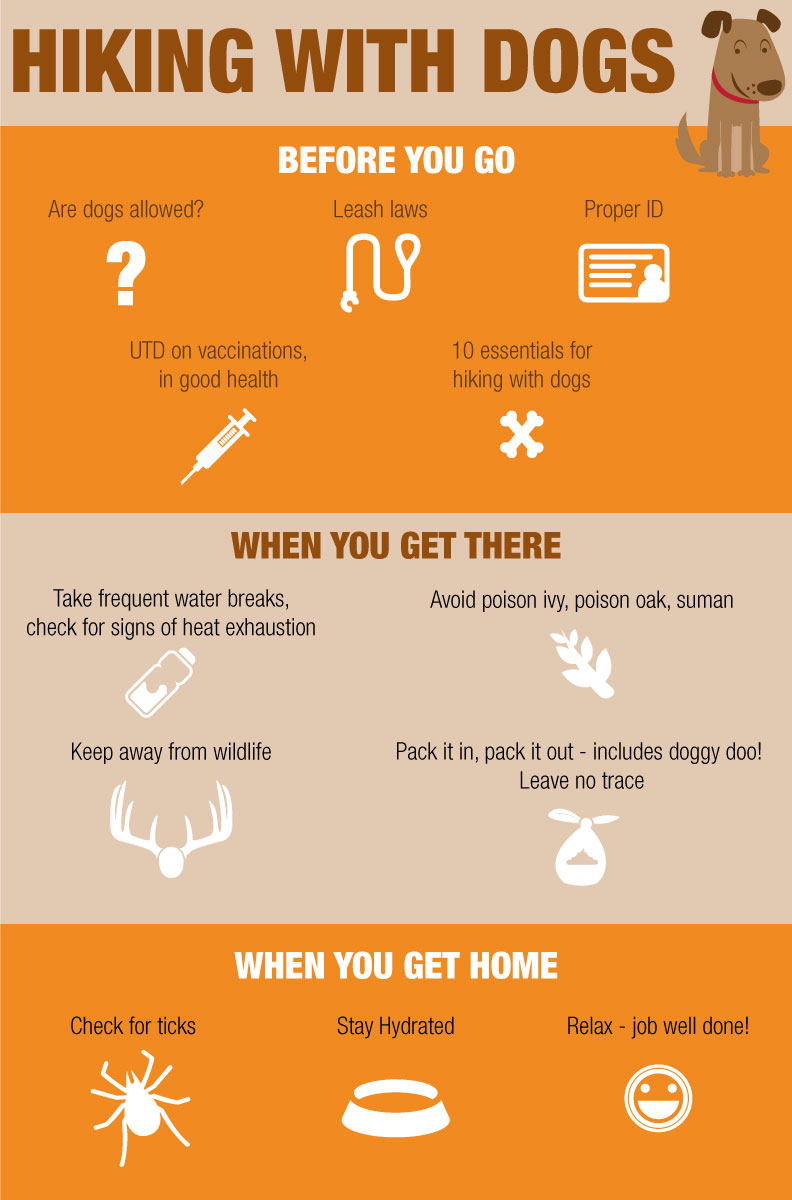 Before You Go


Are dogs allowed? This is definitely the most important consideration. If the area is sensitive, having dogs traipse through can inhibit proper vegetation growth. Most trails have information available online, so be sure to check before you pack your pup!


Check leash laws. Again, this information is available online. Leash laws protect your dog from wildlife and from tearing up vegetation.


Make sure your dog has proper identification. Be sure your dog is wearing a collar that fits well & has an up-to-date ID tag with your contact information, in case you should somehow be separated.


Make sure your dog is up-to-date on vaccinations & is in good health. If you run into other dogs or wildlife on the trail, up-to-date vaccinations are important. Make sure your dog is healthy enough for the hike you're attempting and can keep up with you.


Pack the 10 essentials for both you and your dog. Read up on an updated list to include overlooked items for your dog here.


When You Get There


Take frequent water breaks. Check for signs of heat exhaustion. You need to stay hydrated, and so does your dog, especially since he can't sweat. Heat exhaustion looks different for dogs than for people, so familiarize yourself with the signs of heat exhaustion.


Avoid poison ivy, poison oak, suman. Make sure you can identify these plants, which are irritating and potentially dangerous for you and your dog.


Keep away from wildlife. Wildlife can carry diseases, and can attack unexpectedly. Make noise on the trail, and keep your dog on a leash to make sure they don't run into any unexpected critters.



Leave no trace

. Pack out whatever you pack in, and be sure you remember bags for doggy doo! This helps keep the trail in the best condition for everyone.


When You Get Home


Check for ticks. Check yourself, and your dog. Ticks tend to crawl up, looking for blood-rich areas like the head, neck, and ears, where skin is thinner. Be sure to check no matter the time of year - adult deer ticks become active every year after the first frost. Remember too that many tick bites are painless, so your dog might not let you know something is wrong.


Stay hydrated. Be sure you and your dog continue to hydrate even after your hike to keep healthy.


Relax - job well done! Congratulate yourself on a successful hike with your furry friend with a favorite treat.


Do you have any other tips for hiking with your dog? Leave them in the comments below!