Stand up-paddle boarding -- also referred to as SUP -- has been around for thousands of years in one form or another. The SUP sport has really taken off in the last 10 years, though. Its popularity exploded around 2005, and, according to the
2015 Paddlesports report
, 2.8 million Americans participated in stand-up paddle boarding in 2014.
It's no wonder it's so popular. Paddle boarding is a whole-body workout, a good way to spend time with friends and family, and it's a great way to avoid the scorching summer heat. Paddle boarding is also a fun activity you can do with your dog.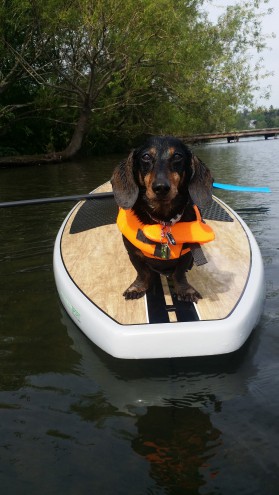 Even dogs that aren't big fans of water usually like to stand proudly on the bow of the paddle board and feel the wind in their face. It's an activity you can choose to do for an hour or all day. Padding somewhere, pulling ashore for a picnic, and heading back in time to watch the sunset together is a great experience.
So, how do you get started in SUP with your pup? Here are some tips:
Start with a Big Stand-Up Paddle Board
Having a stable stand-up paddle board will be easier for you to maneuver and balance with your dog on it. That way you can concentrate more on fun than worrying about skills.
Take a SUP Lesson
This is especially helpful if you have a larger dog. Dogs under 20 lbs are pretty easy to balance and paddle with. Larger dogs will shift the weight balance as they move around and may get in the way of the paddle. It's helpful to know how to train your dog to ride the board properly.
Dress Appropriately
If it's hot and you have too many clothes on, or if its cold and you don't have enough on, you may not have as much fun. Dress in layers that are easy to remove while standing or kneeling.
Rash guards
help keep your upper body warm, while no-slip neoprene socks or booties will help keep your feet warm give you better traction on the deck. You and
your pup
should always wear a
life jacket
, too.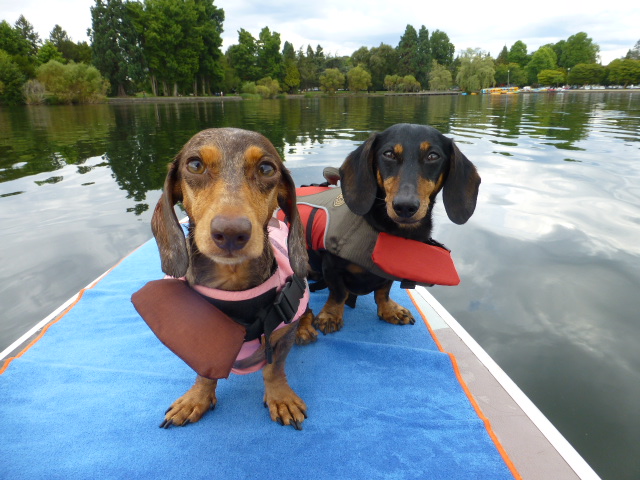 Accessorize
The #1 accessory you will want with you is a waterproof camera, or a camera inside of a water-tight bag, so you can share your fun adventure with friends and family. Also, having a
waterproof bag
you can strap to the deck is nice for keeping your extra clothes, water, snacks, etc. dry.
Give Your Dog Traction
It's easier for your dog to hang on, and for them to learn where they should stand, if you place something on the board. You can buy special foam pads to stick to the deck or you can just place a wet towel there.
Start Easy
Pick a place with flat water -- like a lake -- for your first paddle boarding adventure. Also, plan to keep your trip short the first few times you go out. Balancing on the board really works your and your dog's muscles. Paddle boarding will be more enjoyable if you start easy and build up your endurance.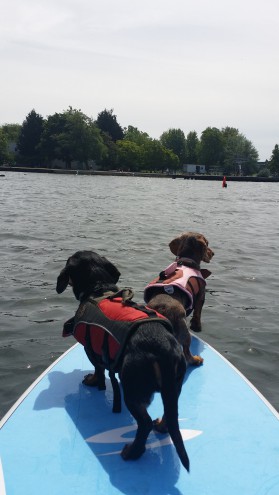 If you don't already own a stand-up paddle board, you might be able to rent one first to see if you and your dog like it. Many rental places allow dogs to ride with you on the paddle board.
Another option is
buying a SUP at a discount
so you are not out as much money if you change your mind (plus you can sell it). Buying a stand-up paddle board means you have the freedom to go where you want, when you want.
Paddle boarding with your dog is a lot of fun and a great bonding experience. Once you try it, you might be hooked!
*Photos courtesy Jessica Rhae Williams. Featured image via Shutterstock.