Pups and Nordic skiing go together like wintertime and hot chocolate. While not for every dog, Nordic skiing can be a great way for you and your dog to break out of the winter doldrums and enjoy the outdoors.
It is important to follow a few guidelines and precautions when Nordic skiing with dogs to make the most of your adventure.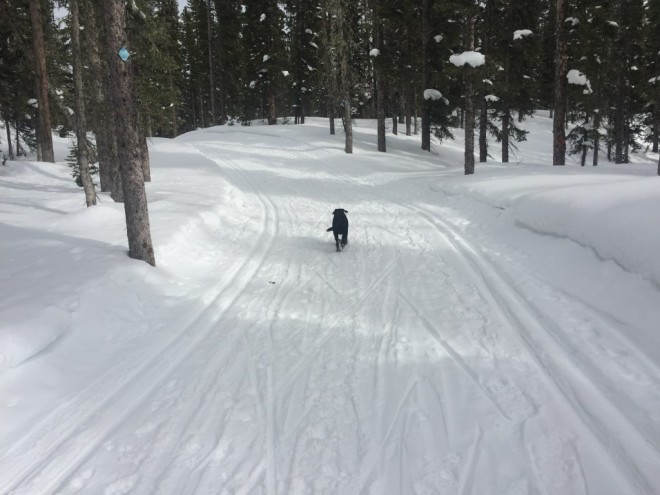 Make Sure Dogs Are Allowed
The first step when it comes to Nordic skiing with your dog is to make sure that dogs are allowed on the trail system you choose. Sometimes systems restrict dogs to specific areas or trails. Often heavily used areas do not allow dogs to mitigate congestion (and to shift traffic from dog lovers to other areas of the system) or to allow for less dog-loving users to have some space.
Follow the Right Trail Etiquette
Dogs can also harm the groomed track as they joyfully galumph their way down the trail. Many Nordic areas have a skate ski lane to the left, a groomed traditional ski track and then a snowshoe area to the right of the track. The ideal spot for your pup is on the snowshoe track, but what's most important is for them to stay out of the groomed track!
Training your pup to do this can be challenging, but is key to maintaining good relationships with all users of the area. If your dog stays out of the groomed track where you're skiing, they're also likely to avoid conflicts with other users and with your skis!
Communicate with Your Dog
Be sure to give your pup a shout if they're about to get tangled in your skis. Ideally, they're out of the zone closest to your skis (see above about ski tracks), but you don't want a canine-ski-pole tangle happening with you in the middle! Not only is it unpleasant but it also puts you and your dog at risk for injury. Prevention and training is the best cure!
Follow Leash Laws
Just like hiking in the summer, you must follow the local regulations about leashing and controlling your dog. Good citizen canines benefit all dogs and owners. You should always to carry
a poop bag (or three)
! If poop or poop bags on the side of a summer trail are gross and upsetting, they're even worse when they stand out on a bright white blanket of snow!
Keep Your Dog Warm
Dogs can't tell you when they're tired, cold, or hurting, so definitely be sure to start slow with them. My lab tends to get snow build-up between his paws when the temperature drops below about 10 degrees, so
he wears booties
to protect him.
Another option, if you prefer, is a non-toxic wax product that will keep your dog's paws snow-free. My dog tends to stay in pretty good shape year-round and seems to transition between seasons better than I do, but if your pup is just off the couch, be sure to take it slow!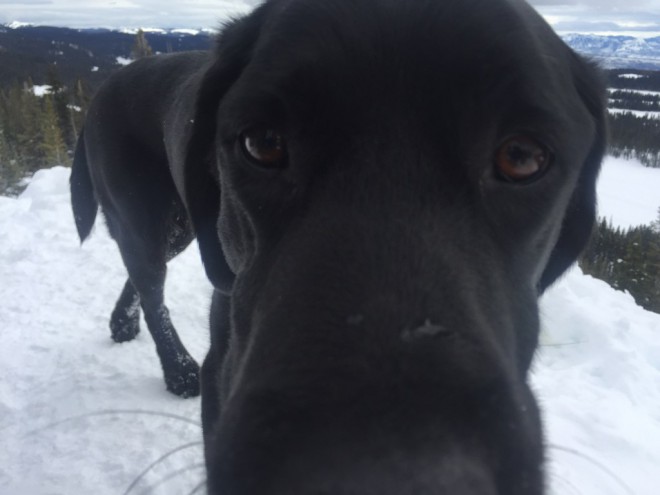 Most of all, enjoy being outside with your furry buddy. Dogs find so much joy in being outside and help lift your spirits as well.