Moving to the Sierras after two and a half decades of living in a big city where the temperatures never dip below 70 degrees and where there is 0 inches of snowfall, I have learned priceless lessons about dressing comfortably for the winter in the mountains. Through a (sometimes painful) process of experimentation and pragmatism, I have learned some dos and don'ts when outfitting oneself for a day snowshoeing, alpine skiing, snowboarding, or even tubing, building snowmen, and making snow angels. Read on to learn a thing or two -- or ten!
1. The bulkier the jacket, the better.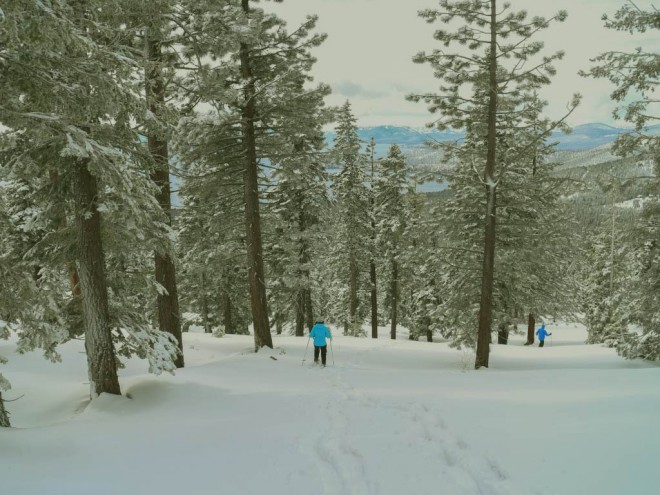 It is a common misconception that an obnoxiously puffy jacket that weighs five pounds is bound to keep you warmer in the winter. The truth is, effective layering and a wind-resistant, insulated jacket are probably going to be better at keeping you warm than a big bulky coat. What does effective layering mean? At the minimum you should have the following
lightweight
pieces on, in this order:
First:
A wicking layer made of fabric that will dry your sweat fast and keep you warm. Think wool or other synthetic fabric that is proven to perform.
(Find a base layer.)
Second:
An insulating layer that will keep your body heat in but keep the cold out. Depending on how cold it is, you can wear fleece, down or wool.
(Find an insulating layer.)
Third:
A shell or jacket that, at the minimum, will repel water and wind while keeping you warm. These jackets can be insulated using down, wool, or other synthetic materials.
(Find an outer shell.)
Weight is also important because you want a jacket that does not constrict motion. You also need it to be packable so you can store it in your pack when not in use.
2. You don't sweat in the winter, especially when outdoors.
People are deathly afraid of freezing temperatures, and that stops them from even venturing outside in the winter. But what some don't realize is that after snowshoeing for a few minutes or after a couple of ski runs, your body creates heat just as it does on a regular workout. You actually start to warm up and sweat, which is why layering is important. You need to be able to shed off layers when you start to get too warm.
3. You can wear jeans in the snow.
Please don't. Wet jeans are heavy and they will not dry at all when you're outdoors (I mean, time how long your jeans dry
in the dryer
-- not quick, right?). Jeans also don't allow for fluid movement when you're on snowshoes or skis. At a minimum, wear pants made of quick-drying fabric that are built for the outdoors. If you are going to invest in gear for the snow anyway, get snow pants that are insulated and waterproof.
(Find snowpants.)
4. You can play in the snow in any boots or running shoes.
Snow, therefore, water, penetrates any material that is not waterproof, and that includes leather boots and running shoes. Not only can wet feet be uncomfortable, it is also dangerous. In freezing conditions, you want to keep your feet dry to prevent frostbite. Waterproof and insulated footwear that goes at least past your ankles is essential. Fancy fashion boots with heels? Forget about it!
(Find winter boots.)
5. Cotton socks are fine.
Speaking of wet feet, your cotton socks are not fine in the snow. Aside from being prone to causing blisters, cotton socks absorb and retain moisture. Choose socks that are built for winter weather, such as wool; they dry fast and will keep your feet warm even when they're wet.
(Find wool socks.)
6. You're only going on a small winter hike, so you don't need to carry a pack.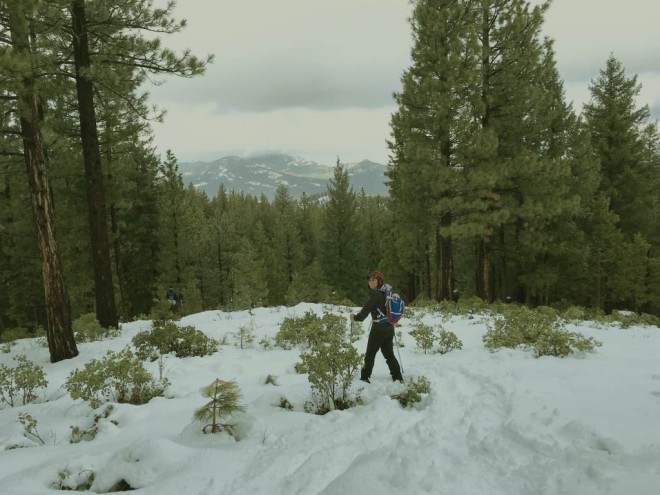 For all adventures big and small, you should always be prepared for nature's temperamental behavior. It could look sunny when you head out, but that could change very quickly. Always prepare for the worst case scenario and carry essentials such as water, food, navigation (GPS or compass), a headlamp,
hand warmers
, dry clothing and socks.
(Find backpacks.)
7. If it's not snowing, you don't need to wear a hat.
In winter conditions, you want to definitely keep your ears covered, but while you're at it, why not keep the rest of your head warm, too? Some say you lose half of your body heat with an exposed head. Whether that can be scientifically proven or not, try going out on a blustery, winter day without a hat and try going out with a hat. You'll see for yourself why you always need to wear a hat (or at least carry one in your pack).
(Find hats.)
8. Your knit or fleece gloves are fine. You don't need insulated gloves.
Insulated gloves are like jackets for your hands. When the wind kicks up or if it is snowing, wet, cold hands are the last thing you want. Secure those digits by wearing insulated and water-repellent gloves at the least. If you're committing to winter adventures for the long term, breathable, waterproof gloves are a necessary investment.
(Find gloves and mittens.)
9. You don't need sunscreen in the winter.
The sun reflects on the bright white snow, which actually magnifies your risk for sunburn. Protect your face and don't forget that SPF before heading out.
10. You don't need sunglasses in the winter.
On a bright sunny day with snow on the ground, the glare could be very powerful it could adversely affect your vision. At the very least, wear UV sunglasses. When it is snowing, wearing goggles built for winter sports are great for keeping the snow out of your eyes.