Get the scoop on the best Colorado snowshoeing destinations right here. Some destinations offer excellent snowshoeing for beginners, while others are a better choice for experts, but there's no doubt that they're all perfect for explorers.
1. Rocky Mountain National Park in Estes Park, CO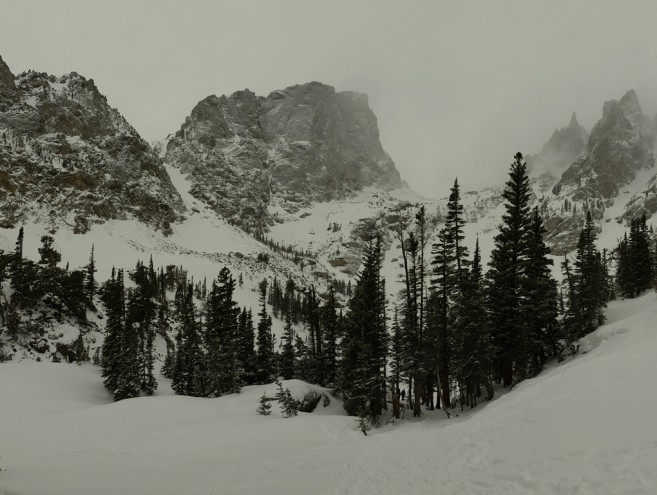 Snowshoeing in Rocky Mountain National Park is a must for any explorer. The beloved national park encompasses over 265,000 acres and can be accessed from Estes Park or Grand Lake. Keep in mind that Trail Ridge Road, the world-famous high-altitude highway that connects the two towns, is closed in winter. Estes Park is the more popular entrance because of its proximity to Denver, Boulder and Fort Collins. Snowshoers have many trails to choose from in Rocky Mountain National Park, and will find the park to be less crowded in the winter than in the summer. Explore trails like Bear Lake, Gem Lake and The Pool for a less intense hike, and search out Cub Lake, Chasm Falls or Deer Mountain for more of a challenge.
2. Lost Lake in Nederland, CO
Lost Lake, which is located just east of Indian Peaks Wilderness Area, is a favorite snowshoeing location for beginners and experts alike. Recreational snowshoers love Lost Lake for its well-tracked trails, beautiful views and modest elevation gain. If you're equipped with backcountry snowshoes and want something more challenging, you can still find it here; the Lost Lake area is full of trails to explore. Residents of Colorado's Front Range love Lost Lake for its beauty and its proximity to Denver and Boulder.
3. Devil's Thumb Ranch in Winter Park, CO
Want to make your snowshoe adventure a relaxing retreat, as well? Spend the day exploring a corner of the 6,000 acre property of Devil's Thumb Ranch and then relax at the spa or savor the cuisine in one of the fine dining establishments. The sprawling ranch property features what feels like endless miles of trails; some trails are groomed and some aren't. The trails are mapped out and have the familiar green, blue and black skill-level designations you see at ski resorts, so you can explore to your heart's content.
4. Brainard Lake in Ward, CO
Brainard Lake is another favorite for cross-country skiers and snowshoers on the Front Range of Colorado. About an hour and a half drive from both Fort Collins and Denver, Brainard Lake offers a variety of trails that are perfect for beginners. If you're looking for a more challenging area for a day of snowshoeing, check out Indian Peaks Wilderness Area to the west.
5. Peaks Trail Tour from Frisco to Breckenridge, CO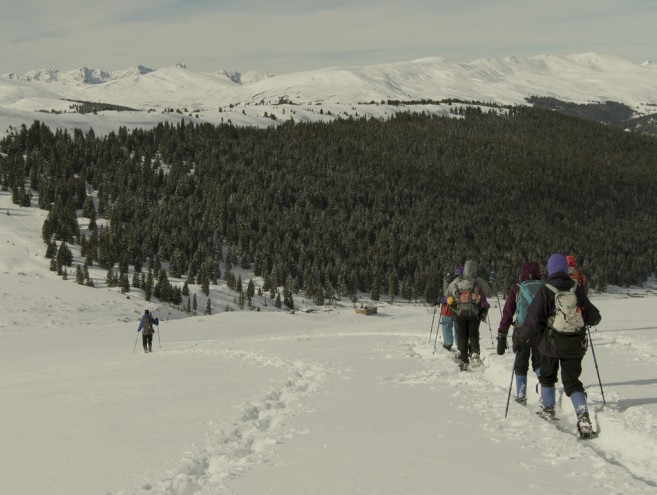 Snowshoeing from Frisco to Breckenridge (or vice versa) via the Peaks Trail is the perfect challenge for explorers looking to put their snowshoeing stamina to the test. The 8.5 mile trail has a little bit of everything; it rises, falls, curves and offers beautiful views of Tenmile Range. Be sure to check out the
free shuttle system
to make a plan for getting back to your car after you make the trek from one town to the other.
Ready to hit the trail, but still have some questions about snowshoe sizing or snowshoe types? Get more information on our
snowshoe buying guide
.