Are you getting pumped for ski season? Me too! Now let's gear up to get out on the slopes. Here are six things to check off our list so that we're first in line for fresh powder and not stuck upside down in a snow bank this season.
1. Ski Legs
Skiing is like sprinting. We need the strength to have massive bursts of energy from the minute we hit the slopes. Can you feel your thighs burning already? Get on those exercises now. Focus on legs, back and core. Work on our lunges, squats, and side-to-side jumps. Try these excellent
ski workouts
to get started.
2. Lift Ticket & Lodging Deals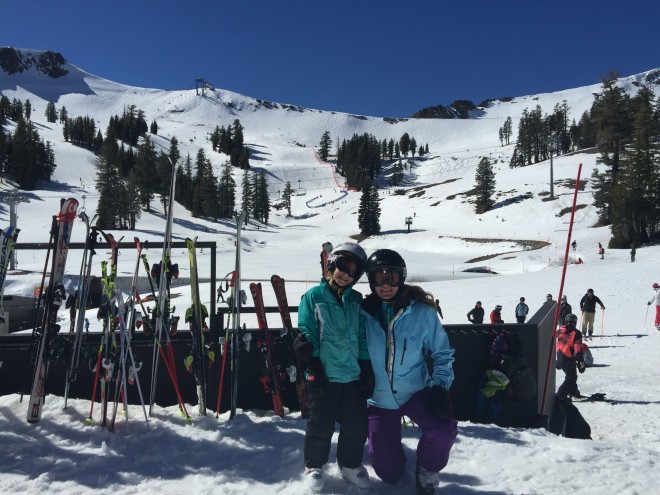 Smart skiers dig around for solid discounts on both annual and day passes and ski-lodging packages. Take the time to search online. Many ski shops and outdoor stores offer great deals on mountain resorts they partner with.
3. Snow-Ready Car
So overlooked, getting our cars ready for ski season is no joke. Check your winter tires or tire chains, snow & ice scrapers, emergency kits and ski racks. Don't be that guy stuck on the side of the highway in the snowstorm with his blinkers on we all feel sorry for.
4. Ski Clothing Layers
Some days we ski in subzero temps and other days it's like a spring day on the beach. It's all about making sure we have the right
clothing layers
to pull on and off at any point during the day. Tops: Start with a light base layer, then a mid-layer, add a vest if you like, an insulation layer and either a waterproof, breathable shell or an insulated jacket. Bottoms: Thin,
base layer
long-underwear with
waterproof shell pants
or insulated pants for colder days.
Check your old gear from last year and ditch the pieces with mold, stink and gross stains. No-itch
merino wool
is good for no stink and synthetic down-like insulation is my favorite for reliable warmth even if it gets wet.
5. Vital Ski Accessories
Are your
goggles
cracked? Is your
glove
missing a middle finger from the rope tow? Did you lose your left mitten in a chair-lift mishap? Replace or repair. Don't forget to stock up on Chapstick, hand-warmers, and
ski socks
. A facemask or neck warmer is key on ice-cold and snowy days.
Helmets
are cool and smart and save noggins and lives. A no brainer.
6. Skis, Bindings, Boots, Poles
Did your kid have a massive growth spurt? Time for new
skis
, boots, poles. Did you gain a couple o' pounds after too much pumpkin pie? Make sure to get your bindings adjusted. Check each item for gouges, cracks, and last-season's abuse.
Is it time to replace your skis?
Look for good discounts on gear packages, second-hand ski swaps and Sierra Trading Post's
clearance items
. Sometimes "last year's" hot ski gear and ski rental demos are available for a steep discount. If we shop smart, skiing doesn't have to break the bank, even for families.
So here we go. We're pumped, organized and ready to hit the slopes. See you on the trails for first tracks!
What do you do to prepare for ski season?