Skis are awkward to carry. They are big, the bindings get in the way, they're heavy, and there's two of them! You also have poles to worry about, and I'm not even going to get into the struggle of walking in ski boots. But you have to get from the parking lot or rental shop to that first chairlift somehow. This usually involves carrying your skis.
If your current method of carrying skis isn't cutting it, you might want to try something new. Take a look at these six ways to carry skis for some fresh options on getting from your car to the mountain.
1. The Walking Stick
This carrying method is exactly as it sounds; your skis should be treated as a walking stick. Grab your skis with one hand and use the ground help manage their weight. Use this method when your arms need a break or if you need extra support getting into a gondola or boarding a shuttle.
2. The Fish Hook
Hook your arm around your skis and lift them off the ground for this simple carrying method. You can hug your skis in close to your body for extra support.
3. The Local
Rest your skis on your shoulder and hook your arm around your skis below the bindings. You may want to lower your arm if you're in a crowd so your skis are in more of an upright position. Either way, be careful when you turn around!
4. The Snowboarder
Snowboarders seem to have it a little easier, so why not mimic their carrying method? Hook both of your arms around your skis so they rest at the small of your back. Again, be aware of your surroundings when carrying your skis this way.
5. The Knapsack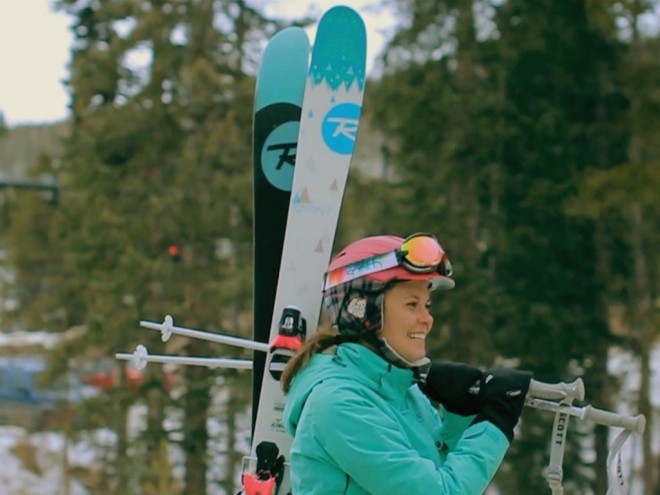 I'll be honest with you, this is more of a challenge than workable method to carrying skis. Test your skills and impress your friends with the knapsack. Wedge one ski pole under the toe binding of one ski and the other ski pole under the toe binding of the other ski. Using your poles, hoist your skis up and carry them by resting your ski poles on your shoulder. Beware that this almost always results in falling skis, especially the first time you try it, so be careful not to damage your skis or your friends.
6. The Suitcase
Now this is an innovative way to carry skis. The setup is a little timely, but it's worth it for those long-hauls to and from the parking lot. Arrange your ski poles so they are each facing the opposite direction. Thread your skis through the wrist strap of each ski pole. The basket of the ski pole from the opposite end should also be threaded through the strap. Once your poles and skis are secure, use your poles like a luggage handle to carry your skis.
Hopefully one of these methods works for you! These photos feature Heather of
Just a Colorado Gal
demonstrating ski carrying techniques.
Watch this video to see these methods in action
.
What method do you use to carry your skis?