A company known for manufacturing technologically advanced eyewear started by crafting combs and hair accessories from boxwood. That was in 1888. By 1950, Seraphim Bollé's company had moved onto producing safety glasses. In 1960
Bollé
began making ski goggles, and the rest is history.
Bollé
now specializes in sunglasses, goggles, protective eyewear and helmets. This French brand uses sport-specific technologies to produce shatterproof lenses, sturdy frames and other features to help athletes explore.
Sierra Trading Post offers a number of Bollé products at competitive prices. Take a look at some of our favorite protective headwear and eye gear from this well-known brand:

1. Bollé Nova Snowsport Goggles:
This goggle feature a layer of foam and a microfleece face layer for ultimate comfort on the slopes. The dual-lens design creates a thermal barrier, and a Flow-Tech venting system reduces fogging so you can stay warm and safe on the mountain.
2. Bollé Emperor Graphic Snowsport Goggles:
This mid-sized goggle has a wide field of view and features technologies to prevent the lense from becoming scratched of fogging up. A double-spherical lens provides a superior seal while allowing you to see everything on the mountain.
3. Bollé B-Wild Snowsport Helmet:
Bollé's B-Wild ski and snowboard helmet has a new school design so you can look good while pushing limits on the mountain. This lightweight helmet features a moisture-wicking fleece liner and Flo-Tech Venting to keep you cool as you ride.
4. Bollé Sharp Snowsport Helmet:
This helmet's design features removable ear pads, a fleece liner and venting technology to help regulate temperature. Bollé's Sharp Snowsport helmet comes with a deluxe travel bag so you can easily tote it from mountain to mountain.
5. Bollé Recoil Sunglasses - Polarized Modulator Lenses:
Protect your eyes from the bright sun with these polarized sunglasses from Bollé. These unisex frames feature Modulator lenses that eliminate glare and adjust automatically to changing light conditions.
Whether you're looking to get ready for ski and snowboard season or trying to find a pair of sunglasses to fit your active lifestyle, you can't go wrong with Bollé. We want your head and eyes to be protected while you're out and about this winter, so we're offering an additional
20% off Bollé product
. Just click on the coupon below.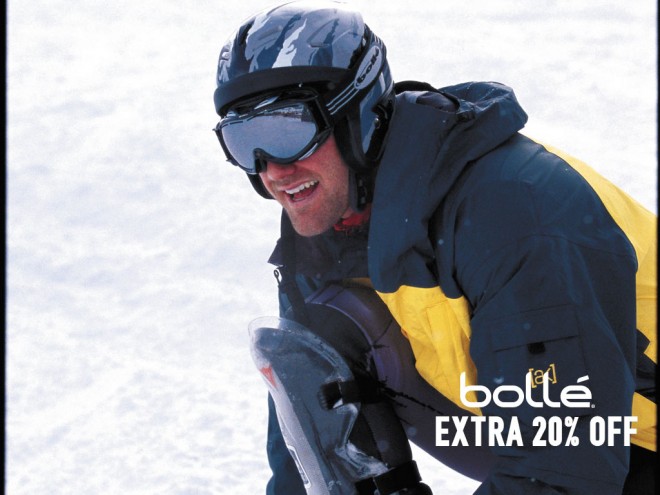 For a chance to win a Bollé product from Sierra Trading Post, enter the raffle below. Good luck!
a Rafflecopter giveaway