I am lucky enough to live in a state where people can enjoy outdoor activities year-round. In fact, a large percentage of the population actually
looks forward
to winter every year because it allows for skiing, snowboarding, snowshoeing and other snow sports. I've found that most people who haven't visited Colorado don't realize that the state is basically like two different worlds. It's common for us to have warm, spring-like weather in the foothills (areas of lower elevation) throughout the winter. In fact, the first two days of this week were in the 70s!
The other "world" is the high country and the mountains, where the elevation is much higher. Those are the areas that get hit with snow the hardest and where people from all around the country (and world!) flock to enjoy many of our amazing ski resorts. For those of us in the foothills, that can also mean sitting in traffic for hours on a Saturday morning.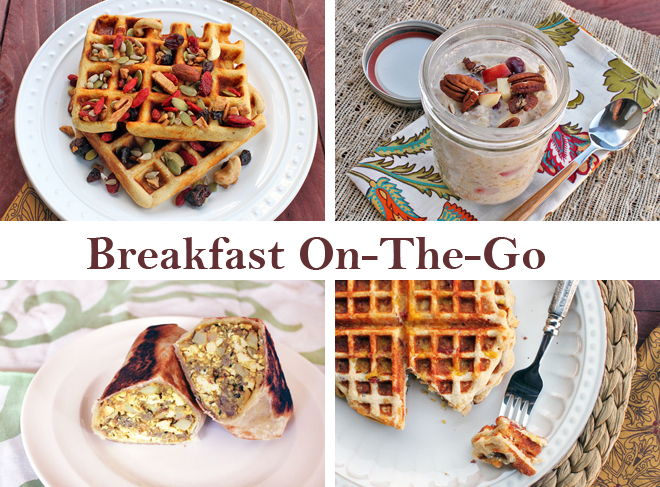 One thing that I learned from experiencing my first ski season this past year is that the earlier you leave, the better- and sometimes that means hitting the road way before the sun comes up. I try to pack up everything the night before, whether it's my skiing or
snowshoeing equipment
, and have it ready to go for the morning. No matter how prepared I try to be, there always seems to be one very important thing that I neglect: preparing a filling and nutritious breakfast.
I've experienced the disappointment one too many times of having to resort to a protein bar for breakfast, because I failed to plan ahead. To me, there is pretty much nothing worse than having a boring, mediocre protein bar as a meal.
In order to never have to endure another protein-bar fueled ski excursion again, I set out to create five breakfast-on-the-go recipes that can be made the night before and ready to go in less than five minutes the next morning. They're all nutrient-rich and full of protein, carbs and healthy fats to fuel you up for a morning of snow activity.
Side note: Each recipe is delicious, but my personal favorite is the Bacon, Egg and Cheese Waffle.
Nutty Coffee Mocha Smoothie
This smoothie is like your morning coffee and breakfast all wrapped up into one delicious drink. You can put most of the ingredients into a cup or blender the night before (and freeze), add the water and milk in the morning, blend and go.
Ingredients:
3/4 cup water, 1/2 cup milk (dairy or non-dairy), 1 small frozen banana, handful of ice, 2 TBSP peanut butter, 1 scoop chocolate protein powder, 1 tsp espresso powder, 1 TBSP hemp seeds
Directions:
Place all ingredients into a blender and blend on high speed until smooth.
Vegan Breakfast Burrito
I like to make these in bulk and freeze them to re-heat throughout the week. If you're going to be having one for breakfast the next morning, place it in the refrigerator overnight and heat up in the toaster oven or microwave before heading out the door. If you're so inclined, you can make a carnivore version of this burrito using eggs instead of tofu, pork or chicken sausage and (dairy) cheese. Get the recipe
here
.
Trail Mix Waffles
Waffles are another breakfast item that I like to make in bulk and store in the freezer. The recipe for this couldn't be simpler: just add trail mix to your waffle batter. About 1/4 cup trail mix for every two waffles should do the trick.
Bacon, Egg & Cheese Stuffed Waffles
If you haven't had savory waffles before, you are missing out! Make these ahead of time, store in the freezer and re-heat in the toaster in the morning. This waffle actually has bacon, egg and cheese stuffed inside of it! The best part: you can eat it with your hands! No syrup or toppings are necessary (meaning no sticky mess)!
Simply add 1/4 cup shredded cheddar cheese, two slices of cooked bacon and two large eggs to your waffle batter before cooking in your waffle iron.
These measurements are enough for two waffles. Adjust as necessary.
Swiss Oats
I know that it may not sound that appealing, but cold oatmeal can actually be delicious! This recipe can mostly be made overnight, with just a few ingredients added in the morning. The end result is a jar full of creamy, fruity, nutty delicious oats (that almost taste like pudding)!
Ingredients:
1/2 cup old fashioned oats (not instant oatmeal), 1/2 - 1 TBSP chia seeds, water*, 1/3 cup vanilla Greek yogurt, 1/4 cup diced apple, 1/4 cup fresh/frozen cranberries (or two TBSP dried cranberries), 1/2 small banana (diced), 2 TBSP chopped pecans or almonds, 1/4-1/2 cup milk (dairy or non-dairy), sweetener, to taste
Directions:
Place oats and chia seeds into a bowl or jar and add enough water to just cover the oats*. Cover and place in the refrigerator for 2 hours to overnight . Place chopped apple, cranberries and banana into a sealed container in the fridge for easy access in the morning. In the morning, add in yogurt and stir. Add in apple, cranberries, banana and sweetener (if desired). Stir well. Add milk (amount depends on desired thickness and consistency) and stir. Top off with chopped pecans or almonds (or any nut you desire).