Have you ever wondered who has the right of way on a cross-country ski trail or where to stop and take a break if you're tired? If you're a Nordic skier, chances are that every once in a while you encounter someone who isn't quite sure about etiquette on the ski trails.
While many established Nordic ski areas and resorts have their own rules, here are a few things that we can all do to ensure that everyone has a positive and fun time on our local ski trails.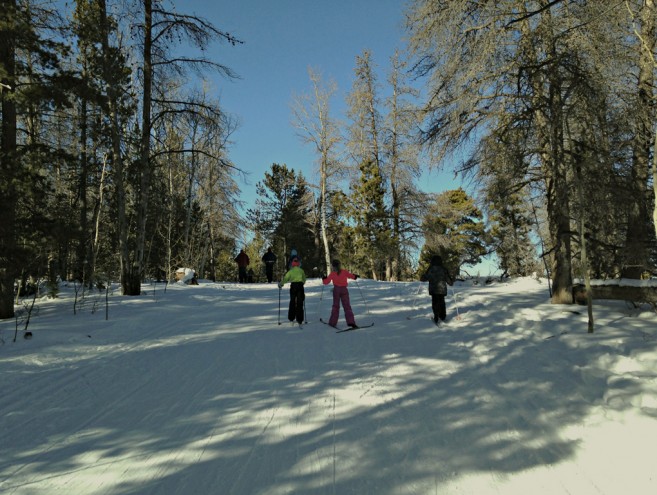 Move Aside to Stop
Cross-country skiing is hard work. If you need to stop for a drink of water, to apply more kick wax or stretch out a tight muscle, try to get as far off to the side as possible to allow others to ski past.
Have Strategic Stopping Points
Be strategic about where you stop to take a break. Sometimes the top of a hill can get really congested if everyone stops at the top to rest. If I'm tired I like to ski up and over a hill and stop as soon as I'm done gliding on the downhill side.
Know Who Has the Right of Way
If you're a slower skier, give up the right of way to faster skiers and skiers on the downhill. If you're a faster skier and looking to pass another skier, it's good to politely call out "track," "hup," or my favorite method "on your left," or "on your right" to warn those ahead that you're coming.
Go the Right Direction
Ski the right direction on one-way trails. Sometimes we get tired of skiing the same trails over and over again, and it's tempting to ski a one-way trail the opposite way for a change of scenery. In most cases one-way trails are set up because trails are narrow or to avoid collisions with other skiers on a steep or long downhill section.
Fix Your Falls
We all fall, and when you fall and leave a few massive dents on the trails or "sitz marks" be sure to fill them in with snow.
Follow Rules for Dogs
If you like to ski with your dog, check first to see if your local ski area allows dogs or what the rules are. Try to preserve the tracks by leaving your dog at home on days when the snow is really soft and don't forget to clean up the trail and pack out any messes the dog might leave. If you are bringing your pup, take a look at
these essential rules for snowy hikes with your dog
and
this advice on sizing dog boots
.
Care for Groomed Trails
Try not to walk or snowshoe on groomed trails, especially in classic tracks. If you do have to walk or snowshoe, walk as far to the side of the trail as possible. If you're skate skiing, try to avoid skiing in the classic tracks.
Cross-country skiing is rapidly growing in popularity and it's easy to see why. A few simple tips can make it easy to keep the trails safe, maintained and fun for everyone to enjoy.