If you're like me, you know that winter has officially arrived when your thoughts turn to skiing and snowshoeing instead of backpacking and hiking. Preparing your ski gear is important, but it's often overlooked.
Unfortunately most of us finish the ski season by stuffing our gear into a ski bag and tucking it away into a far corner of the garage without giving any thought to applying a layer of storage wax or checking to make sure that all of our equipment will be functional for another season.
If you were simply too busy (or too focused on pulling out your mountain bike and camping gear) last spring to properly take care of your
cross-country skis
, there's still time to get them ready to glide over the snow this winter.
Over time, dirt particles will attach themselves to the base of the ski, but it's important to keep bases clean to keep skis performing well. To clean the base of your Nordic skis, brush the base with a steel brush and then apply a very soft, warm weather non-fluorinated wax. Avoid the "kick-zone" or waxless "fishscale" area if you're
waxing
backcountry or
downhill skis
. You can
wax
the entire length of a skate ski.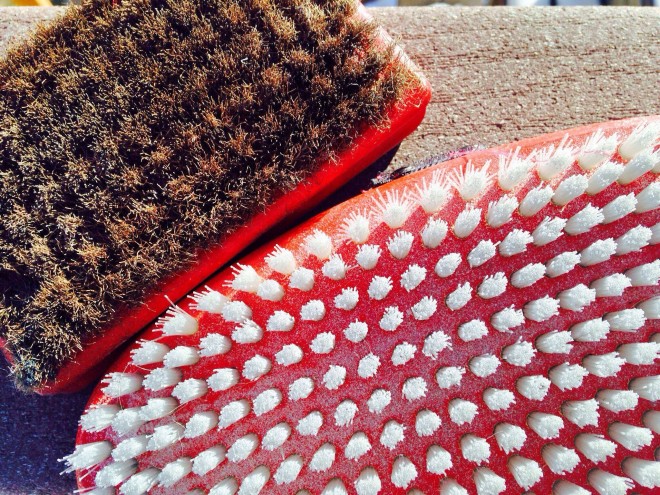 Iron the wax in and immediately scrape the warm wax off of the ski base. You might see dirt particles come out of the base of the ski as you scrape it. Follow it up by brushing from the ski tip to the ski tail with a nylon brush. Then you can simply apply another layer of wax and let it sit on the base of the ski until you're ready to go skiing.
Once the base of your ski is taken care of, take a look at your bindings. Is the base plate firmly attached to the ski? Does the locking mechanism on the bindings still work? If not, order a new pair of bindings or do what you can to try to adjust things on your own.
Lastly, check the tips and tails of your skis. Is the laminate peeling away from the base of the ski? If so you can get crafty with a bit of epoxy or use it as a chance to ask Santa for a new pair of skis for Christmas.
Maintaining Nordic skis is not only important but it can be a fun way to learn more about your equipment and what you can do to get your skis fast and ready for the winter.
What tips do you have for preparing skis for winter?