When it comes to winter adventures, Steamboat Springs has it all. Located less than 200 miles west of Fort Collins, this small Colorado ski town has plenty to offer for all types of winter enthusiasts. Cross-country skiing, snowshoeing, natural hot springs... it's easy to find something for every snow-loving explorer in Steamboat Springs.
Steamboat Ski Touring Center
The Steamboat Ski Touring Center offers miles of groomed
cross-country ski
and
snowshoe
trails along Fish Creek. While a majority of the cross-country skiing trails are for those at an intermediate level, this area has trails perfect for beginner and advanced Nordic skiers, as well.
With a gear rental shop and hot meals available for purchase, it's easy to spend an entire day exploring the aspen-lined trails at this ski touring center. You will need to purchase a day pass to take advantage of these trails. The season typically lasts from early November through early April.
Fish Creek Falls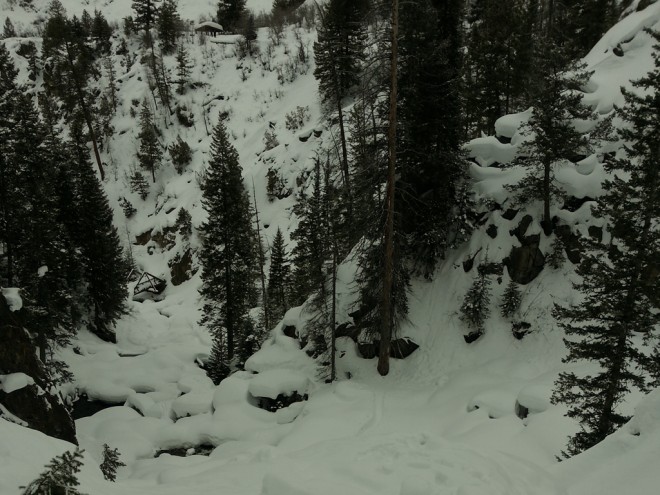 Fish Creek Falls is a beautiful hike any time of the year. In the winter, frozen, snow-covered falls allow for you to actually trek toward the top of this hike's well-known waterfall. With a round-trip distance of just under one mile, this loop hike offers big rewards for little effort.
The short trail winds through aspens and pine trees along Fish Creek, so look for glimpses of water running beneath snow and ice. You can lengthen your hike and explore farther off-trail with the right amount of snow.
Rabbit Ears Pass
Rabbit Ears Pass is named after a rock formation that resembles two rabbit ears and is one of the most well-known hiking areas near Steamboat Springs. In the winter, Rabbit Ears Pass is transformed into a winter sports oasis. Snowshoeing and cross-country skiing trails in this area offer spectacular views of the Yampa Valley and range from moderate and expert levels.
If you'd rather take in the views at a faster pace, hop on a snowmobile. Snowmobile touring companies in Steamboat Springs like to cruise through Rabbit Ears Pass and Buffalo Pass for the deep snow and beautiful views.
Steamboat Ski Resort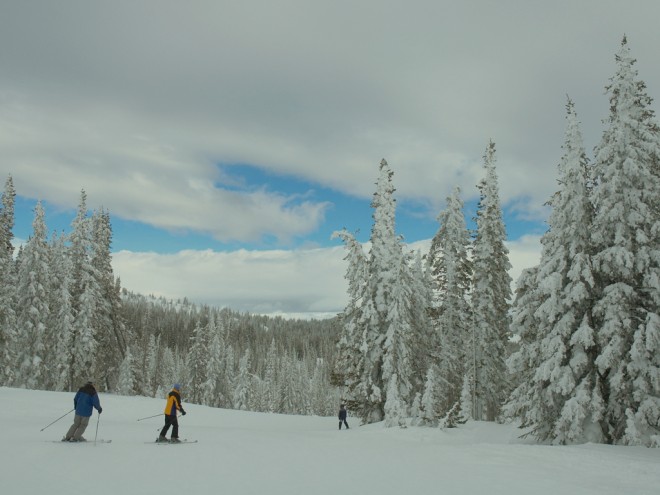 With so many other fun winter activities to explore, it's easy to forget that Steamboat Springs is a ski town. Steamboat Ski Resort is situated on Mount Werner in the Routt National Forest and boasts over 150 ski runs. While trails run from beginner to advanced, most of Steamboat's ski runs are for intermediate or advanced skiers.

If you're interested in taking in mountain views without mountain speeds, take a gondola ride sans skis. Steamboat Ski Resort allows visitors to take scenic gondola rides during ski season for a small fee. These rides don't allow passengers to bring skis or snowboards, but snowshoes and poles are permitted on the gondola.
Strawberry Hot Springs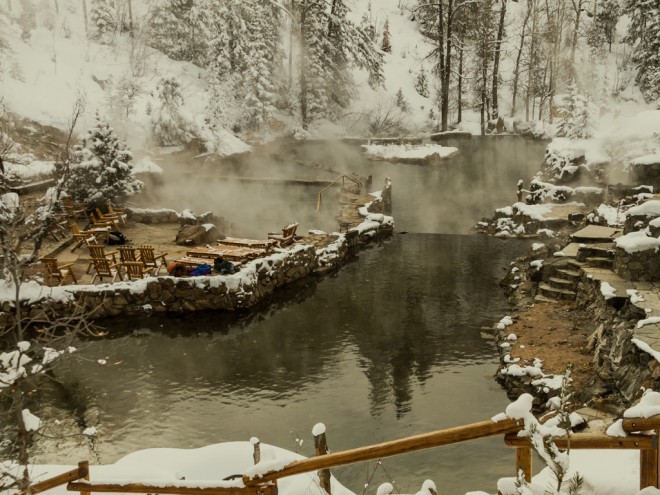 Once everyone in your group is finished with their winter sports of choice, you can all join together for a luxurious soak at Strawberry Hot Springs. A small fee will get you into this beautiful natural hot springs area, which includes
changing rooms
and bathrooms in addition to hot spring pools of varying sizes and temperatures.
A rock wall divides the hot springs from a cool stream, so anyone who can't handle the heat can take a quick dip into frigid waters. A pair of
waterproof sandals
might come in handy if you have sensitive feet, as the bottom of these pools are natural rock. I'd also recommend bringing a
water bottle
to keep you cool and hydrated; these springs are HOT.
Since Strawberry Hot Springs relies on natural lighting, you might also want to pack a
headlamp
or a flashlight if you plan to stay after the sun goes down. Be aware that some hot spring soakers take advantage of the low nighttime visibility and may forego bathing suits.
Have you been to Steamboat Springs? What recommendations do you have for visitors?