Snow is on it's way. Don't miss out on some great skiing and snowboarding this season. Plan your ski vacation now. There is nothing like a trip to a fun ski town for a family ski vacation or an adults only get-away. We've put together this list of the top six ski destinations in the U.S. by taking terrain, snow, and lift lines into consideration as well as lively après-ski activities. This is part one of three. If your favorite ski resort isn't listed here comment below to let us know your choice. Check our second and third installments also for all of our top picks of the best ski destinations.
Bend, Oregon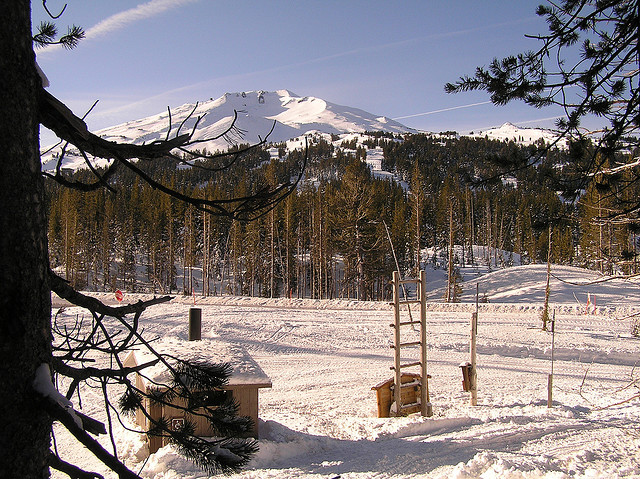 Bend is a quickly growing community with over 76,000 residents. Because of this, it lacks that small cozy ski town feel but it more than makes up for it in affordable lodging choices, hip restaurants and multiple micro-breweries. Mount Bachelor is located just 22 miles from town and offers amazing terrain for skiers of all skill levels. The resort is located on the east side of the Cascades which leads to a softer drier snow.
"Being the tallest resort peak in the Pacific Northwest, the powder is amazing and plentiful. From the Summit, one can ski/ride in 360 degrees with a 'choose your own adventure' feel on a wide variety of terrain. Most of all, my favorite aspect of skiing Mt. Bachelor is the tree skiing off the Northwest Express lift — the old growth Hemlock provides perfectly spaced powder stashes and some of the best gladed terrain I've experienced." says Andy Goggins, Director of Communications for Mt. Bachelor. "The views off the top of the mountain are amazing and provide a unique 'wilderness' experience with our natural setting, being surrounded by 2+ million acres of national forest and wilderness areas in lieu of condo's, base area development and villages found at many major ski destinations."
Why Bend?
Bend is definitely a town for foodies with many amazing restaurants to chose from. Your only problem will be squeezing in all the fabulous restaurants you'll want to try. In addition to tasty restaurants, Bend is home to 14 local craft breweries. You can relax after a hard day of skiing with a cold brew and maybe squeeze in a brewery tour.
Make it affordable
Andy suggested inviting more friends. "The more, the merrier- and cheaper! Get a crew together to save on lodging- whether it's VRBO, Multiple rooms at a local lodge, or one of the numerous condo options, the price per person per night for lodging decreases substantially when you have 4-8 people, or more."
Taos, New Mexico
Taos is a unique community where you will find many museums, art galleries and interesting Native American and Hispanic cultural activities. This beautiful town sees over 300 days of sunshine every year and soft powdery snow that rivals any U.S. resort. The town isn't known for late night parties but is an excellent place for unique coffee shops, art galleries and restaurants filled with wonderful New Mexican Green Chili. The ski resort is family owned, the lines are short and the terrain offers something for all ability levels.
Taos is opening a new beginners area featuring a 1200ft lift and an outdoor stage at the base area this year. They are expecting a lot of snow with the upcoming El Niño weather patterns. It is going to be a great year of skiing and snowboarding at Taos Ski Valley.
"One of the best things about Taos is that it is a true vacation destination, you can get all the winter activities you want on mountain with skiing, snowboarding, tubing, snowmobiling, etc... but the town of Taos, 15 miles down the road, offers things you can't find at any other ski resort in the entire world. The thousand year old Taos Pueblo, shopping on the Taos Plaza and the 650ft Rio Grande Gorge Bridge are just a few of the must see attractions in the area." says Travis Weber, Sales Director for Taos Ski Valley.
Why Taos?
"No matter when you visit you will encounter un-crowded slopes and extremely friendly locals and employees, Taos is still family owned and operated and when you come here you feel like family. Taos is not a façade trying to make up for boring slopes, with some of the best in bounds terrain in the country and greens and blues off the top of every chairlift there is something for all levels. Also, due to the lack of crowds you can usually find powder stashes all over the mountain days after the last storm." explained Travis.
Make it Affordable
"The best ways to save money on a ski trip are to book early, stay away from major holiday periods and stay in condos. Generally condos sleep more people and you can save money with some home cooked meals".
That concludes part 1 of our top 6 resorts for skiing and snowboarding. What do you think about these choices? Comment below to let us know your thoughts.
Part 2: Best Ski Destinations
Part 3: Best Ski Destinations
*Featured image by Donnie Ray Jones. This image was modified.