After a four-year drought that seemed like forever, the Sierra Nevada region has finally been getting some long-awaited snow. Lake Tahoe, the largest alpine lake in North America, is one of the crown jewels of the Sierras, straddling both the states of California and Nevada. It is an awesome place for adventures, and with snowstorm after snowstorm this winter, it is a phenomenal place for a multitude of snow sports -- including alpine skiing.
Skiing can be an expensive sport, especially if you factor in lift tickets on top of equipment rentals, lodging, food, and transportation costs. For example, a one-day lift ticket on a Saturday at Squaw Valley -- the site of the 1960 Winter Olympics -- could set you back $99.
As a local to the area, I'm excited to give you a handful recommendations on where you can get your powder chase on in the Lake Tahoe area without necessarily breaking the bank.
Fly in and Ski for Free (Yes, free!)
A few of the most prestigious ski resorts around Lake Tahoe offer free half-day lift tickets if you dash over to the ski resorts from the Reno Tahoe Airport upon arrival. Just present your boarding pass showing that you arrived the same day, along with a matching ID, and you're ready to roll. For the most bang for your buck, take advantage of this at Squaw Valley/Alpine Meadows, Northstar, or Heavenly, where ticket prices hover around $100.*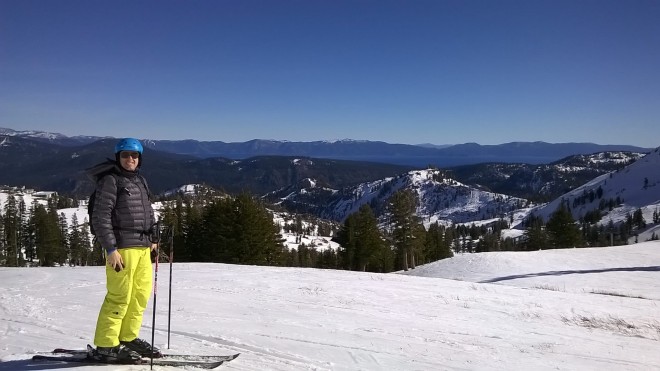 Mount Rose (Northeast Lake Tahoe)
Mount Rose is probably the ski resort most favored by the locals in the Reno area since it is the closest ski resort to town (only about a 30 minutes drive) and has the highest base elevation (8,260 feet at the base). If you're an advanced skier, you will love the Chutes, which according to Mount Rose, offer some of the longest verticals in the country. But there's plenty of room for beginners and everything in between, too. If you don't have to ski on the weekends, Mt. Rose offers two tickets for the price of one on Tuesdays. Thursday is Ladies Day, and all women can buy tickets for only $29.* Chances are, you'll have the mountain to yourself.
Diamond Peak (Northeast Lake Tahoe)
Located in Incline Village, Diamond Peak has beautiful views of Lake Tahoe. Lift tickets during the day are $64, but beginners get a discounted ticket at $34.* If you go later in the day on a Saturday from February to April, $34* buys you a lift ticket from 2-4 PM, plus wine or craft beer tastings with appetizers.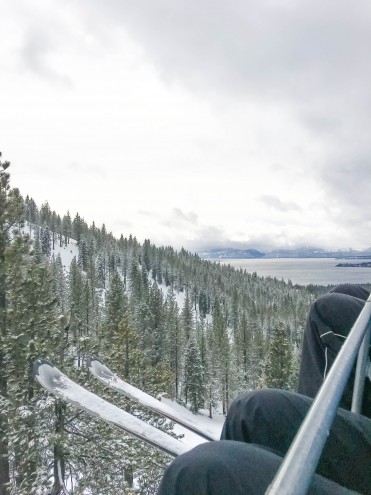 Sierra-at-Tahoe (South of Lake Tahoe)
Buy a 3-pack for $198* and only pay $66* for each ticket. This ski resort is accessible from those traveling east on US-50 from Sacramento or the Bay Area in California.
Boreal (North of Lake Tahoe)
This ski resort right next to the I-80 freeway is already reporting almost 300 inches of snow this season. Popular for the college crowd, lift tickets are quite affordable. Advance purchase lift tickets for a Saturday could go for $50* on Liftopia.com. On Fridays, Boreal has tickets at a steal for $25,* of which $5* is donated to charity. Boreal also has night skiing if that's your thing.
Homewood (West Lake Tahoe)
If you buy online and in advance, lift tickets average $62.* Homewood is not a fancy resort by any means, but there is enough terrain to keep you busy. Plus the views of Lake Tahoe here are stunning.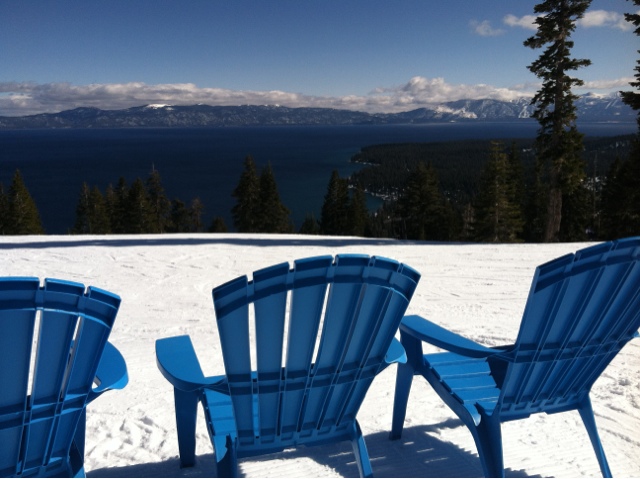 Getting to Lake Tahoe
The closest airport to Lake Tahoe is the Reno Tahoe International Airport. There are flights to Reno daily, including direct flights from major airports like LAX, San Francisco, Seattle, and even New York City. Depending on which side of Lake Tahoe you end up in, the drive from Reno takes from 30 minutes to an hour. The closest ski resort is Mount Rose, only 30 minutes from the airport. During the winter when the weather is unstable, it is advisable to drive an all-wheel drive vehicle or at least carry chains.
*Prices based on 2015 ski season
Featured image courtesy Anita Ritenour, on Flickr.