I did not grow up with snowshoes. Despite being an outdoorsy, Vermont girl and playing in the snow 24-7 all year long -- as it sometimes felt -- we were downhillers and cross-country skiers and ice skaters and snow fort makers. But somehow the snowshoeing part of winter did not make it into our Vermonty-culture.
Needle-scratch to my snowy visit to the mountains this year in the California Sierras, which are now covered in giant mounds of snow thanks to El Nino or Ma Nature, and which has the entire western side of the country whooping with snow-covered joy.
I've been watching my pals post photos of their epic snowshoe days over the last few years and decided it was time to take these rather odd, flat, metal, foot-trapping snowshoe contraptions out for a try.
And, wow, am I hooked! Why?
One: Major Workout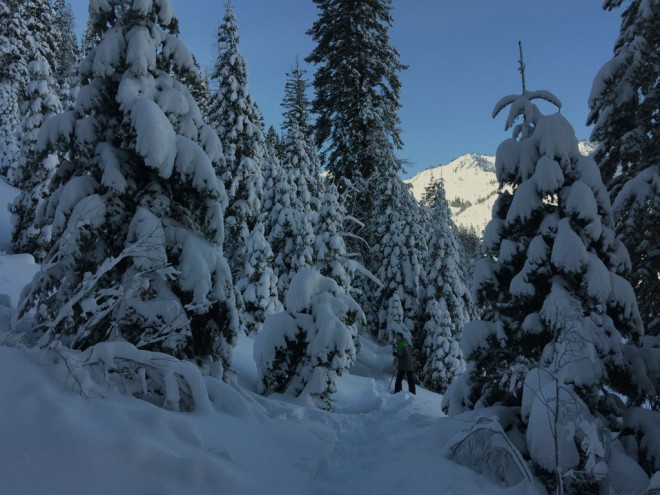 After strapping our snowshoes onto our insulated winter boots, my son and I begin our march into the snow off of any sort of plowed trail. The extra long ski poles help balance our bodies, and all four of our limbs are working hard to forge a trail through the deep snow. We're exerting tons of energy and have that sweet flush of working out in the cold, including sweat-soaked layers under our protective shells. It's an addictive feeling and I know I'm going to earn my beer and my son his hot cocoa at the end of this expedition.
Two: Explore Anywhere and Everywhere
As we hike along I am giddy with the ability to tromp in almost any direction as my Explorer's Mind takes over and I really want to see what's behind that huge rock or tree over there. With snowshoes, I can literally just say: Let's go to the top of that hill! Or Let's head down that gully, as if I were hiking. I suppose I'm so used to not being able to easily do that with skis that it feels like such freedom.
Three: Experience Nature Close Up -- Eating Snow from Branches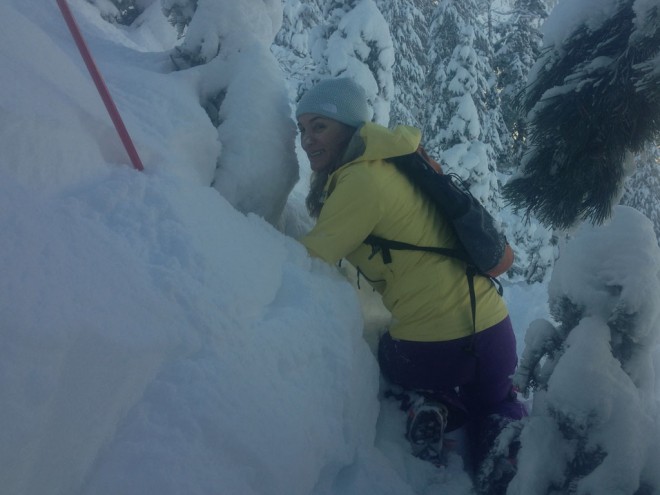 When skiing, the general rule is to AVOID TREES since they usually lead to yard-sales and large bruises. But with snowshoeing, I find myself getting in as close as I can to the beautiful, snow-covered trees and bushes. As if we are part of a magical, Narnia forest. We're so close we literally eat the snow straight from the branches for a little Popsicle treat, and I wish we had brought our mini-bottle o' Maple Syrup for a little taste-combo with the snow like a true Vermonter would.
Four: Discover Animal Tracks -- Fox, Porcupine or Sasquatch?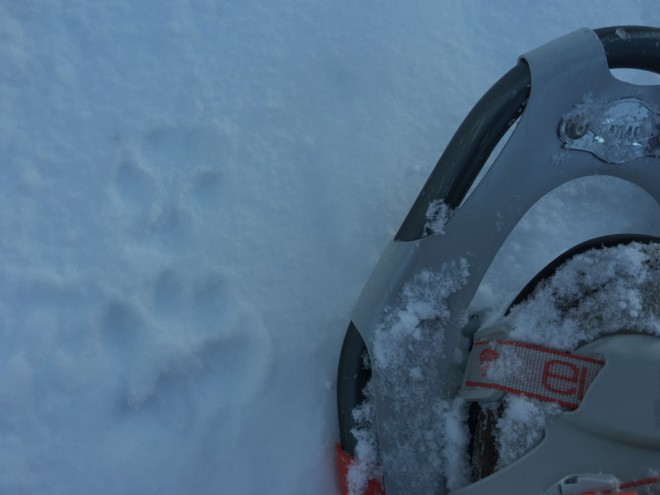 Spotting animal tracks in the mud on a summer day is like winning the lottery. Now multiply that feeling by a zillion with the surprise of seeing a delicately preserved paw-print in the crystal, fresh snow. A gorgeous, healthy fox skirts by us up high and I wonder if that's whose paw-print I find later on our trek.
Five: The Challenge of the Uphills -- Zig and Zag
At one point I look at my kid and blurt: I want to go Up There! Up a snow-laden slope from where we are tromping. So I begin to zig and zag up the hill, creating my own switchbacks, stepping on top of downed trees and all sorts of scrub hidden under the snow. Feeling invincible.
Six: The Exuberance of the Downhills
Let's face it, it's always the most fun going down. And like little kids we sit on our bums and slide and scoot downhill in the fluffy snow with just enough pitch to let gravity take hold and pull us down, as if in a soft alpine slide. Our faces are covered in giant smiles and we laugh the whole way down at the fun and silliness of it all. And, of course, it's my kiddo's favorite part of the entire day.
And finally, Seven: The Sound of Silence
No grinding of ski lifts. No other human beings. Just twittering birds leaping from branch to branch and the sounds of snow clumps falling from the trees. The beauty of a scene in winter silence.
So there you go. Totally fun, challenging and full of surprises, snowshoeing is a new favorite for me. And, as a side note, of course as with any winter sport in the mountains, being aware of avalanche danger is vital. So do your research and know your snow and terrain before heading out. A class in avalanche safety is always a good idea to prepare you for winter conditions.
Strap on your snowshoes and see you out there!

Photos courtesy Annie Yearout.