A winter jacket is one of the most important pieces of the layering puzzle. The warmest layer, the last thing standing between you and the elements, how your friends identify you on the slopes: yeah, your jacket is a pretty big deal.
To get the most out of this pristine layer, you need to make sure you have the right jacket for the right activity. No one jacket is perfect for every occasion, which is why your closet needs to act as the superhero utility belt for winter adventures.
Take a look at these four winter jackets and how they each play a role in your outdoor cold-weather fun.
1. The Cozy Lightweight: Fleece Jackets
Fleece should be part of your jacket lineup just for its
huggable style of warmth
. But don't underestimate this super soft zip-up. Fleece jackets are often wind and water resistant, so they can hold their own against the elements. Since fleece jackets aren't insulated, they are best used in mild weather or during sports that cause you to work up a sweat. Add an extra layer to your fleece jacket if you need more warmth.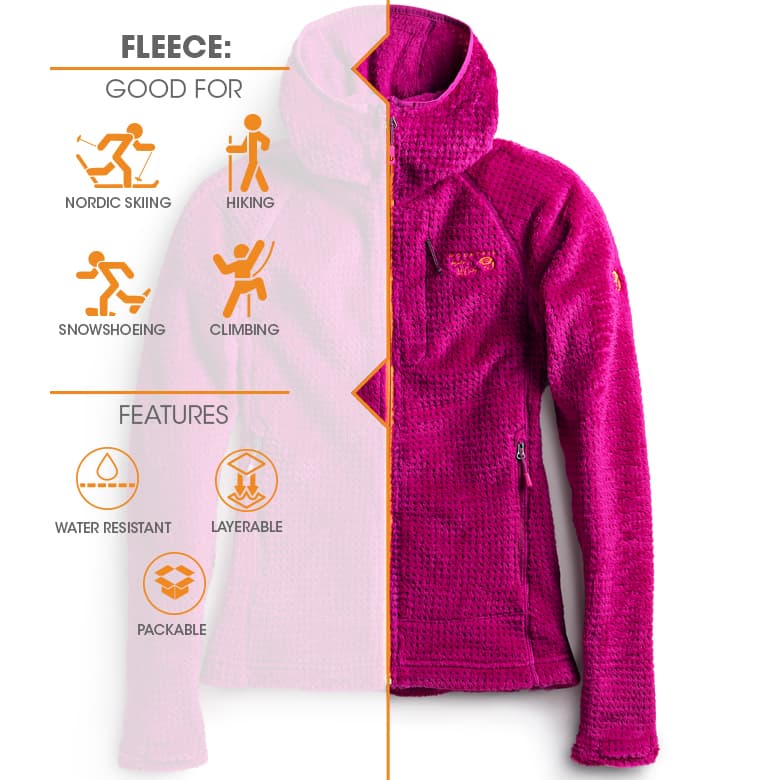 While fleece jackets aren't as packable as down, they are still easier to pack than most bulky winter jackets. Fleece works well for snowshoers, cross country skiers, and other types of exploring that takes your breath away.
2. The Rugged Layer: Soft Shell Jackets
Just as irresistible as a soft shell taco but
twice as warm
, the soft shell jacket is a solid addition to any coat rack. Soft shell jackets are lighter than ski and snowboard jackets, which makes them great for more aerobic activities like cross-country skiing, snowshoeing, hiking and climbing. These jackets are often water repellent, so while they won't completely protect you from melting snow, they won't leave you soaked.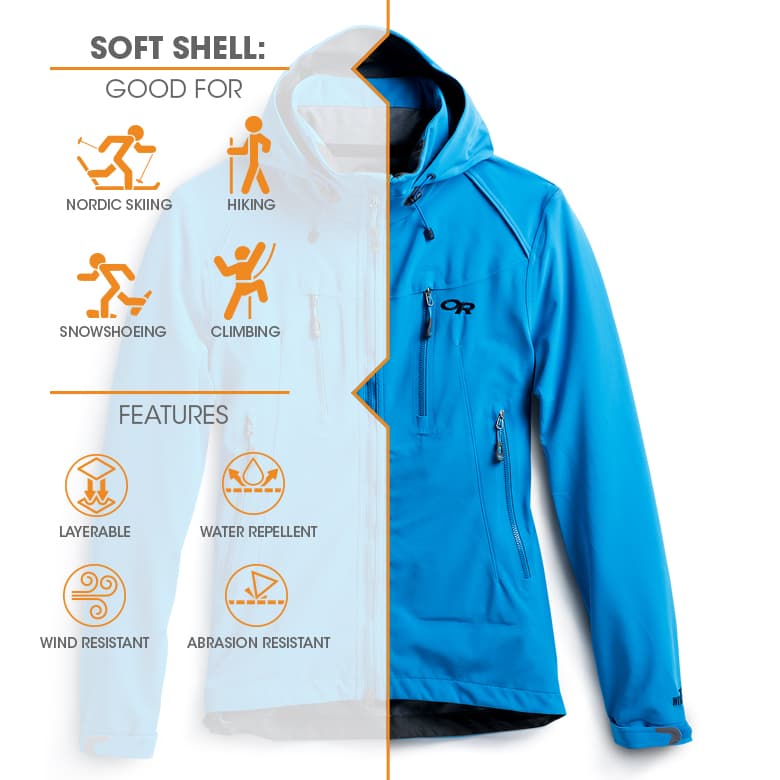 If you crave extra warmth and that waterproof feature, soft shell jackets can easily be layered with a more rigid, waterproof shell. This jacket can also stand up to tough conditions on its own. Usually abrasion and wind resistant, you can snowshoe through a thick forest and take in views at a windy overlook with your jacket and warmth intact.
3. The Packable Powerhouse: Down Jackets
Down jackets (both natural and synthetic) are amazing. The main feature that makes them stand out from the bunch is their ability to be both incredibly warm and incredibly packable. These lightweight masterpieces can often
pack into their own pockets
or stuff sacks, making them the perfect partner for backpackers. While many down jackets don't hold their heat when wet and are easily punctured, pairing a down coat with a more robust outer shell solves these issues.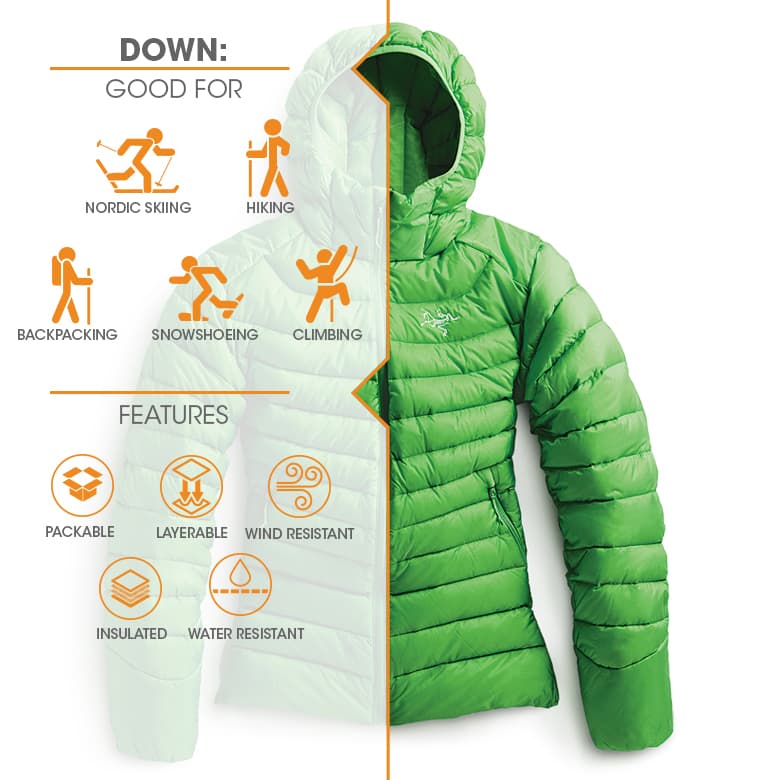 Since down is so lightweight and easy to stuff in a backpack, it's best for heart-pumping sports that aren't likely to leave you covered in snow, like cross-country skiing, hiking, snowshoeing and backpacking. If you get overheated, simply take off your jacket and stuff it in your pack. These puffy style jackets are also perfect for rock climbers; their warmth keeps belayers toasty, and they don't take up much pack space (more room for gear and snacks).
4. The Water Repelling Insulator: Ski & Snowboard Jackets
One of the
most commonly used winter coats
, ski and snowboard jackets are designed to take on the elements. Two features that make this type of jacket a winter warrior are its insulated interior and waterproof exterior. These features make this jacket perfect for activities that require you to be in the snowy trenches: skiing, snowboarding, sledding, snowball fights and any other activity that might leave you covered in snow.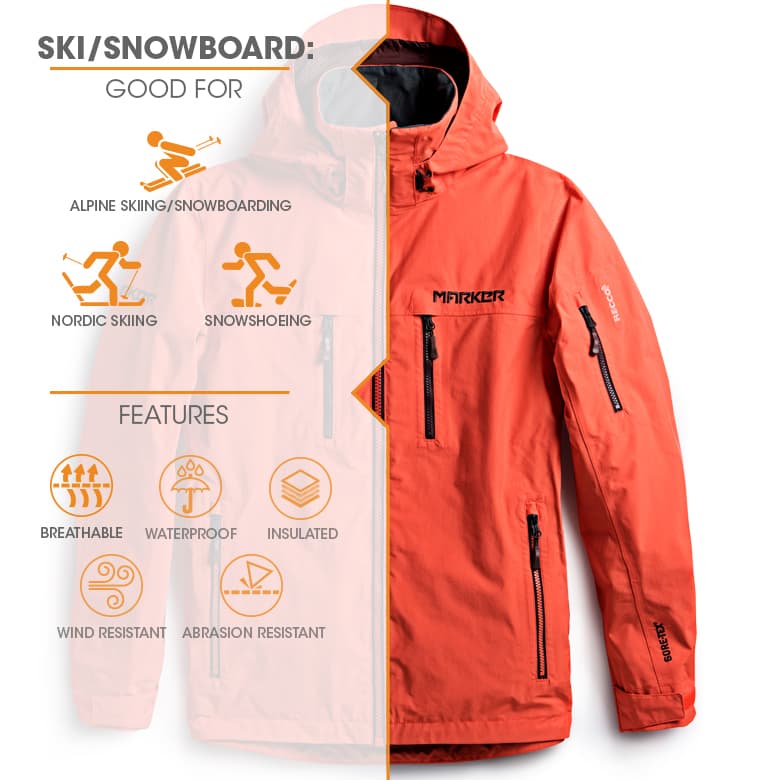 Ski and snowboard jackets often come in 3-in-1 combinations, meaning the outer, waterproof shell and inner insulator can act as
two separate jackets
. Score! And although these jackets are usually heavier than other options, they are often equipped with ventilation systems (pit zips) so you can regulate your temperature during sweat-inducing activities. Another key feature these winter jackets have is wind resistance. Because you don't want to feel that winter chill while carving down a mountain at top speeds.
What type of winter jacket do you wear most often?