We love base layers. These cozy beginnings of any layering system keep you toasty in your tent, on the slopes, along the trail and even under blankets on your couch. So much more than the long underwear of yesteryear, today's base layers are fun and feature rich.
With so many options to choose from, you might be wondering what the best base layer is for your needs. The two main things you'll need to consider when choosing a base layer are weight and material.
First let's consider weight. There are three weight categories when it comes to base layers. What you choose depends on the weather and the aerobic level of your activity.
Lightweight Base Layers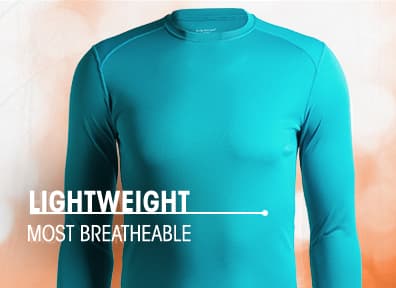 This is
the very first layer
you put on, and for this reason, it's often referred to as a next to skin base layer (NTS). Comfort and the ability to wick moisture are key features in lightweight base layers. Take your activity into consideration when choosing a base layer, because sometimes one layer is all you need before adding outerwear. For example, a skier would want lightweight, moisture-wicking base layer pants to wear under ski pants, while a camper might look for heavier, fleece-lined base layer pants to wear in a sleeping bag.
Midweight Base Layers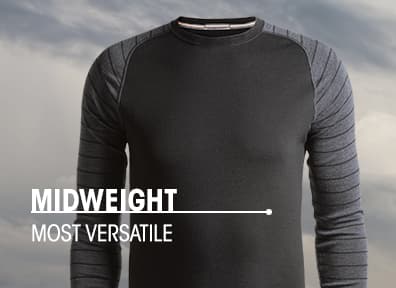 Midweight base layers can also be considered next to skin base layers, but they are thicker than those that are considered lightweight. While a lightweight base layer is nice to wear on a mild day or while working up a sweat, a
midweight base layer
works well for colder days or activities that are a mix of active and inactive. You should still be on the lookout for a comfortable, moisture-wicking material in this layer.
Heavyweight Base Layers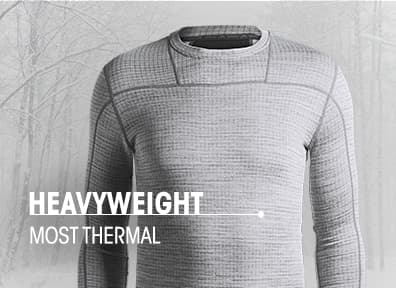 You'll need to bust out the
big time layers
when it gets really cold. Heavyweight base layer tops can be worn over a light or midweight base layer or on their own. It's nice to have this layer around on brisk days as extra warmth. Even if it's not that cold outside, heavyweight base layers are perfect add-ons for times when you aren't moving much, like when you're hanging out around camp or belaying a friend on the crag.
Base layers can come in a number of fabrics, but it's best to stick with merino wool or a polyester blend. Cotton doesn't have the moisture-wicking abilities to work well as a base layer, and silk, while much better than cotton, isn't as durable as other materials.
Merino Wool Base Layers
Wool base layers have been replaced with their smarter counterpart,
the merino wool base layer
. Merino wool comes from a type of sheep that has what it takes to survive the hot summers and frigid winters of New Zealand's Southern Alps.
Benefits of Merino Wool:


Warm: retains heat well


Breathable: features small pockets to allow air flow


Moisture-absorbent: can absorb over 30% of its weight in moisture before feeling wet


Moisture-wicking: pulls moisture from skin with hollow fibers


Odor-resistent: naturally antibacterial


Soft


Renewable and sustainable


Keep in mind that layers made with this power-house often come at a heftier price and might require special considerations when washing.
Synthetic Base Layers
Synthetic materials such as polyester, spandex and fleece aren't considered as high quality as merino wool, but they get the job done at a friendlier price point.
Benefits of Synthetic Materials:


Durable: Polyester is resistant to most chemicals and mildew. Spandex usually can be stretched over 500% before breaking.


Warm


Quick-drying: Polyester is naturally hydrophobic and pulls moisture from skin with hollow fibers


Resistant to unwanted stretching: Spandex is more retractive than rubber.


Resistant to shrinking


Soft


Affordable


Fleece or fleece-lined base layers are incredibly warm and soft to the touch, but they should be reserved for activities that don't require much aerobic activity. Fleece isn't as breathable as other materials, so it can't regulate body temperature as well as a merino wool or synthetic base layer.
Need more information to find the best base layer? Head to our
layering buying guide
.