To celebrate Sierra Trading Post's 30 years in business, we've been looking back to see just how much things have changed in the world of outdoor recreation. With ski season quickly approaching, we though it would be fun to take a look at how skiing has changed since 1986.
Many snow sports have evolved quite a bit over the past 30 years, but you'd be hard-pressed to find one that's changed as much as alpine skiing. From the gear to the culture, this winter sport has a rich history.
Books could be written (and probably are) about downhill skiing's evolution since the '80s. Here's an overview of how this sport has aged over the years.
The Evolution of Skis
Shaped Skis
Skis in the 1980s weren't ideal for beginners, unless riding oversized, non-cylindrical toothpicks is your thing. Luckily, one of the many gems brought to us by the '90s was shaped skis. Shaped skis were shorter and wider than skis people had been using. Often referred to as a ski's sidecut, the curvature you see on
today's downhill skis
did wonders for the sport. Now when you shop for skis, the top, waist and tail of the ski all have different measurements. This shape allows for better flotation on the snow, easier carving and more control overall.
Rocker
In the early 2000s skis evolved a little more with the addition of rocker. The tips and/or tails of rockered skis curve up, which improves the ability to float over the snow without catching an edge. This improved flotation and maneuverability works in favor of any skier, but rockered skis are especially beneficial to terrain park skiers. That extra curve at the tip and/or tail makes doing tricks and taking on rails a little easier.
The Evolution of Skiing
Alpine Touring
With skis themselves becoming more versatile, how skis were used started evolving, too. The ease of shaped skis caused people to become a little more daring and go off-trail. Skiing through the woods and other areas considered out of bounds became more common in the '90s, so much so that mountains began making those previously out-of-bounds areas accessible.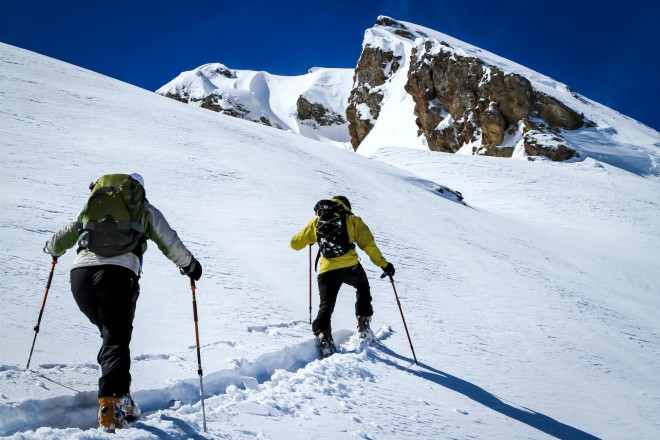 The desire to venture farther into the backcountry brought lightweight and convenient alpine touring gear that allowed for downhill skiers to more easily maneuver up and down a mountain. Gear such as
skins
(a carpet-like material that can be attached to the base of skis) and touring bindings (ski bindings that allow your heel to lift from the ski) let skiers play in backcountry terrain without needing to remove and carry their skis on ascents.
For the first time, people are starting to own multiple pairs of skis for different types of terrain.
Freestyle Skiing
The most popular form of skiing in the '80s and '90s was mogul skiing. Moguls were actually introduced as an event in the winter Olympics in the late '80s. This was considered a freestyle event along with aerials and ski ballet, which was something that resembled figure skating on skis. For the first time, skiing was seen as something other than torpedoing down a hill; people were becoming more creative with the sport.
While jumping of any sort was banned by ski resorts for quite some time, the introduction of freestyle skiing caused resorts to start adding features meant for small aerial tricks. Hotdogging, or performing these types of tricks while skiing, became all the rage in the '90s. Vail Ski Resort in Colorado was the first to open a terrain park (which today feature rails, boxes jumps and other features for doing tricks). That first park opened in the early '90s, and by the early 2000s, park skiing was in full swing. However it wasn't until the 2014 winter Olympics that slopestyle skiing and halfpipe became official Olympic events.
The Evolution of Ski Culture
Fashion
Style on the slopes has transformed from the mid '80s to today almost as much as style on the streets. In the '80s and '90s, bib overall snow pants and one-piece snow suits were common. And of course, these onesie-style snow suits were made in the brightest neon colors during the '90s.
Helmets
weren't worn often, and if you were skiing in the '80s or '90s, you donned mirrored sunglasses instead of goggles.
Today, non-overall snow pants are most common, and they are paired with a separate jacket. While outdoor stores boast a large variety of outerwear, conservative patterns or solid colors and a sleek, fitted look are popular. Most people on the mountain now wear protective
snow goggles
and helmets... often with a GoPro strapped on top.
Portrayal in the Media
During the '80s and '90s, skiing was seen as a party sport or something meant for the rich and the famous. Movies like Aspen Extreme captured the ski bum, party animal persona given to downhill skiers. In the late '90s and early 2000s, other types of ski movies started to emerge: movies made by skiers themselves. As park and freestyle skiing became more popular, sponsored skiers began producing short movies showcasing their skills, and yes, party lifestyle. When GoPros hit the scene in 2002, capturing tricks became easier and more accessible, allowing any skier to put together highlight reels of their favorite lines and tricks.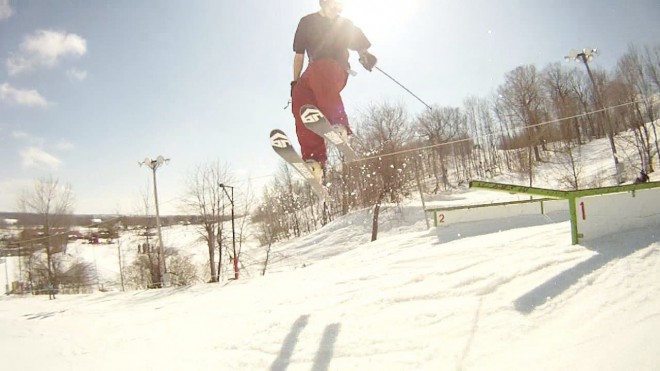 Ski slopes today see more families and weekend warriors, but the party vibe still clings to the sport (after all, a beer usually sounds pretty nice after a day on the slopes). Terrain park skiers, who were once seen as a nuisance, are recognized more for their athletic abilities with slope style and halfpipe now Olympic events. It will be interesting to see where the sport goes as it continues to evolve and as new forms continue gain more respect.
This is just the tip of the iceberg. Better chairlifts, snow makers, gear innovations and more have changed this sport. What do you think the biggest change to skiing has been over the past 30 years?