Snowshoeing is an excellent way to get out, explore and get some exercise during the winter months. It doesn't require any special skills, can be done just about anywhere there's snow on the ground and is low-cost. Whether you're a runner, an explorer or are just seeking a winter activity for the family, snowshoeing is an appealing option.
When shopping for snowshoes, you may wonder about the differences in price and features in the various models. Snowshoes are designed for a variety of specific uses, and in general the differences boil down to the snowshoe's major parts:
Deck shape, binding type, and materials.
When trying to decide on the best snowshoes for your needs, ask yourself three questions to point yourself in the right direction.
1. How deep will the snow be?
A lot of snowshoers like to head to the nearest Nordic ski center to take advantage of packed and groomed trail networks. If you're going to be snowshoeing exclusively on packed snow, you can use a smaller snowshoe. If you're going to be heading off trail and into the forest or the mountains, you want a larger snowshoe deck, which will provide more flotation in deeper snow.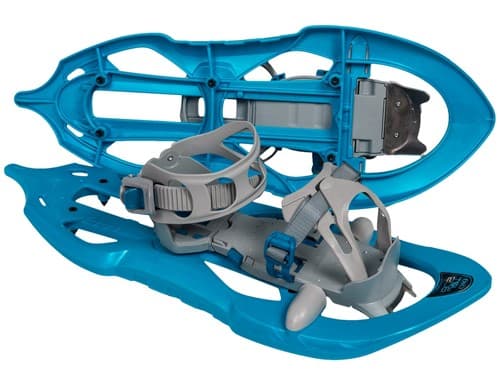 2. What's the terrain like?
If you're just stomping through the flatlands, a simple recreational snowshoe will do. If you want to get out and explore hilly terrain, or plan to use snowshoes in the mountains, backcountry snowshoes are a better choice. Backcountry snowshoes typically have more durable, rotating bindings, larger decks and heel lifts for easier climbing. For steep, icy climbs snowshoes with steel crampons are a must.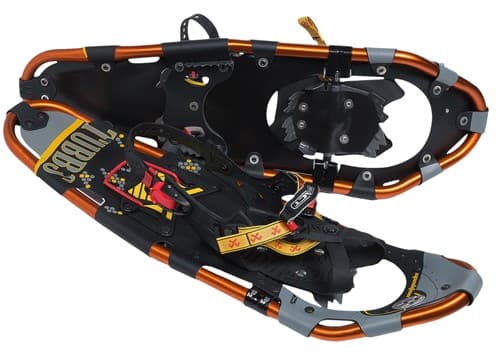 3. Who is going to be using them?
Larger, heavier snowshoers generally require a larger pair of snowshoes with a wider deck. In addition, if you're planning to head into deep snow or going to be carrying a heavy backpack, you're probably going to want a larger pair.
If the snowshoes are going to be used by children, it's a good idea to stick with lightweight models with easy-to-use bindings. Snowshoes
designed specifically for women
typically have slightly slimmer frames and smaller bindings to accommodate narrower stances and smaller feet.
Snowshoe Bindings
There are two basic kinds of snowboard bindings. "Fixed" and "Rotating" bindings.
Fixed Snowshoe Bindings
Fixed snowshoe bindings keep your heel mostly attached to the binding, pulling the tail of the snowshoe up with each step. Fixed bindings are typically found on recreational snowshoes. They make it easy to navigate around obstacles and work best on moderate terrain, packed snow and groomed trails.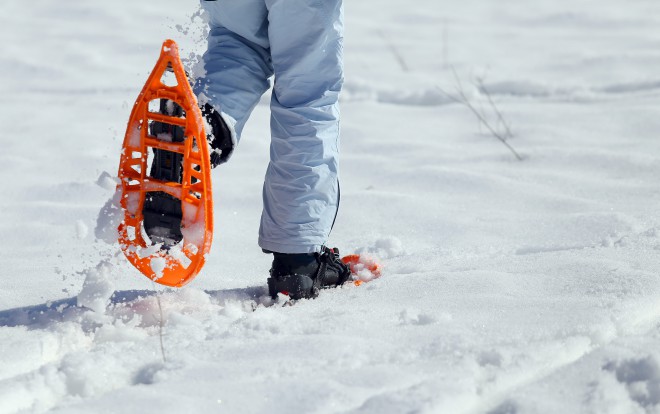 Rotating Snowshoe Bindings
Rotating snowshoe bindings pivot under the foot and allow the heel to come off the snowshoe deck more. This allows the tail of the snowshoe to fall away from you, reducing fatigue. These bindings also frequently include heel lifts. They are a great choice for climbing and deep snow use, because they mimic a more natural foot motion.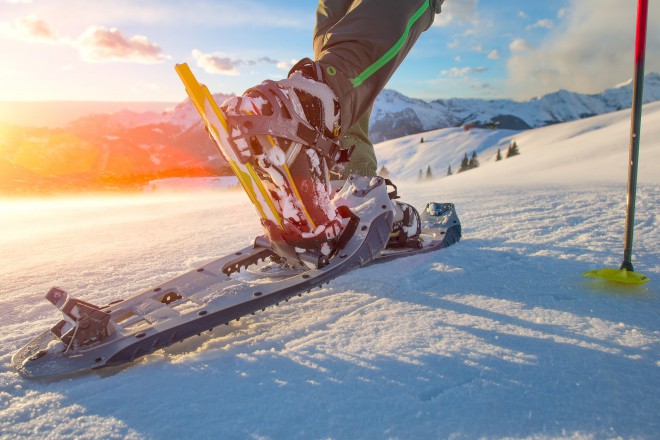 Snowshoe Tail Shape
One additional consideration is the shape of the snowshoe tail. Wide, rounded snowshoe tails offer more flotation and stability. Tapered decks with V-shaped tails make it easier to stride and navigate side hills and technical terrain. Snowshoes designed for running or speed hiking typically have narrower tails and utilize lightweight materials.
Sierra Trading Post has a range of snowshoes
for all types of outings at great values.